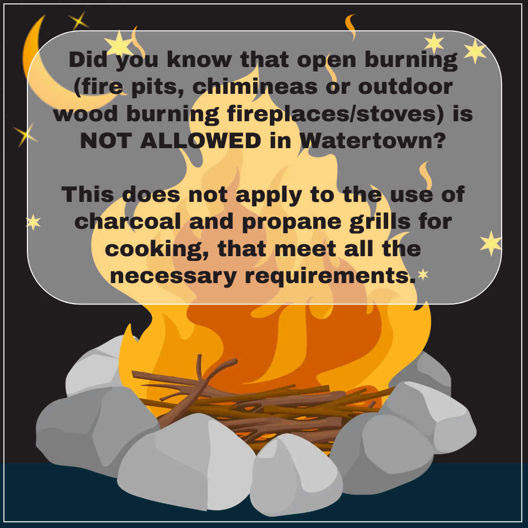 Having an open outdoor fire, except for a barbecue, is prohibited in Watertown, City officials said, and they also reminded residents not to set off fireworks.
The City sent out the following announcement:
Did you know that open burning (fire pits, chimineas or outdoor wood burning fireplaces/stoves) is NOT ALLOWED in Watertown?
This does not apply to the use of charcoal and propane grills for cooking, that meet all the necessary requirements.
If you have any questions or concerns regarding open/outside burning regulations, please call the Watertown Department Fire Prevention Bureau at 617-972-6510.
Fireworks
The City also sent out the following announcement:
Please prevent unnecessary injuries, house fires, property damage, and traumatic experiences for people & furry friends (including Vee! [Watertown's goose control dog]) this holiday weekend by NOT setting off fireworks!
According to the Massachusetts Fire Marshal's office, selling or possession of fireworks is illegal in Massachusetts.
Mass. General Law reads: "It is illegal for private citizens to use, possess, or sell fireworks in Massachusetts, or to purchase them legally elsewhere and then transport them into the state. The law prohibits any article designed to produce a visible or audible effect."
There is a fine of up to $1,000 for selling fireworks, and up to $100 for possession of fireworks. Police will seize any illegal fireworks. See more details by clicking here.