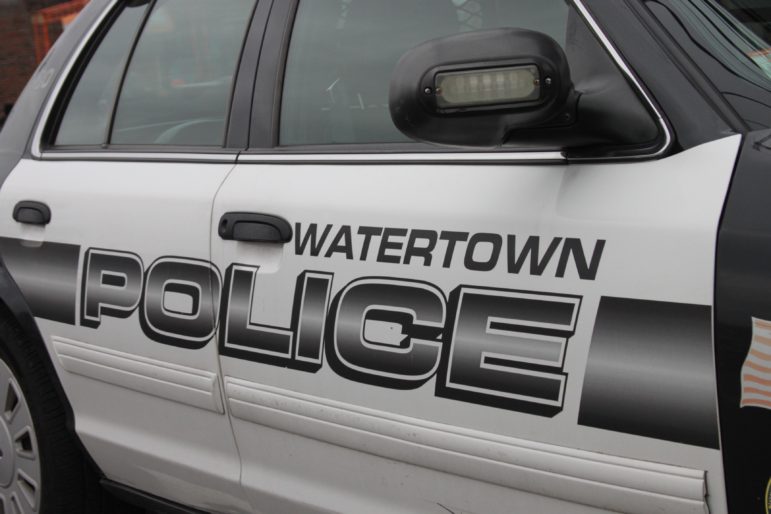 The following information was provided by the Watertown Police Department.
Arrests
June 19, 7:16 a.m.: A man parked his car on Mt. Auburn Street in front of Dunkin' near Watertown Square but he was not fully in the spot. A passing car honked its horn to have him move his car. The man, identified as Yesner Espinal, gave the driver an obscene gesture and yelled at him. A third man, identified as Sean Provenzano, saw the gestures and yelled at Espinal, "Hey, you parked like an (expletive)." The two men got into an argument and Provenzano threw a punch but missed Espinal, who then pulled out a knife and took a swipe at Pronvenzano but missed. Provenzano went into Dunkin' and took a "Caution Floor Wet" sign and smashed the windshield of Espinal's car with it, breaking it. He also kicked the car, causing a couple dents, and then punched Espinal three times in the head. He received a cut above the right eyebrow. There were no serious injuries. The incident was caught on security video. Police arrested Sean Pronvenzano, 31 of Boston, on charges of assault and battery, assault and battery with a dangerous weapon, vandalizing property, and malicious destruction of property. Yesner Espinal, 29, of Watertown, was arrested on charges of assault with a dangerous weapon.
June 20, 4:41 p.m.: Police received a report of a shoplifter at Target. The man was seen placing several bottles of wine in a bag and leaving without paying. Officers found the man in the parking lot behind Target. He had nine bottles of wine valued at $656.91. William Beers, 51, homeless, was arrested for shoplifting over $250.
June 20, 5:45 p.m.: A detective was in the Target parking lot when he observed a man and woman sitting near Chase Bank. The woman had something in her hand and put her jacket over her head. Then she was seen holding a glass pipe. She passed it to the man. The detective approached the pair, and the man put the pipe into his mouth. The detective searched them and found paraphernalia that is used to smoke fentanyl. Police also discovered that both suspects had arrest warrants in their name. Leslie Wheeler, 45, of Boston, was arrested for possession of a Class A drug, and three warrants: two from Waltham District Court, the first for shoplifting — third offense, and the second for larceny over $1,200. The third warrant was from Brookline District Court for shoplifting — third offense. Anthony Moore, 57, of Boston, was arrested for possession of a Class A drug, and for three warrants: one from Roxbury District Court for shoplifting — second offense; the second from Cambridge District Court for driving under the influence of drugs, reckless operation of a motor vehicle; and the third from Brookline District Court for shoplifting — third offense.
June 22, 4:07 p.m.: An officer patrolling on Main Street spotted a vehicle with an expired registration, and it also indicated that the registered owner had an active warrant. The car was stopped on Charles River Road, and Police identified the driver as the owner. Anthony Proia, 55, of Watertown, was arrested on charges of driving with a suspended license, and on the warrant from Waltham District Court for driving with a suspended license. He was also cited for driving an unregistered vehicle.
June 22, 7:28 p.m.: Police encountered a man and woman at Arsenal Yards, and while speaking with them they discovered they each had arrest warrants. Shaina Faretra, 37, homeless, was arrested on the warrant from Lawrence District Court for assault. Eric Brown, 38, of Waltham, was arrested on a warrant from Roxbury District Court for driving with a suspended license and driving with a suspended registration.
June 23, 4:12 p.m.: A man was seen in Target taking sports trading cards and then left without paying. He was seen getting onto an MBTA bus near the Watertown Mall. Police stopped the bus on Arsenal Street. The man was taken off the bus, and while speaking with him Police discovered he had two warrants for his arrest. William Sharp, 48, homeless, was arrested for shoplifting, and on the two warrants: one from Cambridge District Court for two counts of breaking and entering during the nighttime and he second from Taunton District Court for assault and battery on a public employee, possession of Class A, B and E drugs, and delivering drugs to a prisoner. Before taking him to the Police Station, officers searched Sharp and they found a baggie of light brown powdery substance believed to be fentanyl. He was also charged with possession of a Class A drug.
Incidents
June 19, 5:08 p.m.: A bike was stolen from Elan Union Market on Arsenal Street. The owner kept her bike in a locked storage room. She last saw her bike on May 24, and on the 19th she noticed it was gone. The white Specialized road bike with black lettering is valued at $1,400.
June 20, 7:50 a.m.: The women's bathroom on the ground floor of an office building on Arsenal Way was vandalized. Paper towels and soap were thrown on the floor. In a common area outside the bathroom a vending machine had been pried open and food was missing. Also, liquid soap had been squeezed all over the floor of a handicapped bathroom. Several alcohol containers were found on the patio furniture in the common area.
June 20, 11:11 p.m: A Nichols Avenue resident reported a stolen package. FedEx dropped the package off at 2:46 p.m., and when she went to get it at 10 p.m. it was gone. It contained an Apple iPhone adaptor valued at $60.
June 21, 1:28 p.m.: A Berkeley Street resident parked her car on Glen Circle, near Filippello Park. On June 21 at about 10 a.m. she discovered that her front windshield had been broken. There was no other damage, and she is not sure how it happened, but it is possible a baseball or softball from the park struck the 2004 Toyota Corolla.
June 21, 4:38 p.m.: A woman received a letter from the Massachusetts Department of Revenue stating that she owned more taxes on her business. She mailed a check to the DOR on Dec. 30, 2022, placing it in a mailbox on Main Street. Later she discovered that the check had been forged and had been altered so it was made out to a woman's name, with whom she is not familiar. The check was cashed on Jan. 20.
June 21, 7:16 p.m.: The manager at Ricci's Liquors on Main Street was in the back office when he noticed a male walk into the store, go to the fridge, take four Twisted Tea alcoholic beverages, and then run out the door. He believes the person was a juvenile. The suspect is described as a white male, 5-foot-9, about 120 pounds, wearing a white T-shirt, white shorts, and white sneakers. The items were worth $11.48.
June 21, 11:05 p.m.: Two juveniles came into Vahey's Liquors on Main Street, grabbed two bottles of vodka, and ran out. The employee said the suspects were about 12 or 13 years old, and wore sweatshirts with the hoods over their faces. The liquor cost $38.98.
June 23, 8:09 p.m.: Two men entered the Nike Store at Arsenal Yards, put about 20 items of clothing in a Marshalls bag, and walked out without paying. The merchandise was worth $785.22. The first suspect is a Black male with a grey beard, wearing sunglasses, a black baseball hat, a white sweatshirt, and grey shorts. The second suspect is a Black male, with black hair and a mustache, wearing sunglasses, a black Nike sweatshirt, blue jeans, and white and pink Nike sneakers.
June 24, 8:34 a.m.: Residents of Main Street reported that someone broke into their home. The residents left the home on June 17 at about 2 p.m. and when they returned the next day they noticed a smell of natural gas and found that one of the burners on the stove was hot, as if it had just been on. Three weeks prior, the residents noticed that a gift card pinned to a cork board in the kitchen had gone missing. There were no signs of forced entry, and the door may have been left unlocked.
June 24, 12:32 p.m.: A man came into Roche Bros. and ordered lobster salad from the deli counter, and then picked up packages of lobster meat and steak and placed them in his basket. The man then walked out of the store without paying for between $100 and $200 worth of food. The suspect is described as a white male, age 50-60, with short light-colored hair, and wearing a light blue T-shirt, grey shorts, and black and white sneakers.
June 24, 9:03 p.m.: A woman was driving in Waltham when a vehicle pulled up next to her and the driver yelled over that he could fix a dent in her vehicle. They pulled over to speak, and the other driver said he has a mobile dent repair company. They arranged to meet at Victory Field and he would fix the dent for $950. The man attempted to fix the dent, but said he needed more time to complete the repair. The woman sent a payment on Venmo, and then made several attempts to contact the man without success. An officer looked at the car and saw that the man had put body filler into the dent. Police were able to identify the man, and made contact with him. He is in the process of refunding the $950.
June 25, 7:27 p.m.: A shoplifter took many trading cards from Target and left the store. Officers were given a description and spotted the man on the bike path at Nichols Avenue and Arlington Street. The man saw officers, dropped the bag, and ran toward Elm Street. He turned onto Elm, and Police lost sight of him. At about 7:55 p.m, a burglar alarm went off at United Marble, located off Elm Street. Officers saw wet footprints on the floor in the building. The looked around, but could not find the suspect. Surveillance video was found and the suspect was seen climbing in a a side window, and several minutes later exited through the same window. Nothing was missing from the business. The suspect is described as a white male with a long ponytail, wearing a hat, and carrying a black backpack.