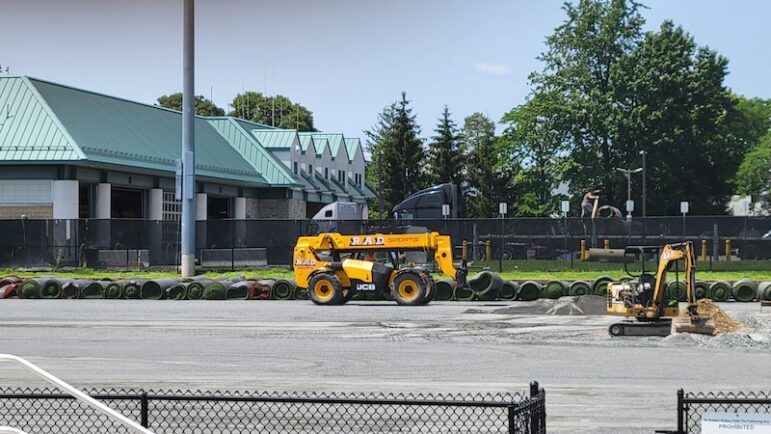 This summer some of Watertown's fields and recreation facilities have been filled with construction crews and equipment, instead of residents and athletic equipment.
The football and baseball fields at Victory Field, the courts at Moxley Field, and the spray pad at Filippello Park all have ongoing construction projects.
Recreation Director Peter Centola thanked City Manager George Proakis for placing a priority on completing some delayed park and field projects.
"One thing I am very appreciative of Mr. Proakis and leadership and the City Council is for really just understanding that you can't continue to have projects on the backlog and not do it," Centola said.
The biggest project is at Victory Field, where the artificial turf will be replaced. The goal is to have the project completed by the start of preseason practice for the Watertown High School football team, Centola said.
"We are on time. Football starts, I think, Aug. 18, so it's going to be relatively close, but we are hoping for that week — the week of the 14th," Centola said. "But a lot of stuff has to happen. We are hoping for good weather. We are hoping when products come in there are no surprises."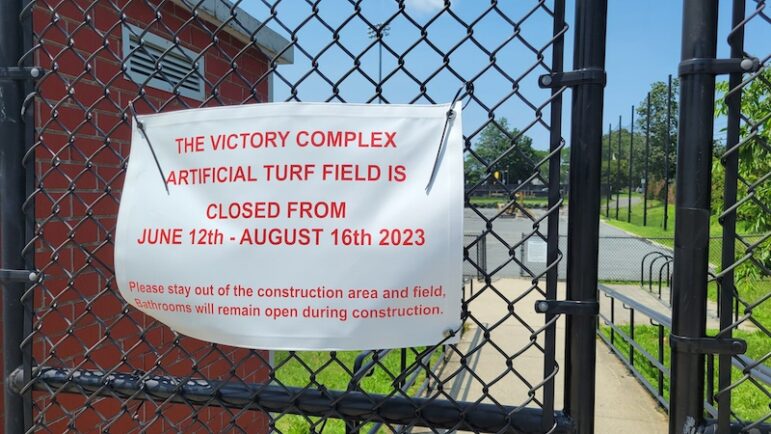 The old artificial turf, installed in 2011, was removed and will be recycled, Centola said. It will be replaced with a new artificial grass surface with a natural filling made from pine trees, called BrockFill. The previous field had a mix of rubber particles and sand. To provide some cushioning, a layer of padding will be installed under the turf.
Another new feature will be at the baseball diamond.
"This time we are going to have an artificial turf mound — no more clay mound," said Centola who took some convincing to go the artificial turf route.
Centola played baseball and coached in college, and said he used to groom the mound when he was the coach at UMass Boston.
"People have been trying to get me to do artificial mounds, I looked into it, and said no (when the first turf went in)," Centola said. "The technology wasn't there yet, but I went around and went to one of the opening games at (Boston College) and I'm saying why would BC, who has all that maintenance staff to groom a mount, have it? Even a lot of western and southern D1 (college) squads have it."
There will also be artificial turf on the two bullpen mounds.
With the artificial turf mound, the mound will not need to be tended to, which will save the Department of Public Works time. They used to have to work on the mound every day during the season, Centola said. They will have to keep an eye on the condition of the turf on the mound where pitchers land, because that will wear out, and Centola said the company will replace that section when it does.
Over at Moxley Field, the court area is being replaced, and one of the courts will be replaced with a new multi-sport rink with hockey boards.
"Talk about 10 years in the making, originally it was just going to be resurfacing the court, but it got so bad," Centola said. "So I'm excited. There is going to be a multi-sport rink, which is going to be great, and the basketball court and tennis court. We have got a bunch of it done. We are in a holding pattern because we are waiting for the delivery of the boards."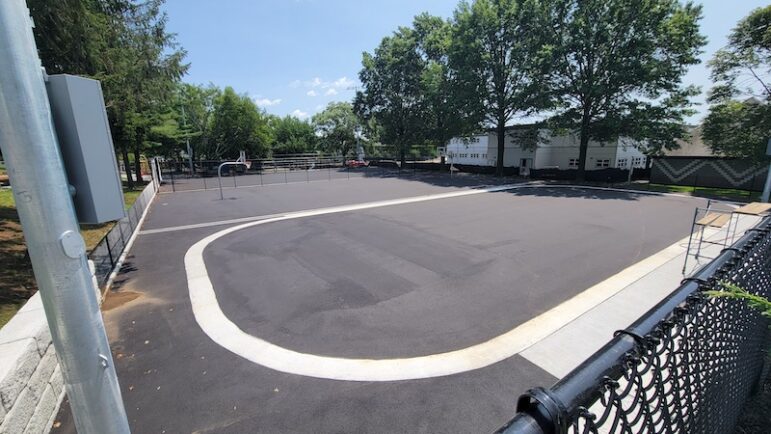 When the boards are installed, the area can be painted. A new set of lights will be installed that will be LED, and will meet Dark Sky standards. They will be able to turn on with a push button, so they don't have to shine all night when the courts are not being used.
Over on the Eastside of town, the spray pad is being replaced at Filippello Park. Centola said the old one was in rough shape.
"Unfortunately, it is shut down during the summer (for construction), but you can only do what you can do," Centola said.
More park projects are on the horizon. This fall, the second part of the Arsenal Park renovation is scheduled to take place. It will include courts, a spray pad, the playground and the parking area.
Next year, the second part of the Victory Field renovations is scheduled for construction. That will include the track and oval, as well as the tennis and basketball courts. Phase 3, which includes the field house and locker rooms, will be done in a future year.
O'Connell Park, next to Hosmer School, is nearing completion, but the new grass field will take time to grow in and "be solid," said Centola. The anticipated opening date for the field, which includes a softball diamond, is April 1, 2024.
Playground equipment at multiple parks around town will also be replaced in coming years.