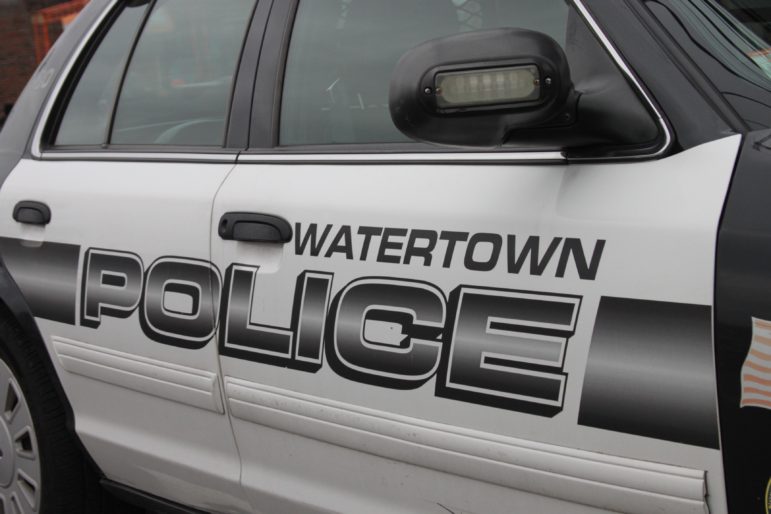 The following information was provided by the Watertown Police Department.
Arrest
July 8, 3:18 p.m.: Security at Perkins School for the Blind spotted an unknown person walking around on the school property. They attempted to speak to the man but he left the property. Police located the man on North Beacon Street, and he said he was walking on the property because it was shady and quiet. Officers learned that he was wanted on a warrant. Robert Richards, 35, of Watertown, was arrested on the default warrant from Waltham District Court.
July 9, 6:33 p.m.: Two women were seen shoplifting at Target. They scanned cheaper items instead of more expensive ones, put them in their cart, and left the store. Police received a description and located the pair across the street at Arsenal Yards. They said they had come from Target. Store security confirmed the women were the ones who stole $158.27 in items. Police discovered that one of the women, Taneka McPherson, 39, of Boston, was wanted on a warrant from Dorchester District Court for motor vehicle offenses. She was placed under arrest for shoplifting by recording a false value, and the warrant. The other suspect, a 41-year-old Boston woman, was summoned to Waltham District Court for shoplifting by recording a false value.
Incidents
July 3, 4:40 p.m.: Three men entered the Nike Store at Arsenal Yards and took two pairs of sneakers worth $240. They placed them in a Marshalls shopping bag and left. The manager said two of the men were involved in past shoplifting incidents. Police are working to identify them.
July 3, 5:09 p.m.: Police went to Best Buy for a shoplifter who took two HP laptops worth a total of $800. Police obtained images from security video, and distributed them to area police departments. A detective with the Brookline Police identified the man, who is wanted on three warrants from Brookline District Court for shoplifting; attempted larceny and vandalizing property; and larceny from a building. A warrant was requested from Waltham District Court for the 41-year-old homeless man for shoplifting over $250.
July 3, 8:49 p.m.: A bicycle was stolen from a bike locked up at the Hampton Inn & Suites at Arsenal Yards. The owner last saw the bike locked in the garage on July 1. Security footage shows a person cut the look and take leave the area with the bike on July 2 at 12:50 p.m. The bike was an older red Trek mountain bike valued at $100. The suspect is a white male who wore a dark hoodie, dark pants, white shoes and had a black backpack.
July 5, 1:03 p.m.: A man had his car serviced at Sullivan Tire. He got four new tires, an alignment and tune up, which cost $1,094.02. The man came to pick up the vehicle, and said he would go get payment and come right back. He got into the car, backed out of the lot in a dangerous manner, and sped off without paying. Sullivan employees had the license plate, and police were able to identify the man through his RMV photo. A 65-year-old Boston man was summoned to Waltham District Court for larceny under $1,200.
July 5, 5:50 p.m.: Best Buy employees saw a man come into the store wearing a face mask. He took a Sony PlayStation wireless controller, and put it into a Target shopping bag. A sales associate confronted the man and said he would call the police. The man handed the item back and fled the store. The suspect is described as a slim Black man, age 20-30, wearing a face mask, a Red Sox baseball hat, a grey T-shirt, and grey shorts.
July 5, 5:55 p.m.: A resident received an email from what he thought was PayPal saying he had taken $412 from his account but he had not done so. The email contained an phone number, which he called to get reimbursed. The person who answered asked for the man's bank account. He provided the information and then realized it was a scam. The resident called his bank to cancel his account. No money was missing.
July 5, 7:26 p.m.: A man came into CVS and walked around from 6:30 p.m. to 6:43 p.m. and went over to the cosmetics section and placed items into two bags. He walked out of the store onto Main Street. He took a total of $1,458.28 in merchandise. The man was captured on video. The suspect is described as a Black man, with dark dreadlocks, wearing a navy shirt, black shorts, and black and white shoes.
July 6, 1:21 p.m.: At 1 p.m., a silver Honda Civic parked in the rear of Best Buy. There were two men in the vehicle, and after a few minutes the passenger got out and went into Best Buy. He carried a black backpack and placed a Dell laptop computer valued at $500 into the it. He exited without paying at 1:12 p.m. Police obtained a license plate and are trying to identify the suspect who is described as a white male, wearing a grey T-shirt, green gym shorts, a grey baseball hat, and white sneakers.
July 7, 10:03 p.m.: A fire was reported at Newlywed Foods on Grove Street. The Fire Department responded and found that a conveyor belts in one of the ovens had stopped working, leading to items not moving through the oven. They overheated and began to burn. Firefighters were able to get the situation under control and render the area safe. There were no injuries.
July 8, 3:06 p.m: A moped was taken from Arsenal Yards. The owner parked his moped next to the bike rack on July 6 and used a cable lock to secure it. When he returned on July 7 the lock had been cut and the moped was gone. The moped was a white 2018 Roughhouse valued at $1,000.
July 9, 4:35 p.m.: Police went to Target where a shoplifter had been detained. The man filled a shopping cart with merchandise and when he went through the self checkout he did not scan the items. He tried to leave without paying for $586.96 in items, but security stopped him. He admitted to taking the items. A summons was requested for the 30-year-old Boston man for shoplifting — a second offense.