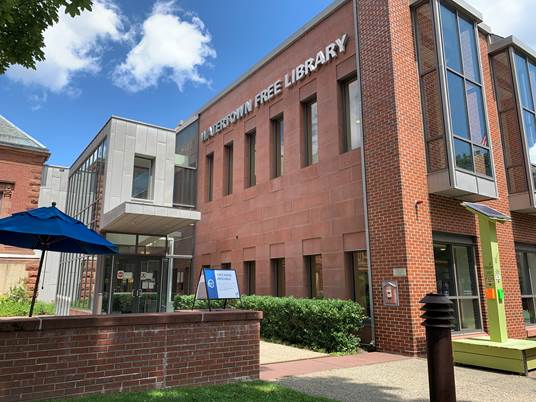 The Board of Library Trustees has selected the two finalists for Watertown's next library director. Both currently work as library directors, one in Massachusetts and one out of state.
The Trustees announced the finalists on Wednesday night. The finalists were selected from a pool of 14 applicants. A screening committee reviewed the applications and narrowed the list to six semifinalists. After interviewing the semifinalists on June 29, the screening committee referred two finalists to the Trustees.
On July 19, the finalists were announced at a Board of Trustees meetings. They are: Dan Brower, Library Director of the Cass County Public Library in Harrisonville, Missouri; and Kim Hewitt, Library Director of the Needham Free Public Library.
During Wednesday's meeting Leanne Hammonds, chair of the Library Trustees, said: "I'm really excited about the two candidates we have to interview next week."
Bernie Lynch, managing partner of search firm Community Paradigm Associates, told the Trustees Wednesday that the search yielded quality candidates.
"Thirteen of 14 applicants met the job requirements," Lynch said. "A number that were more in line with what the Watertown Library needs and is looking for, and has the experience that you would be looking for." 
Lynch announced the candidates in alphabetical order.
Brower has been the director of the Cass County Library, outside Kansas City, since December 2021. Prior to that he served as assistant director/head of public services for four years for that library. He held the same position at the Scenic Regional Library in Missouri, near St. Louis, for two years, and spent more than five years working for the Mid-Continent Public Library near Kansas City as the branch manager, assistant branch manager, and library assistant. Brower received his master's degree in library science from Emporia State University, and a bachelor's degree in history from Missouri State University.
"He is published. He is very engaged in the world of libraries, public libraries and the services they provide. He is active in the Missouri Public Library Association, particularly as it relates to legislative affairs," Lynch said. "The (screening) committee was very impressed with his background, his passion, and his ideas for what a library means for a community." 
Hewitt was appointed library director in Needham in November 2021. Before going there, she worked as the circulation department head at the Waltham Public Library for more than three-and-a-half years. She also worked at the Newton Public Library, serving as acting assistant supervisor of public services, public services librarian, and senior library assistant. She earned a masters in library and information science from Simmons College and a bachelors in American Studies from UMass Boston.
"She replaced a library director who had served (in Needham) for 30 plus years … she filled some big shoes and brought forward some new ideas that move their system forward," Lynch said. "She is very active in the professional organizations, presented and published (papers), and currently is the president of the Massachusetts Library Association. She is a very engaged and qualified candidate who is well respected by her peers."
The screening committee asked questions on a variety of topics, including: the role of a library director; their vision and mission for a public library; community engagement; management style; financial management; diversity, equity and inclusion in a public library; facility planning; and innovation and technology.
Each of the candidates will take a tour of the Watertown Library, and will be interviewed on July 25.
The Trustees will interview the finalists at a public meeting on Tuesday, July 25 at 6 p.m., in the Lower Hearing Room in City Hall (149 Main St.). Brower will be interviewed first, and Hewitt is scheduled to be interviewed at 7:30 p.m. The meeting will also be held remotely. See more information here. Two nights later, the Trustees will meet at 7:30 p.m. When the agenda is published it will appear here.
The public will not be able to ask questions or make comments either during the interviews or when the Trustees deliberate, Hammonds said, but they can send an email or call Trustees with questions or comments. Their contact information is available here.
The agenda for Tuesday's Board of Library Trustees meeting, and detailed resumes can be found by clicking here.
Brower will fly in from Missouri for the interview, and the Trustees voted to approve $1,000 to cover his travel expenses. Prior to the search, they had approved $800 for travel expenses and on Wednesday Trustees voted to increase the amount by $200. The money will come from the Library Trustees Expenses Account.