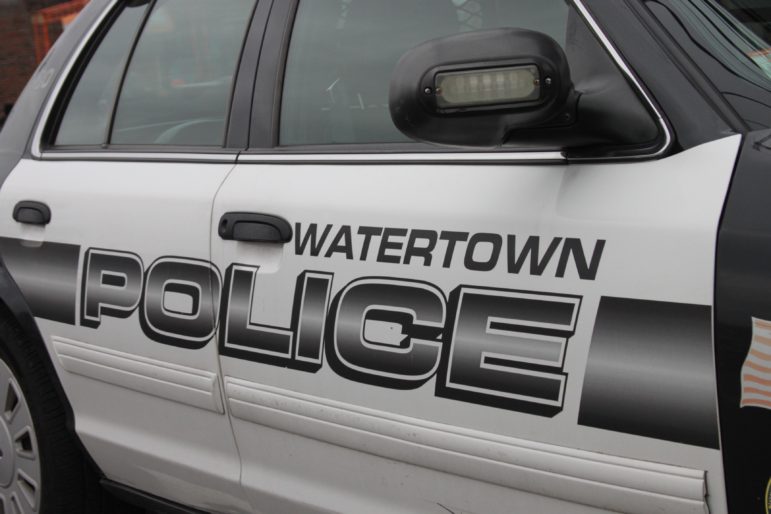 The following information was provided by the Watertown Police Deparment.
Arrests
July 18, 11:48 a.m.: An officer patrolling in Watertown Square spotted a vehicle running a red light going from North Beacon Street onto Galen Street. The driver was pulled over and police discovered he was wanted on drug charges. William Reynolds, 43, of Boston, was arrested on the warrant from Dorchester District Court for possession with intent to distribute a Class D drug, and possession to distribute a Class B drug. He was also cited for a red light violation. 
Incidents
July 17, 11:10 a.m.: A set of golf clubs was stolen out of a vehicle parked at an apartment building on Pleasant Street. The resident parked the car on July 15 and when he returned on the 17th he noticed his golf equipment was gone. The stolen items included a golf bag worth $200 and a set of golf clubs valued at $2,200. It appears the car had been left unlocked. There were no signs of forced entry.
July 17, 11:27 a.m.: A resident reported that his credit card had been used fraudulently. Someone took the man's personal information and opened another card. Between April 20 and May 8, several charges were made in South America, totaling $2,221.15.
July 17, 1:39 p.m.: A package was delivered to an apartment building on Pleasant Street but was gone when the resident went to retrieve it. The package containing a blender valued at $161 and an air fryer priced at $150 was delivered sometime between 7 a.m. and 9 p.m.
July 19, 5:44 p.m.: Best Buy security saw a man enter the store, look at cell phones, and rip one of the phones off the display stand. He ran out the door with the Samsung Galaxy phone valued at $300. The suspect is a Black male with short black hair, wearing a black T-shirt and grey jeans
July 20, 2:22 p.m.: A man entered the Nike Store, concealed a pair of Air Max sneakers, and exited the store without paying. Officers located the man at a bus stop on Arsenal Street. He admitted to taking the shoes that were worth $109.99, and gave them to police. Nike chose not to seek charges against the 57-year-old man from Brookline, and the man was trespassed and will not be allowed to return to the store.
July 20, 8:03 p.m.: Police went to Best Buy for a report of shoplifting. A woman came into the store and placed several electronic items into a personal bag. She purchased two of the items with a debit card, but did not pay for four electronic items worth $184.96. The suspect is an Asian woman, 5-foot-3 inches tall, with black hair, and wearing a black coat, a maroon skirt, dark blue jeans, and black shoes.
July 22, 10 a.m.: A man was in the Dunkin' on Mt. Auburn Street near Watertown Square, and refused to leave when asked. Officers responded and they gave him an opportunity to leave but he did not do so. The 58-year-old homeless man was summoned to Waltham District Court for trespassing.
July 22, 3 p.m.: A man came into Arsenal Wine & Spirits and acted suspiciously. He went in and out of the store multiple times, and eventually took two bottles of water and a bottle of Sprite and walked out without paying. The employee recognized the man from a previous shoplifting on July 18, when he took a pack of High Noon hard seltzer and left without paying. That day he left the seltzers on the sidewalk and kept walking. Police are trying to identify the suspect, who is described as a white male, 5-foot-7, wearing a grey hat, a dark-blue long-sleeved shirt, black shorts, and black sneakers.
July 23, 11 p.m.: Police received reports of homes being egged at multiple places around town. They responded to Bromfield Street after a homeowner heard a loud bang on his front door and found broken eggshell and residue on the door. A Westminster Avenue resident told police that there was a loud bang against the window at about 10:50 p.m. and broken eggshell and yolk were found. On July 24 at 5 p.m., Hosmer Street residents reported that sometime between 10 p.m. on the 23rd and 7 a.m. on the 24th, their home was egged. On July 23 at 11:17 p.m., officers went to a Bailey Road residence for an egging. The residents heard something strike their home at 11:15, and they saw a vehicle — possibly a white Jeep SUV — drive away. On July 24 at 5 p.m, an Acton Street resident reported that his home had been egged sometime overnight.