Rain gardens at two Watertown schools that should be trickling water into the ground after storms have not been draining properly and have become standing ponds. The stormwater systems will have to be reinstalled so they work properly.
The rain gardens were installed at Hosmer and Cunniff elementary schools during the construction of the new school buildings. This spring and summer, they have filled with water and have caused problems, said Mark Sideris, Council President and chair of the School Building Committee, at the July 19 meeting.
"If you go by Hosmer the stormwater retention area is filled with water. It is dangerous, and the Health Department has raised issues," Sideris said, adding that mosquitos and other insects can breed in the water.
The ponds have not gone unnoticed by residents, Sideris said, who said that he and other City Councilors have received calls about it, as has State Rep. Steve Owens.
School Building Committee member Leo Patterson said his mother lives near Hosmer, and added that the ponds are not just there after major rainfalls, but are persistent.
School Committee member Lindsay Mosca said she wants to make sure that the same issue does not occur in the landscaping and stormwater systems at the Lowell School, which is nearing completion, and at the new Watertown High School, which will start construction this fall.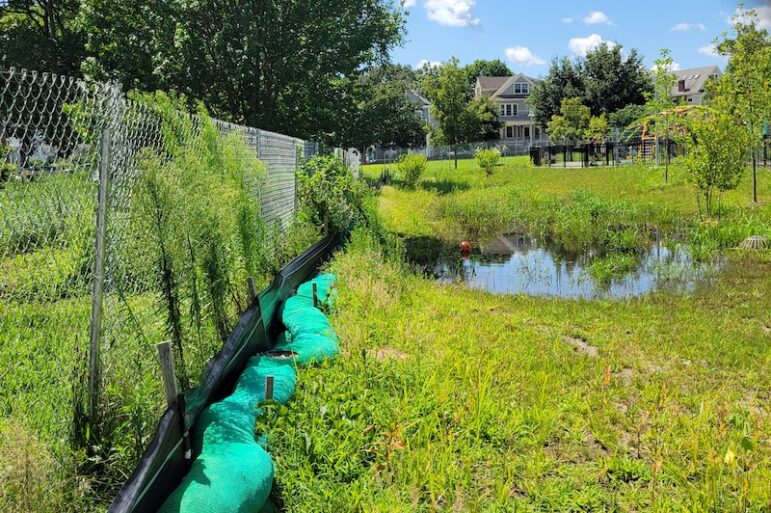 Andy Street, from Vertex — the landscape architects for the project, said that the systems not only are supposed to percolate rainwater into the ground, but also prevent phosphorous from getting into storm drains that empty into the Charles River. A special mix of soil in the retention areas filters the phosphorous, and encourages the water to drain into the soil ground below.
After the School Building Committee met, a meeting was held between the designers from Ai3 Architects, the project managers from Hill International, members of the School Building Committee and the Department of Public Works.
Sideris said that it was determined that the stormwater retention systems would have to be "dug up and redone."