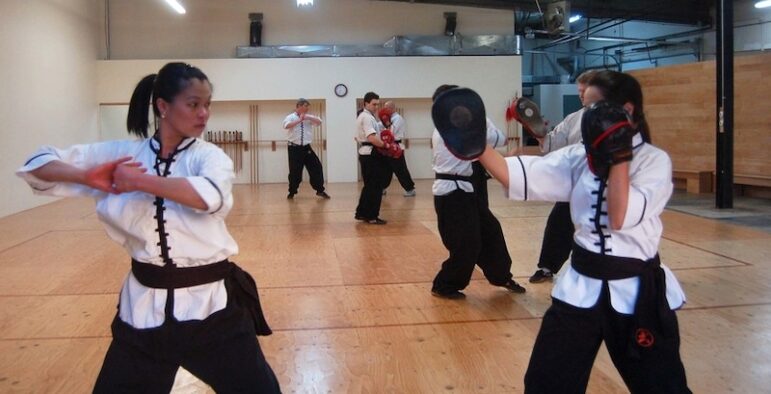 Inside an unassuming building, surrounded by office buildings, labs, and an auto dealership sits a spacious studio where students train in kung fu and tai chi from an instructor who is versed in martial arts and more.
Wu Dao Kung Fu & Tai Chi moved to a studio on Walnut Street after years operating near Fresh Pond in Cambridge. Owner and head instructor Lindsay Lambert developed a loyal group of students, many of whom followed Wu Dao after the move to Watertown.
The numbers dropped during the Pandemic and after the move, particularly the kids program.
"We are a smaller group. We used to have over 100 at the old place. Now we probably have around 50 here now," she said. "I'd like to increase that by like 15 to 20."
While Watertown has several established martial arts studios, Lambert said that she believes there is space in town for all of them.
"Really it's like hair salons — I hate to compare it to that — but there are hair salons all over the place, but people are going to want to go where they want to be," Lambert said, "where they find the best service. Where they find the person they want to spend time with."
Students start studying martial arts for many reasons, Lambert has found, including people who used to train when they were young and want to get back into it, people who want a new type of workout, and even those who are recovering from injuries.
"I've had people come in who have had back surgery or knee surgery," Lambert said "One of my longtime tai chi students, one of the first students to sign up, she has had two knee replacements and a shoulder replacement."
One student who has been with Wu Dao for years is Sheppard Ferguson, who also serves on the Watertown Board of Library Trustees. He has enjoyed learning tai chi from Lambert.
"She's the real deal. There are about a dozen of us in tai chi who have been working with her for eight or 10 years, three times a week," Ferguson said.
The adult tai chi class has a range of students, from college age to others who have studied for several years, and people whose day jobs range from tech to editors of major publications, and many other professions.
"What is special about Lindsay is that she works simultaneously with everyone at their own level," Ferguson said. "She is disciplined but not rigid. This tends to be unusual in my experience with martial arts studios"
Lambert said Wu Dao is more low key than some studios, but she still takes pride in a strong curriculum.
"I think we do a pretty good job as far as having a really established curriculum and having a really supportive group of students," Lambert said. "My expectations are that people show up and try hard, nothing beyond that. I've been to a lot of different schools and sometimes there is an element of pressure that we don't have."
Lambert found kung fu when she was living in Maine, where she grew up.
"As soon as I did it, I said, 'Oh ya! This is clearly what I want to do," Lambert said.
Soon she became a martial arts instructor, but that was not her first time teaching.
"I had experience teaching dancing, also," she said. "I've been teaching a long time, since I was like 14 — over half my life," Lambert said.
Lambert took an interest in Irish step dancing when she was young, after her sister did a foreign exchange trip to Northern Ireland and her mother became a fan of Riverdance. Her family had a video tape of step dancing, and Lambert said she wore it out teaching herself all the steps. Then she looked for a local instructor
"We lived in Blue Hill, Maine, it's like a half hour out past Bar Harbor. I found out about a school that teaches Irish dance in Bangor," Lambert said. "So, my parents took me and it turned out it was just a tap dancing teacher who had, like, taken a class and then found out that I knew more than they did, somehow."
At the age of 14, she was hired to teach Irish Step Dancing at the Thomas School of Dance.
Lambert began training martial arts in 2007 under her first teacher, Ian Factor, and she started teaching in 2008. After a few years she was hired by Tim Hartmann, who founded Wu Dao in 2007. In 2018, she took over ownership of Wu Dao.
Along with teaching, Lambert also seeks to learn from martial arts masters from around the globe. Wu Dao teaches schools of movement under Shifu Shi De Cheng of Deng Feng. She participates in workshops under master tai chi Master Wei Lun Huang originally of Foshan, China, and then Florida, who passed in 2016. She has studied with Sonny Mannon of California, to learn Shuai Jiao. More recently, she learned under Master Yang, Jwing-Ming the founder of YMAA, a Chinese Martial Arts school that started 40 years ago and has branches all around the world.
She will bring back what she learns at workshops and show some of the techniques to her students.
"If they like the techniques and they work then we keep it, if they don't then we don't," Lambert said.
Lambert has studied not just kung fu and tai chi, but some of the oldest forms of martial arts.
"The oldest ones we know about are the ones that came out of China," she said. "Inner Mongolian, Mongolian, and Chinese wrestling are all thousands of years old."
Known as Shuai Jiao, Lambert started training in Chinese wrestling, and has become one of the top women in the country in the discipline.
Lambert trained over the pandemic with friends and fellow martial arts instructors Michelle Lin and Jon Chang of Wu An Martial Arts, and Tye Tonkin of Sanda Fighting Arts and Boston Bokh & Shuai Jiao.
In April, they traveled to Cleveland for the U.S. Shuai Jiao nationals.
"I won my weight division, John won his weight division, and Tye won his weight division, so Boston brought back three national championships," Lambert said. "It was super exciting."
Lambert said the whole experience was like something out of a movie, because only Tye had competed in Shuai Jiao before nationals. The winners at nationals qualified for the World Cup in Brazil this October, in which Lambert plans to compete.
More recently, the team from Boston took three golds and a silver in a competition in New York in June.