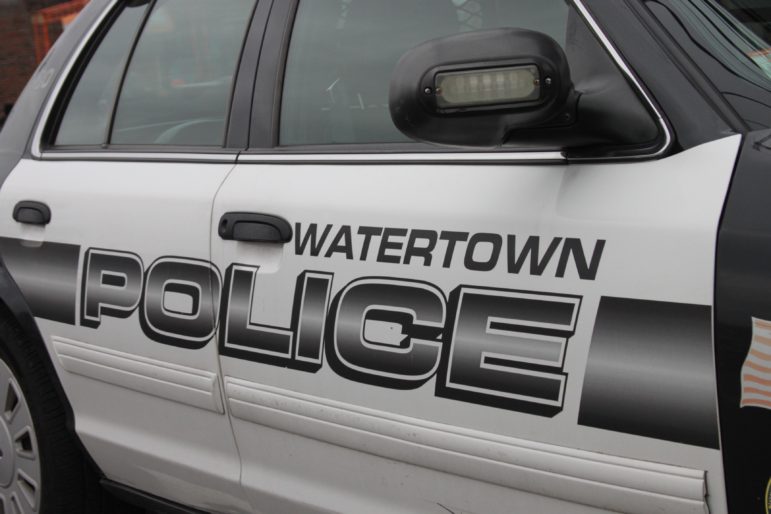 The following information was provided by the Watertown Police Department.
Arrests
July 25, 11:48 a.m.: Detectives from the Suburban Middlesex County Drug Task Force observed a man making a drug sale on Brookline Street. The man had been under investigation for a month. After the sale, police pulled the suspect's vehicle over. They immediately noticed two tied off corner plastic bags with a white rock substance inside the vehicle. The man was arrested and the car was towed to the Police Station for further investigation. A police search dog discovered a compartment inside the vehicle with 108 corner bags with cocaine and fentanyl inside. The substances were field tested and will be sent to the State Crime Lab for confirmation. Police said the bust took a significant amount of drugs off the streets. Bryan Jean Carlos Vallejo Perez, 28, of Boston, was arrested on charges of trafficking a class B drug (cocaine), trafficking Class A drug (fentanyl), and possession with intent to distribute a Class B drug (cocaine).
July 26, 9:51 a.m.: A 78-year-old woman was sitting in the living room of her home on Edward Road when she heard a noise and thought it might be the dishwasher. About a minute later she saw a man standing less than 10 feet away from her. She said she was shocked and began to yell at the man to get out, and asked "What are you doing here?" The man said that Uber told him to come in the back door. The man ran out of the house and was seen leaving on a black stand-up scooter. The woman realized the man had taken the wallet from her purse, which contained credit cards and her driver's license. Police were able to get surveillance video from people in the area. As officers were at Edward Road, they received a report of a similar incident on Pine Street. A resident said at 10 a.m. a man matching the description of the suspect was seen at the backdoor of his home. The suspect asked if the man had order from Uber Eats. He then left on a scooter. Officers searched the area and saw a man on a scooter on Pleasant Street near the Riverworks building. An officer grabbed the man off the scooter, and they found he had a backpack that contained credit cards that were taken from a car on Puritan Road, as well as items linking him to the home on Edward Road. One of the victims identified the suspect. Jonathan Quintanilla, 23, homeless from Waltham, was arrested for breaking and entering during the daytime for a felony, putting a person in fear, two counts of larceny under $1,200, two counts of larceny of a credit card, breaking and entering of a motor vehicle, and possession of a stolen RMV document.
Incidents
July 24, 9:46 a.m.: A Phillips Road resident woke up on July 23 and could not find her purse. She believed she had it when she took her dog for a walk, and thought she left it in the mud room. When she went out of her front door later that day she found her wallet on the front steps, but the purse, credit cards and $30 in cash were missing. The purse was worth $375, and the wallet cost $30.
July 24, 4:23 p.m.: A resident of the senior housing building on Waverley Avenue reported missing packages. They had been delivered on the 21st by Amazon at 4:55 p.m., but when the resident went to check at 6 p.m. the packages were gone. The packages contained women's bathing suits worth $30.99 and $26.99. Police are reviewing security video.
July 24, 6:06 p.m.: A man was spotted going inside a locked cabinet and taking items at Best Buy. The man came in at 7:42 p.m. on July 22, pried open the cabinet, took four desktop processors and a wireless microphone system, worth a combined $2,169.95. He concealed the items in his shirt and pants and exited without paying at 7:57 p.m. Employees discovered the missing items while doing inventory. The suspect is described as a Black man, with a black beard, 6-feet tall, who wore a surgical mask, a dark blue Vineyard Vines hat, a beige long-sleeved shirt, and black pants.
July 25, 7:12 p.m.: Roche Bros. discovered that a man came into the store two times in four days and shoplifted. The first time was on July 22 at 12:18 p.m. He filled a shopping cart and went through self-checkout where he only scanned some of the items. He left with $19.67 of items which had not been paid for. He returned on July 25 at 4:43 p.m., filled some reusable bags with items, and paid for only some of the items at self-checkout. He took $95.24 worth of food. The suspect is a white man, age 50-70, with a stocky build, wearing a black tank top, and sunglasses.
July 27, 11 a.m.: A King Street resident ordered a Korg 61 Pro Arranger keyboard and other items. The packages were delivered, but when he got home the keyboard was not there. The items were worth a total of $3,990.
July 27 3:40 p.m.: A woman walked into Too Tempted in Arsenal Yards and attempted to purchase clothing that was marked buy-two-get-one-free. The employee said one of the items did not qualify for the sale. The woman then picked up a shirt and pair of jeans worth a total of $146 and walked out without paying. The suspect is a Black woman, heavyset, in her early- to mid-30s.
July 28, 5:53 p.m.: A man was found lying on the front porch of a building on Mt. Auburn Street that has businesses on the ground floor and apartments above. Officers arrived and asked him to leave. The man refused. The man had been told previously not to come back to the building and was trespassed. The 58-year-old homeless man from Watertown was summoned to Waltham District Court for a trespassing violation.
July 29, 1:51 p.m: A woman reported a scam over Facebook. She had been corresponding with a man who said he was in the Army stationed in Syria. They had been messaging for months and planned to marry when he returned to the United States. After a while he began to ask the woman to send him money. She sent seven transactions over a month for a total of $17,000 to a Bank of America account in Virginia. The man said he needed money for a flight out of Syria, and the only way to do so was on a private jet. After she sent the money, the woman realized it was a scam.
July 30, 1:47 p.m.: A man went to 7-Eleven on Mt. Auburn Street and parked his scooter outside the door. He went in for 20 minutes and when he came back out the red and black AOVO Pro ES80 electric scooter was gone. It was valued at $276.