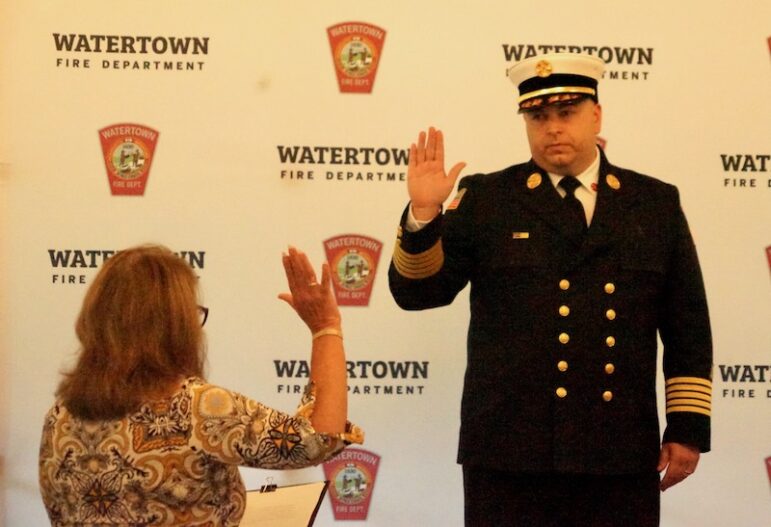 Watertown's new Fire Chief had plenty of people to thank during his swearing-in ceremony, but Ryan Nicholson made sure not to be the sole focus of the event at the Commander's Mansion on Tuesday afternoon.
"I'm incredibly humble to be able to address this group today as the Watertown Fire Department's eighth permanent fire chief," he said Tuesday. "I am also excited to announce the promotion of five of our men, and celebrate the appointment of seven firefighters."
City Manager George Proakis has gotten to know Nicholson, having worked together since Proakis arrived in Watertown in August 2022. At the time Nicholson was Provisional Fire Chief, and Proakis said he could see his leadership qualities.
"Ryan Nicholson is a team player, and a team leader. And (he is) somebody who wants to make sure we pull together as a Department, and (that the WFD) continues to get better and works with him, for him, and in a way that makes Watertown better and makes the Fire Department better as we move forward," Proakis said. "So, I was very happy to have the opportunity to select Ryan Nicholson as the next Fire Chief."
Nicholson thanked those who came out for his swearing in, including Fire Chiefs from Waltham, Belmont, Newton, and Weston, along with retired chiefs from Belmont and Wellesley. In particular, he thanked the Watertown chiefs who he worked with during his career.
"Chief (Mario) Orangio hired me as a firefighter when I was 21 years old, and he saw something in me and inspired me to take a leadership role pretty early on in my career," Nicholson said. "We lost Chief Orangio too soon to cancer. I am eternally grateful for the opportunities he gave me to achieve my career goals. And, thank you to his wife, Sandra, who is here today."
Nicholson also served with Chief Bob Quinn, including as assistant chief.
"He was and continues to be a trusted advisor to me," Nicholson said. "I appreciate his guidance and strong example he set for me and so many others in his 35-year career. He served the Department with the highest level of honor and integrity."
Family also played a big role in his success, Nicholson said.
"Another one of my mentors was my Uncle Michael, Deputy Chief for Watertown Fire, who passed away from occupational cancer in 2013," he said. "His presence in my life played a large part in me pursuing this career path, and I hope I have made him proud."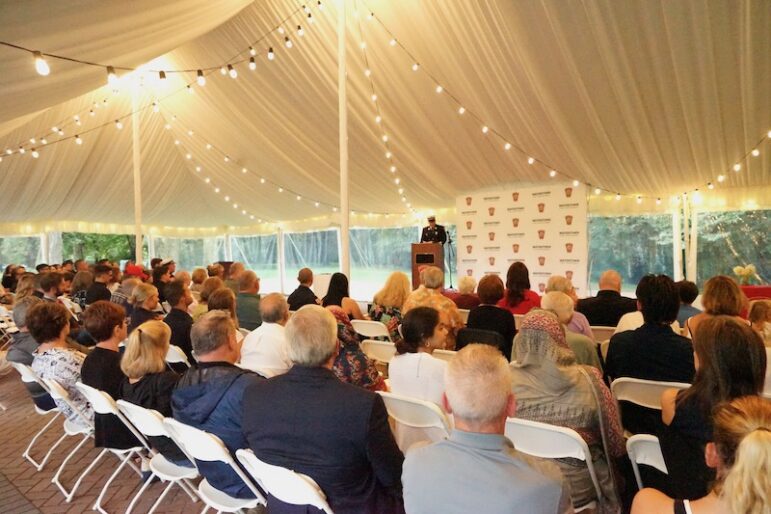 Nicholson had a big family turnout for the ceremony.
"My parents, Robert and Donna, thank you for always supporting me and cheering me on my entire life. It can't be easy having not only one, but both of your sons in the fire service," Nicholson said, referring to his brother Matthew, also a Watertown Firefighter. "You raised us right, and I appreciate all the sacrifices you made."
He also thanked his grandmother Rose, who they call Honey, for coming to the swearing-in.
Some of his biggest inspirations are his children and his wife, Nicholson said.
"Will and Emma, the two of you are my reasons why: why I worked hard, why I am happy to come home, and why I will always strive to make our community a better and safer place," he said. "Finally, my wife Jen. I couldn't have made it here today without your love and support. You attended my Fire Academy graduation in 2006, years before we were even married. You have been by my side though every step of my career, every stage. Thank you for always believing in me and for everything that you do for our family."
Nicholson looked forward to continuing to work with members of the Watertown Fire Department.
"I believe each of you exemplify the finest that the fire service has to offer. I am proud to be your chief and I am grateful that you all made this choice to serve in this honorable career," Nicholson said. "Our job is not just about fighting fires, we are civil servants called upon at a moment's notice to answer any call for assistance. We must rely upon one another for our safety and well being. Together we build on the legacy before us to continue moving the department forward and serving our community with our fullest dedication and professionalism." 
He looks forward to continuing to serve his hometown.
"This city has always been my home. I've seen it grow and evolve and welcome new community members, businesses, and leaders. The Watertown Fire Department will always be here for each and everyone of you whenever you are in need," Nicholson said. "The opportunity to serve Watertown as its Fire Chief is a tremendous honor and responsibility that I will never take lightly. I look forward to working together with everyone here today, and everyone throughout the City and beyond to best serve and protect the public, and always contribute to the greater good of our community."
Promotions & Appointments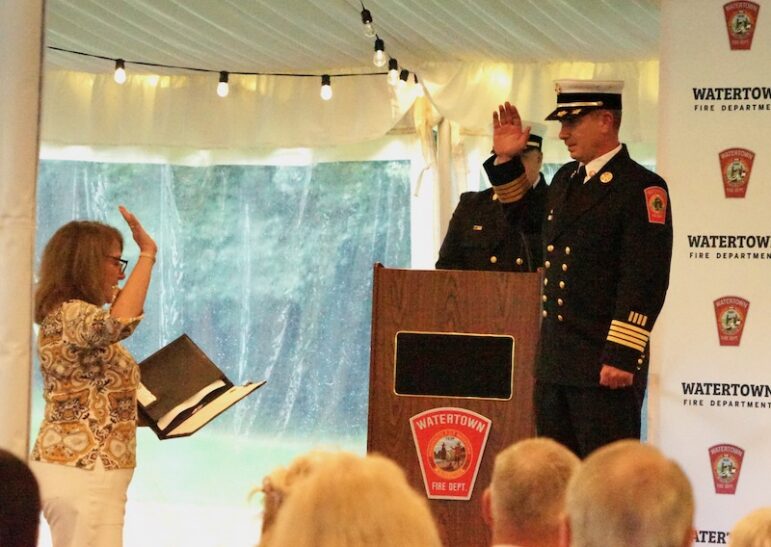 When Nicholson and the City Manager discussed a ceremony where the new chief would take the oath Nicholson emphasized one thing, Proakis recalled: "He did not want to be sworn-in during a ceremony all on his own. He wanted a ceremony that would celebrate the entire department."
On Tuesday, multiple other members of the Watertown Fire Department were sworn into their newly promoted positions, and several recently appointed firefighters were officially sworn in.
Promotions
Assistant Chief William Maietta Jr., appointed Aug. 13, 2o23
Capt. Ralph Mele, appointed July 17, 2o22
Capt. Ryan LaFauci, appointed Aug. 13, 2o23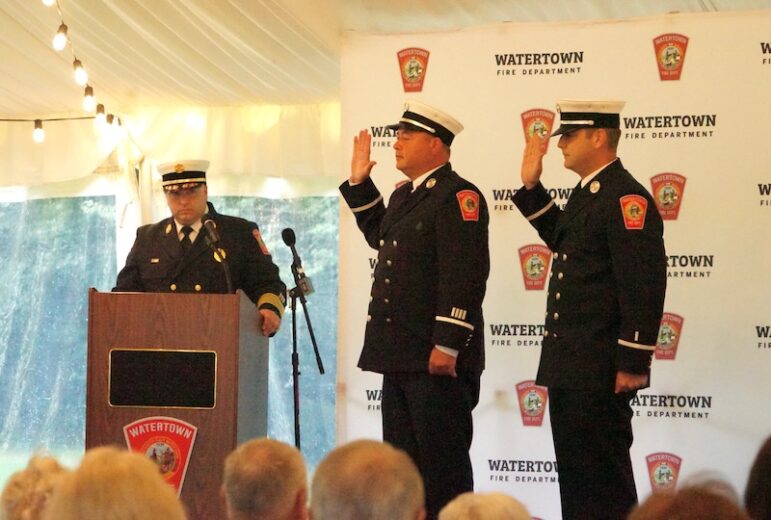 Lt. Brendan Malloy, appointed July 17, 2o22
Lt. Jason Capello, appointed Aug. 13, 2o23
Firefighters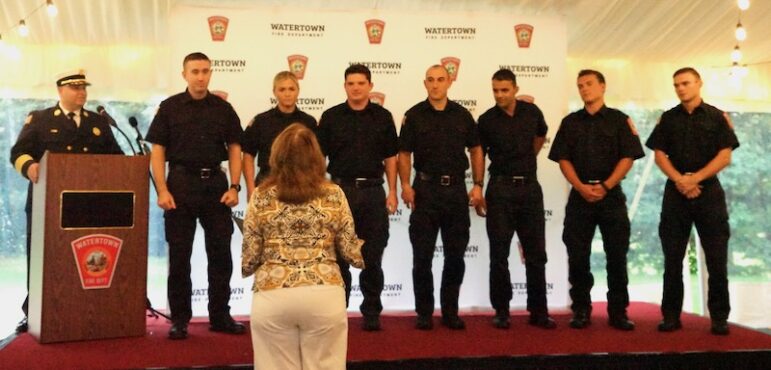 James O'Connell, appointed Feb. 13, 2o22
Kate Boudreau, appointed Aug. 14, 2o22
Kevin Mawe, appointed Aug. 14, 2o22
Aqib Shah, appointed Aug. 14, 2o22
Owen Bullock, appointed Jan. 29, 2o23
Justin Pariseau, appointed Jan. 29, 2o23
Christopher Iannetta, appointed Feb. 19, 2o23
Nicholson also awarded Fire Department service awards on Tuesday. Follow Watertown News for further coverage of the ceremony.