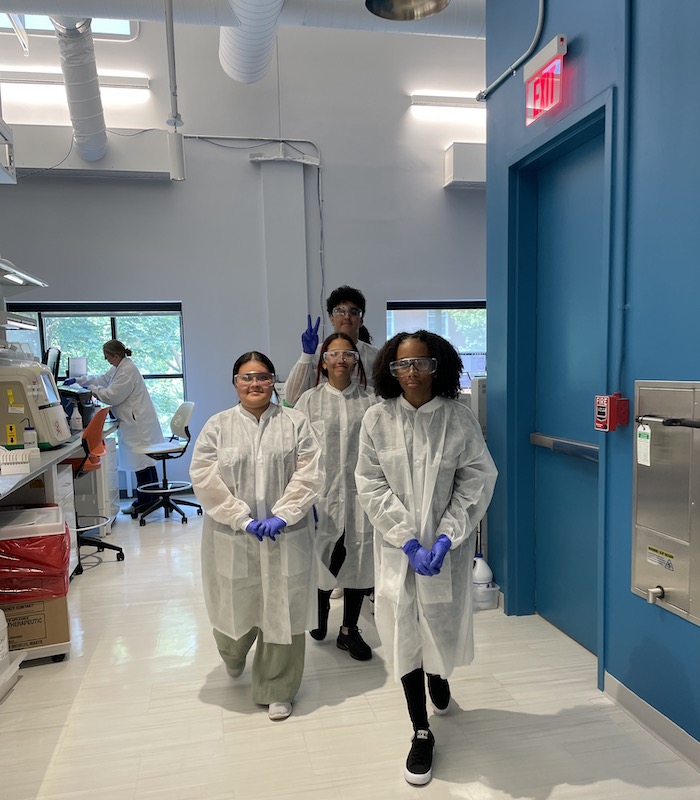 A group of aspiring young scientists got a glimpse inside a Watertown company that does cutting-edge biopharmaceutical research.
The high school age students recently visited Kymera Therapeutics' offices and labs at Arsenal Yards as part of a field trip organized by MassBioEd's Summer Program.
MassBioEd partners with the LEAH project and LabCentral to offer a lab-based summer internship program to rising high school juniors and seniors. They spend four days a week learning about biotechnology tools and improving their technical skills at LabCentral in Cambridge. One day each week, they visit life science companies and organizations to see how the skills and tools are used.
"The kids who came last year to Kymera said this was their favorite," said Whitney Hagins, of MassBioEd's Director of BioTeach Instruction.
Kymera takes a different approach to treating diseases, using targeted protein degradation (TPD) to invent new medicines for diseases with limited or no known treatment options. TPD harnesses the body's natural cellular recycling machinery to break down or degrade disease-causing proteins.
On the visit, the group of about 20 students heard from Kymera's Vice President of Immunology, Anthony Slavin, who talked about the research being done at the company.
"What we are doing is accelerating the process of selectively degrading certain proteins," Slavin said. "Depending on the protein's function, the technology has the potential to completely get rid of the disease or it could address a symptom."
Some Kymera scientists shared stories with the students about their work, and how they got to Kymera.
Simin Li, principal scientist in Oncology Biology, said she did better in math, biology, and chemistry than in history, literature, and political science when she was going to school in China. After getting her bachelor's degree at Wuhan University, she came to Boston University and got her Ph.D. in biochemistry. Afterward she headed to University of California San Diego for a post doctorate, but said she missed the change of seasons and moved back to Boston and spent four years at the Broad Institute before joining Kymera last year.
She has worked in a variety of different labs, and told the students that she is still trying to figure out what she wants to do in her career. She narrowed it down some while studying at BU.
"When I was a Ph.D. student I worked with different professors in different areas," Li said. "The program allowed us to do a rotation to see what they do — do you like it."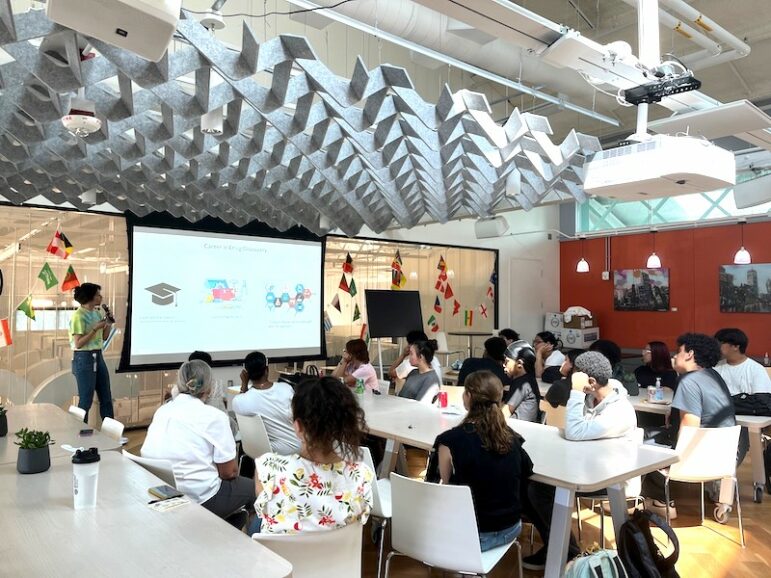 She added that some people left graduate school after getting a masters degree and chose to go to work in a company.
Kymera Senior Scientist in Immunology Emily Lurier also took a while to figure out what she wanted to focus on. She first got interested in science after she broke a few bones when she was growing up.
"I wanted to know how our body heals itself," Lurier said. "And what happens if it doesn't heal or needs to be amputated."
She attended Worcester Polytechnic Institute, and realized that creating prosthetic limbs involves a lot of robotics, which did not interest her. So, she decided to focus on tissue engineering, where she learned about how tissues are made and how to grow them in a lab. Now scientists are able to grow parts of the body to be used in human transplants.
"One of the first was creating an ear on the back of a mouse," Lurier said. "They use a mouse to grow the ear, then they can transplant it back onto a human."
She did her Ph.D. at Drexel University, and during her time there she got a Fulbright Scholarship to study in the Netherlands. When she was there she worked on heart valve tissue engineering.
One of the reasons Lurier said she likes her job is that she is always learning, she told the students.
Chris Browne, Principal Scientist in Proteomics, first got into science because of his love of beetles, but he realized he did not like the career options in that field: go into academia and fight for limited funding, or work for a chemical company coming up with ways to kill insects.
He spent his undergraduate years at University of Tennessee, and then got his Ph.D. at Vanderbilt University. For his thesis he studied yeast, but transitioned to proteins. He worked at a lab at Dana-Farber before taking a job at Astrazeneca. Browne decided he wanted to work for a smaller company, so he took the job at Kymera.
Much of his work involves studying proteins in a mass spectrometer to "measure protein levels and expression" in different types of samples, he said. This technology can help researchers understand "the potential selectivity and effectiveness of degrading disease-causing proteins," Browne said. The mass spectrometer creates a signature, like a barcode, which shows what proteins are contained in the sample and how they change.
"Over an hour, it will ID all the proteins in a cell, see what levels of the proteins are, and see what's changing," Browne said.
The company partnered with MassBioEd as part of Kymera Cares. Through this program, the company supports and positively impacts patients and local communities. Kymera partners with various organizations, including the Watertown Community Foundation, MassBioEd, LifeScience Cares, and the Leukemia & Lymphoma Society, to support their missions through donations and service events throughout the year.
Each May, Kymera Cares organizes several events to support neighbors and give back to the communities where employees live and work during the Month of Service. In 2023, employees volunteered for over 300 hours of service throughout the greater Boston area.
MassBioEd works with students from communities and school districts where there may not be as many resources available for teaching science, technology and engineering; or to expose students to careers in those fields, said Marcie Laden, MassBioEd's Development Director. Students come from many communities, including Boston, Cambridge, Everett, Revere, and Chelsea.
"(Life science) buildings are going up everywhere, but not everyone knows what's going on there. (Some students) say, 'I don't want to be a science teacher, I don't want to be a nurse,' because they associate science degrees with careers in education or medicine. So they may go get a business degree," Laden said. "If your parents or friends don't work in life sciences it is hard to know what all the new possibilities are."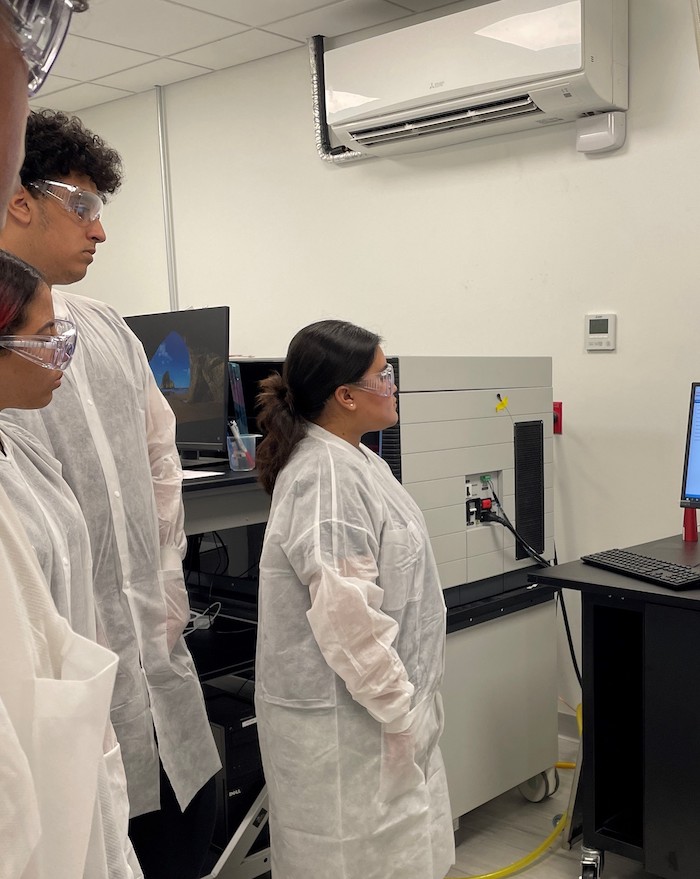 During their time in the lab, the students in the MassBioEd program do some research, such as looking at their own genetics.
"We are trying to do personal genetics," Hagins said. "They are collecting cheek cells to see if they can determine their sleeping habits: are they night owls or a morning person."
The LEAH Project also helps prepare the students for college, said Katie Collins, senior project manager with the LEAH Project.
"We provide them with a paid internship, and also work on college readiness, public speaking and resume building," she said.