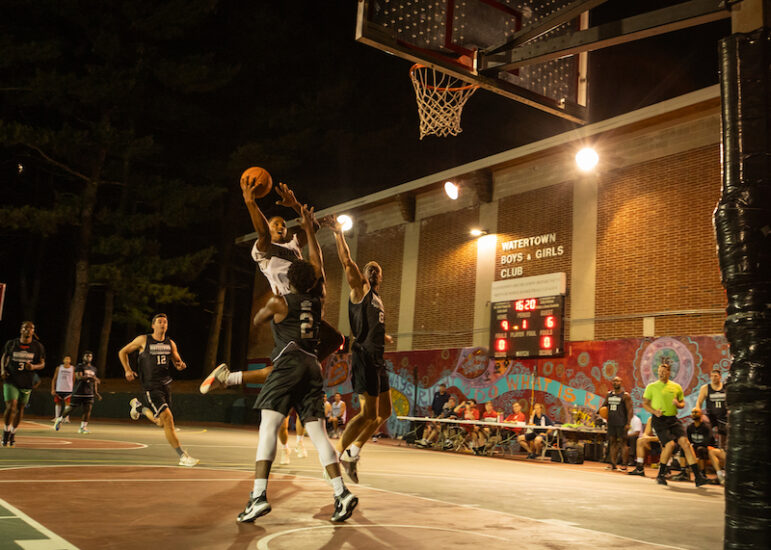 Members of the Donohue's Kaos Club posed triumphantly with the championship trophy Tuesday night after capturing the Watertown Summer Basketball League championship, defeating the squad that won the title last year.
The league has been operating in Watertown for six decades, most of which were played in the outdoor court in Saltonstall Park next to the Watertown Boys & Girls Club.
Donohue's Kaos Club defeated New Day 67-49 in Game 3 of the Papas Elite League Finals. New Day forced the deciding third game by winning Game 2 in overtime on Aug. 17. The game went back and forth in the first half, until Donohue's Kaos Club went on a 19-7 run — including a last-second tip-in — to take a 35-23 lead into the half. They scored the first 12 points of the second half to build an insurmountable lead.
The championship was the first for Donohue's Kaos Club since 2018, said John Donohue, a former Springfield College player who scored two points in the game.
"Four of the last five years we have either won it or lost in championship," Donohue said.
The core of the team has been together for five years, Donohue said, and he said the final was a battle of generations.
"It's harder for us because we all have kids," he said. "We are old men playing against these young college kids. It's been great for us. We are all about team."
That's not to say that the Kaos Club doesn't have its share of younger players. Bo Brace, who played at Northeastern from 2016-20 and scored 14 points on Tuesday.
"I played a year overseas and came back," he said. "I am just working, and blessed to be over here in Watertown."
He heard about the league from Guilien Smith, a player who started at Dartmouth and transferred to Northeastern for his senior year. Smith led all scorers with 19 points. Miles Wright, who played at Dartmouth, scored 15 points. New Day was led by former LeMoyne player Ryan Romich's 16 points, and Pat Luptowski, who played at St. Anselm, added 14.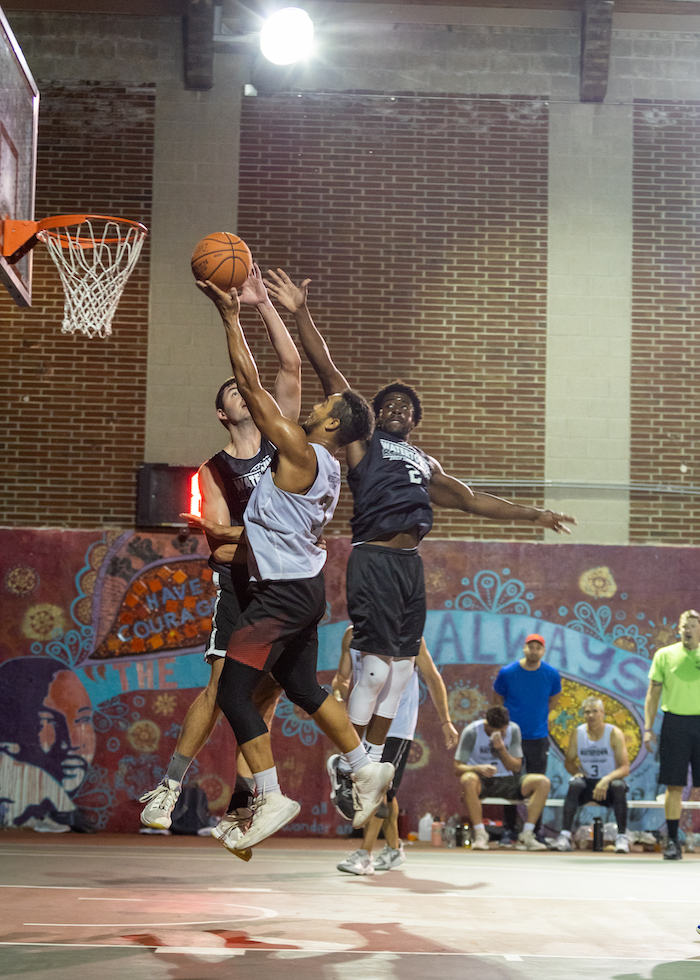 Brace said players on many of the teams play together recreationally, but divide up for the Summer League.
"When teams get together — we have about four teams in the league — it's nice because the last couple years we've played against another team that we play with generally in the championship," Brace said. "It makes it a lot more enjoyable. Then we get to hang out together after the game."
The atmosphere under the lights at Saltonstall Park was part sporting event, part cookout. Fans and players who competed in the preceding O'Brien-Jerahian Legends League games enjoyed hamburgers and pizza, and sipped on their beverages of choice during the game.
The Papas Elite League had seven teams this year, along with four teams in the Legends League.
"There used to be 16 teams down here. I've been playing here a long time," said Donohue whose first played in the league more than 35 years ago was when he was 16. "This year there was seven teams, but seven good teams: very good, very competitive."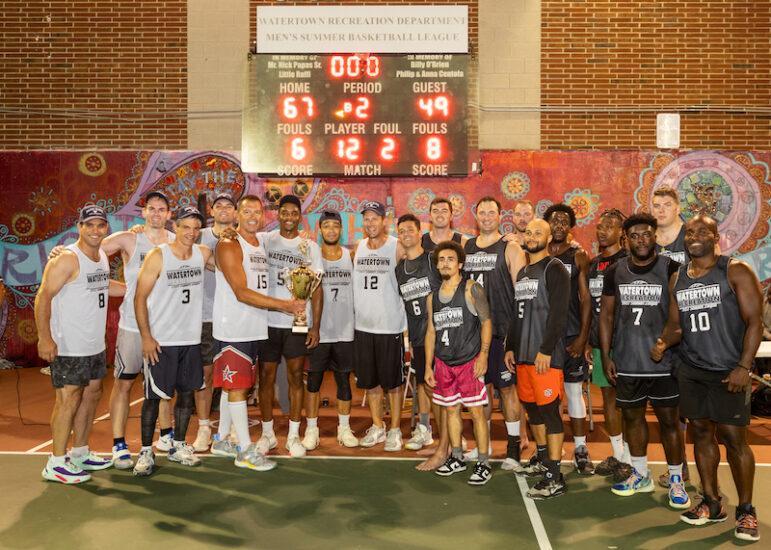 Commissioner Peter Centola, who is also the Watertown Recreation Director, said that 80 to 90 percent of players in the league used to play in college, and the officials also work college games.
The league goes back several decades. The 2024 season of the Watertown Summer Basketball League is the 60th edition, Centola said. He has been running things for the league for 39 years, and his assistant commissioner is Lindsay Graham. He has seen things change.
"Twenty-five years ago we used to have 18 teams at Casey Park and 16 teams here (at Saltonstall)," Centola said. "Now, there are a lot of other leagues, and the social sports leagues (such as Boston Ski and Sports and Social Boston Sports)."
Some of the teams have been around for years, Centola said: Finnegan Club, Johnson Club, Kaos Club, Control Club. Now those teams are in the Legends League.
In the old days, fans packed crowded around the court, and Watertown Cable would have a truck there to broadcast the games. This year, the fans were more sparse, though did not hold back on what they thought about the officials. And Watertown Cable was there to record the game.