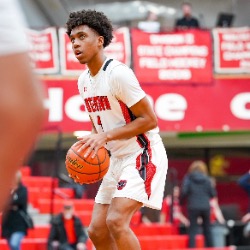 Watertown High School basketball player Jeffrey Herbin will be participating in a 24-hour basketball marathon to raise money to fight cancer.
Herbin seeks to raise $1,000 towards A Shot for Life's $100,000 fundraising goal for 2023. He will participate in the the A Shot For Life Gauntlet on Nov. 11 at the Starland Sportsplex in Hanover.
"Since 2017, hundreds of players have put on the ASFL Gauntlet exclusive black and white jersey and gone up and down the floor with the cancer community on their back," according to the ASFL website. "The ASFL Gauntlet is open to all ages and skill levels with intense, moderate, casual, and beginner floors playing at once in the Starland Sportsplex."
A Shot for Life started in 2011 when Watertown's Michael Slonina shot baskets for 24 hours straight after his mother was diagnosed with a potentially malignant brain tumor. The first A Shot for Life Gauntlet took place in 2017.
Go to Jeffrey Herbin's campaign page by clicking here. Find out more about A Shot Life at www.ashotforlife.org