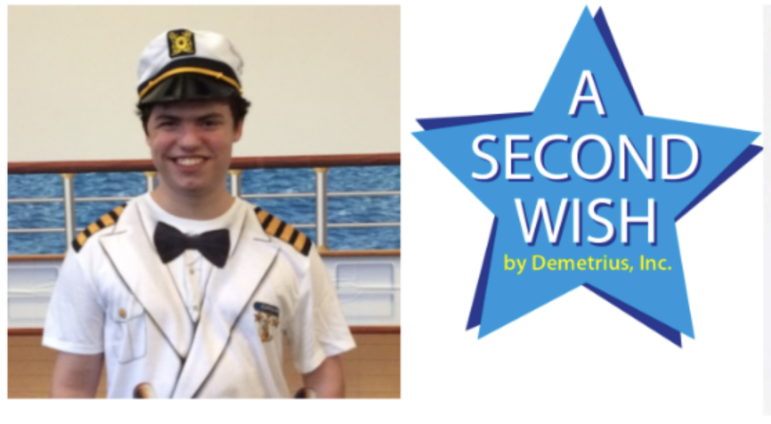 When Watertown resident Brian Manning first went to Disney World he faced a seizure that left him hospitalized. Years later he is hoping to make his return with help from the organization A Second Wish By Demetrius.
A Second Wish By Demetrius is dedicated to impacting the lives of children ages 6 to 18 with life threatening illnesses by helping them grant a wish of their choices. Previous wishes granted have ranged from traveling to Disney World to meeting various professional athletes and celebrities.
The organization was created in honor of a 12 year old boy named Demetrius who passed away from an ependymoma brain tumor. His aunt, Angela Small, founded the organization because her nephew had passed away before he could be granted his second wish.
Manning's mother, Brenda, came across A Second Wish seven years ago when looking for something similar to the Make-A-Wish foundation, which they had previously worked with.
"You have to get medical records, the doctor needs to sign off that it's a true diagnosis and things like that," said Brenda. "Then on their end, they make sure all your information is legit."
Brian had a stroke at birth and has cerebral palsy. He was born four months early and had to spend the following three months in the neonatal intensive care unit on a ventilator. During that time he had a colostomy due being born with a deadly infection in his intestines.
Since then Brian has had three brain surgeries, during the last one the right side of his brain was removed, various orthopedic surgeries, deadly infections and most recently an arm surgery.
Brenda Manning hopes that with A Second Wish By Demetrius' help her family can go back to Disney World to experience all the happiness it would bring.
"Just to see his face and his happiness and after all his struggle now he's been through," said Brenda.
"I would be excited to go to Disney World again," said Brian.
Along with participating in A Second Wish By Demetrius, Brian has an internship with Watertown Cable Access. He also helps manage the Bentley University men's basketball team.
"I'm training to be the manager of the Bentley men's basketball team. It's been maybe three or four years now …" said Brian. "I watch games and practices. I go to the dining hall sometimes and to their dorm rooms. I go to every home game."
He also spends his time taking drum lessons. Currently, Northeastern University is working to create an electronic drum set for Brian.
"He can only use the right side of his body. So he can't use his left hand or his left leg," said Brenda. "So they're coming up with something electronic … that will do something that his hand should be able to do so they're working on it for like a year now. It's really cool."
The Manning family is excited for their future with the A Second Wish By Demetrius and encourages others to look into the organization.
"I think it's a wonderful idea that they have come up with. I hope that they get more exposure so that people donate," said Brenda.