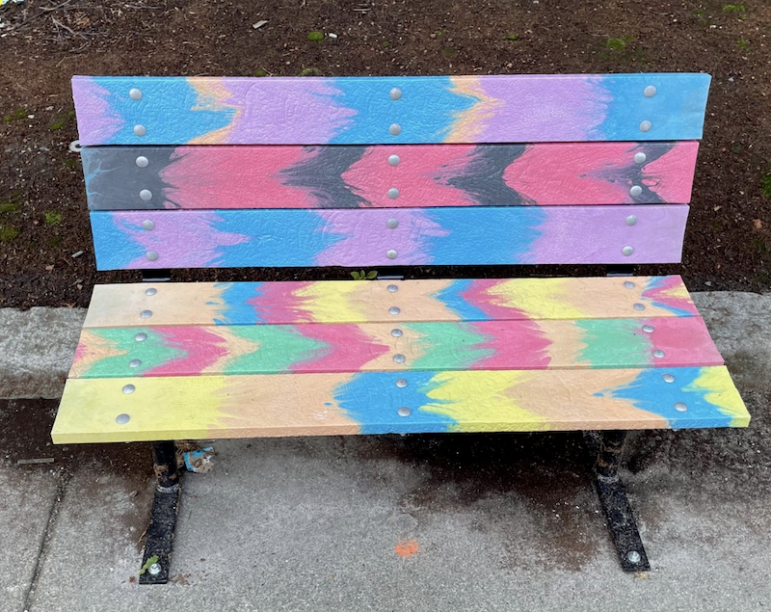 Scattered across different parts of Watertown are colorful benches with a surprising element to them, they are made out of recycled plastic bottle caps.
The Watertown Department of Public Works (DPW) has been working with Plastic Recycled for over a year when they started making eco bricks.
"They were making eco bricks which are the things where you stuff lots of non-recyclable single use plastic into a bottle and they use it for construction," said Recycling Coordinator, Anya Pforzheimer.
The company had asked the DPW if it could be a drop off center for the plastic. Through that communication the founder of Plastic Recycled, Nathan Gray, asked the DPW if they wanted to be a part of a new program.
"He said 'would you be interested in this pilot program that we're doing, which is if the city collects 500 pounds of plastic caps, we'll give you a free bench' and I said 'sure,' not really having any idea if anyone in the city would be interested or if it would take off at all," said Pforzheimer.
From there Plastic Recycled takes the donated bottle caps to their facility where the benches are created.
"Essentially, he just takes all of the small plastic and grinds it up and excretes it into the boards. So unlike a lot of other plastic recycling which involves adding a lot more chemicals into the process, this is essentially just grinding it up," said Pforzheimer.
After that part of the process is completed the company melts the plastic, then excreting it. This leads to the result of the benches that are made out of 500 donated bottle caps. The DPW has seen a positive reaction to the bottle caps. Residents have been donating caps regularly.
"It's a totally optional program where residents, if they want to collect them at home and bring them in, they can. It turns out that there's a lot of residents that are interested in doing it, which is awesome," said Pforzheimer. "We've definitely, I would say collected maybe 2,000 or 3,000, we've collected a lot."
Benches are placed all over Watertown, and ideas for new spots are already brewing.
"I'm still working with the Senior Center to figure out if they have a concrete slab because it needs to be drilled in. But right now there's four near the CVS on Main Street. It's kind of like an artist walk over there, so there's benches there. There's one at the DPW so people can see what they look like and there's one at the Recycling Center," said Pforzheimer.
The DPW hopes that residents continue to donate their bottle caps and recognize the significance of this new idea.
"It's very cool. To get to see exactly where one stream of recycling is going. Because a lot of times it can feel kind of nebulous, like, 'oh, we put it in our bins and then it gets picked up and then it goes to a sorting facility and then it gets sent out to all different places,'" said Pforzheimer. "But this is one tangible stream, where we're collecting the caps, they're going to a specific vendor, and they're getting turned into benches. we can see the whole loop, which I think is kind of interesting and we don't always get that in the recycling world."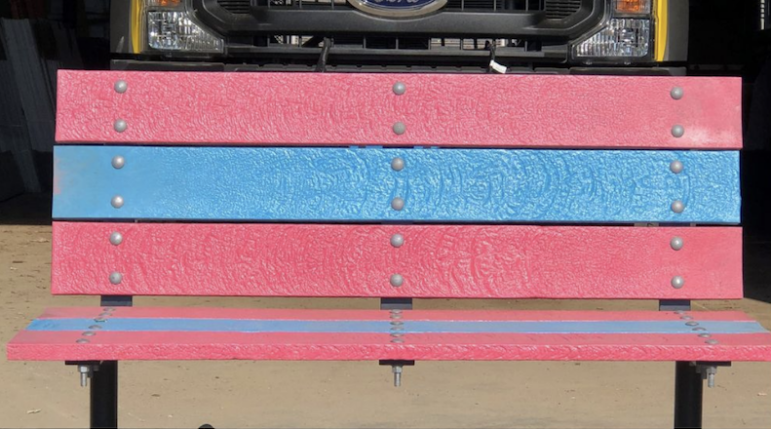 The Department of Public Works announced that people can win a bench in a raffle at the Faire on the Square:
Win a Watertown Bench! Visit the Department of Public Works (DPW) table at Faire on the Square on Saturday, September 23, 2023 between 11 a.m. to 4 p.m. to enter a free raffle to win one of the new Watertown benches. They are made from plastic caps and lids, collected by residents. The raffle will only be open to enter during the event. The winner will be announced the following week.