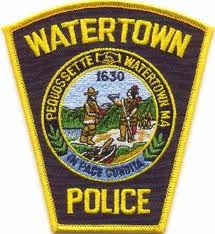 As he prepares to hire the next Watertown Police Chief, City Manager George Proakis heard the priorities of the members of the City Council's Public Safety Committee as well as the public on Monday night.
The hiring of the Police Chief will follow the Civil Service process, Proakis said, and the first step is running an assessment center, where candidates will be tested on how they perform in real world situations. The assessment center is scheduled to take place in October, Proakis said, which means a new chief should be hired this fall.
Jack Parow, founder and principal of Parow Consulting & Associates, said the assessment center will include multiple scenarios, such as a problem employee, a media exercise, an inbox exercise where the candidates respond to emails and letters, and a problem-solving exercise where all the candidates will work together. Each scenario will be tailored to Watertown, and will include issues that arise in departments like Watertown's, or even issues from the past or that have come up in surveys of Police officers and the public.
The assessment team will be made up of four current or former Police Chiefs, Parow said, and will include a woman and a person of color.
After the candidates go through the assessment center, Proakis will receive the names of the finalists.
"I get the names of the top three choices to come out of that process to then make a determination based upon that," Proakis said. "I can then interview those three and select from those top three based upon that system."
Proakis said he has been putting together a list of questions based on what he heard during the public forum on the Police Chief search held in July, as well as the comments on Monday.
The Public Safety Committee is made up of three members of the City Council. Each provided their priorities.
Councilor Emily Izzo said she prefers to have an internal candidate, because the person would know the department as well as the community. She said that she has heard a lot of calls for transparency from the next chief.
"Someone had the great idea of a public forum similar to what every councilor has to do according to the Charter," Izzo said. "I'd love to see that requirement added to the job description, whether it is a quarterly meeting or semi-annual or annual — whatever is deemed appropriate."
She also asked if the female members of the Police Department could be surveyed about what they would like to see from the next Chief. Proakis said all members of the WPD have been surveyed, but he is not sure if the results can be parsed out by gender.
Council Vice President Vincent Piccirilli said he wants the next chief to be committed to providing exceptional service to all Watertown residents, employees and visitors. He also wants the person to "fully embrace" the recommendations of Massachusetts' 2020 Police Reform Act, President Obama's 2014 Task Force on 21st Century Policing, and the standards of the Massachusetts Police Accreditation Commission.
Other priorities for Piccirilli are making sure the new Chief is committed to a safe, inclusive, diverse and productive police department, "especially in light of the recent lawsuit," he said, referring to the sexual discrimination lawsuit won by a former female Watertown Police detective.
The Chief should also look out for the mental and physical wellbeing of the members of the Police Department; do public outreach and listen to feedback about community concerns including working with the City's new Human Rights Commission; and to have training focus on preventing on-the-job injuries, emerging threats and de-escalation techniques.
He would also like to see the WPD continue to develop strategies for non-criminal calls, such as mental health and substance-use disorder crises using social workers, jail diversion and other techniques.
"Finally, I am looking for a commitment to keep Watertown a safe and welcoming community for all," Piccirilli said.
Councilor John Airasian, who is chair of the Public Safety Committee, said he wants a Chief who will look out for the wellbeing of the police officers.
"These folks put themselves in harm's way on a daily basis and I feel it is important for the officers and their families to know they have a Chief with their safety in mind as well as the public's," Airasian said.
Another priority for Airasian is someone who can recruit, hire, and retain officers. And, after they are hired, provide an atmosphere where they can thrive. Using data to identify areas of threats in Watertown would be another priority for Airasian, as well as continuing to maintain the Police Department's accreditation status.
He would like the department to continue to build strong relationships in the community.
"Building on the exceptional current Community Policing mentality that we have, by creating a bond of trust with the community in order to, hopefully erase some of the fear that some of the public had spoken of earlier," Airasian said.
He also spoke of some personal qualities he wants to see, such as integrity, honesty, strong communication skills, as well as being an active listener.
"Also, use best management practices and have the courage to correct any abuses that may arise in the Department, and the ability to be honest with the public on such issues so that we can avoid issues that have been brought up tonight," Airasian said.
Similar to the public comments made at the July Public forum, several residents spoke about wanting a Chief who will be transparent, work with community groups, and provide more data to the public, such as arrests, traffic violations, and other incidents broken down by race, ethnicity and gender. Others wanted a Chief who will support officers and try to ensure their safety on the street, look to curb crime in Watertown, and do what he or she can to make sure those arrested are prosecuted.
After hearing from the public, and the members of the Committee, Piccirilli said he sees a lot of common desires.
"I think that if you listen to everyone's comments, really great comments tonight, there is an amazing amount of commonality between all our comments," he said. "And one of the threads if you listen is everyone wants Watertown to continue to be — and compared to our neighbors Watertown is a very safe City — everyone wants Watertown to continue to be a very safe City. But everyone wants our Watertown Police Department to be the best it can be and like any place else there is always room for improvement."
Proakis was asked why he decided to keep the search within the Watertown Police Department, and not consider candidates from other places.
"The problem with the Civil Service process is it is a switch that you can only switch one way or the other, and depending on which way you set the switch you get one set of candidates, of which the assessment center delivers me three names to interview," Proakis said. He added that when external candidates can apply, someone who is a chief in another community will have a much better chance of being one of the three finalists than an internal candidate of lower rank.
Proakis said he has listened to the concerns of the public about the work environment in which the sexual harassment in the suit occurred, and attended as much of the court testimony as possible. He also is aware of the situation surrounding the Watertown Police officer who has been suspended by the POST Commission due to being charged with rape and indecent assault and battery.
"My observation is, this I do believe, that there's a lot of great people in the Watertown Police Department. There are a lot of great things moving in a positive direction," Proakis said. "The Department is a model of Community Policing in a number of ways. There are a number of challenges to be addressed."
He added that there has been a lot of retirements and new hires within the Watertown Police, and that there have been changes for the good.
"I've had a chance to meet with a lot of those officers, too, and I think that to the extent that we want to take this Department from where it is at to where we want to go — in a positive direction, — that the internal pool of applicants is capable of doing that, is capable of working with the community to do that," he said. "And I am going to have a robust and challenging selection process among those candidates who can accomplish what we want to accomplish as a City and as a (Police) Department."