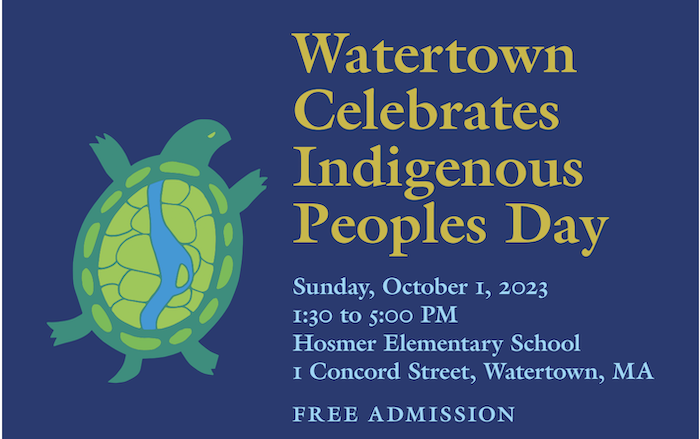 The following announcement was provided by the Pigsgusset Initiative:
Watertown's 2nd celebration of Indigenous Peoples Day will be held on Sunday, Oct. 1, 2023, from 1:30 to 5 p.m. at the Hosmer Elementary School, 1 Concord Road, Watertown. The free event will feature Indigenous musicians, artists and vendors.
Performers include: Nettukkusqk Singers, a traditional women's singing and drumming group composed of Deborah Spears Moorehead (Wampanoag) Fine Artist and Music Performer, and Music Performers Pam Ellis (Nipmuc), Jasmine C. Moorehead (Wampanoag) and Jacquelyn D. Moorehead (Wampanoag); Brock Stonefish, (Moravian Delaware Nation), a internationally recognized singer and songwriter; Eastern Sun Drummers and Dancers, (Mashpee Wampanoag), performing songwriter Thea Hopkins (Aquinnah Wampanoag); artist, musician & singer/songwriter Geri Barney (Navajo); Teddy Hendricks (Mashpee Wampanoag, Nipmuc), storyteller; and Maria Hendricks (Assonet & Mashpee Wampanoag), actress appearing as Sipu and the Master of Ceremonies for the event. Sipu is the main character in New Repertory Theatre's presentation of the Indigenous historical play Listen to Sipu by Mashpee Wampanoag playwright Mwalim *7).
We will also feature Judy Fallows, who will describe the "three sisters gardens" at the elementary and middle schools.
Sonya Avant (Mashpee Wampanoag) will be selling delicious Indigenous food and an Indigenous crafts corner will be open throughout the day for children of all ages.
Indigenous vendors include: Deborah Moorehead (Indigenous art); Leslie Tuplin (Native Solutions); Bob and Cindy Shelley (Native American Indian craft); Geri Barney (Navajo, paintings); Julia Marden (Aquinnah Wampanoag, Eastern woodland art) and Hartman Deetz, (Mashpee Wampanoag, Ockway Bay Wampum). Belmont Bookstore will be selling books by and about Indigenous people.
This event is funded by a generous grant from the Watertown Community Foundation, the Massachusetts Cultural Council and a grant from Watertown Savings Bank and donations from individuals. Members of the community-based Pigsgusset Initiative, a working group of Watertown Citizens for Peace, Justice and the Environment, are organizing the event in partnership with New Repertory Theatre.
Members of the organizing committee include Teddy and Maria Hendricks (Mashpee Wampanoag, Nipmuc & Assonet), Stephanie Stonefish Ryan (Moravian Delaware Nation), Eileen Ryan, Jacqui Gross and Jennifer Wolfrum.
Supporters and sponsors include First Parish Watertown, the Cuniff, Hosmer and Lowell Elementary Diversity and Belonging Councils, Watertown's Department of Community Development and Planning, Watertown Boys and Girls Club, Watertown Community for Black Lives and WHERE ARE ALL THE BLACK PEOPLE AT.
For further information contact: Jennifer Wolfrum, jenniferwolfrum13@gmail.com