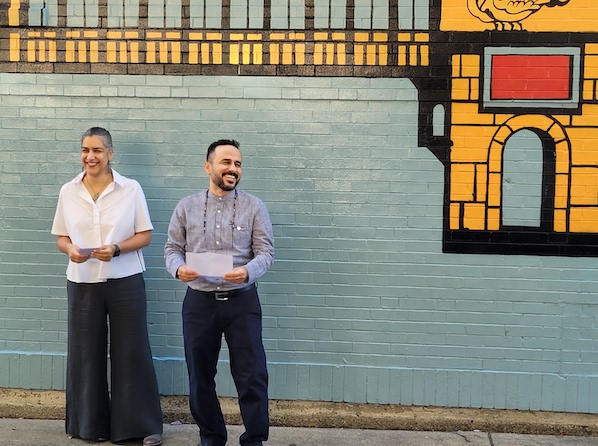 Tuesday night, nearly 100 people came out to celebrate a project by a pair of artists that was inspired by their new home: Watertown.
Amir Tabatabaei and Niloufar Keyhani emigrated to Watertown from Iran seven years ago. Tabatabaei had created large murals in Iran, and decided he wanted to contribute one in his new hometown. About a year and a half ago, he reached out to Liz Helfer, Watertown's Public Arts & Culture Planner, who helped him get in touch with the owners of the CVS building in Watertown Square, where the wall that now bears the mural is located.
The mural is called "I See a Dream," and is inspired by Tabatabaei's vision of utopia. He and Keyhani worked on the mural over the summer. They got some assistance from donations from corporate and non-profits, and also from a GoFundMe campaign organized by some local residents after learning that the couple had absorbed most of the cost of the paint and supplies. The effort raised more than $8,500.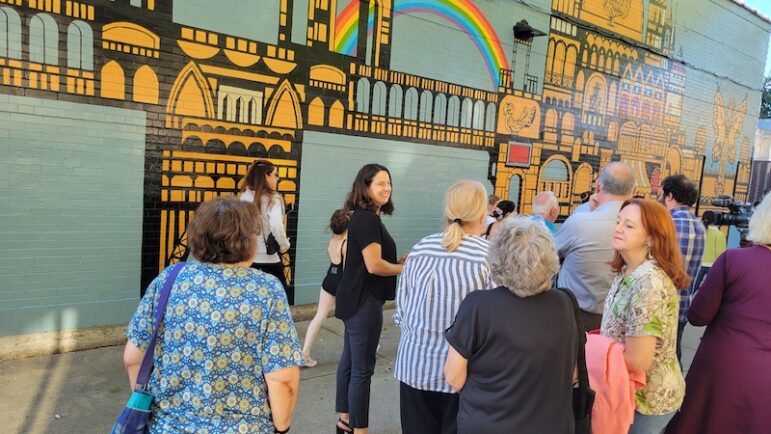 During the grand opening event, Tabatabaei shared some words about the experience of creating the mural in Watertown Square. Read his speech below:
Ladies and gentlemen,
I stand before you today to share the story behind the creation of this mural, a journey that began with the selection of this particular mural in Watertown. It was a choice that would eventually pave the way for us to bring to life a utopian idea, a theme that has always held a special place in my heart.
As an immigrant and a resident of Watertown, I became increasingly drawn to the concept of Utopia over time. I explored its complexities thoroughly, and with the opportunity that this mural provided, we set out to execute an artwork that now stands as a testament to this very idea.
This mural has become one of the most meaningful expressions of my artistry, finding its rightful place here, where it hopefully can connect with the Watertown community and paint a portrait of a unified world, where unity, awareness, and peace coexist harmoniously.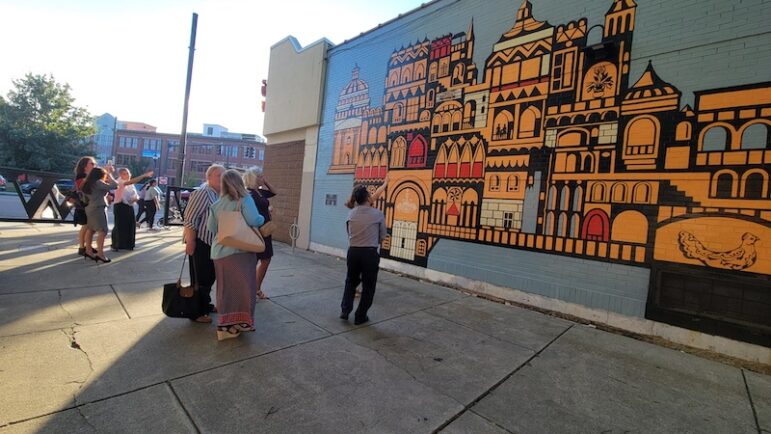 But this mural is more than just a personal artistic endeavor. It is a reflection of the diversity that thrives in Watertown. We hope that the concepts and ideals embedded in this artwork can resonate with the values and aspirations of both Watertown as a whole and this specific location within the city.
During our seven years in Watertown, Niloofar and I consistently felt the absence of public art in this vibrant community. We yearned to contribute, to create a mural that would enrich the city's cultural landscape. Fortunately, with mutual support and determination, we brought this vision to life. It was a journey that took us over 1.5 years to complete.
Throughout this process, the support and engagement of the people, as well as the emotions they shared with us, fueled our determination to see this project through. It reminded us that art has the power to connect, inspire, and transcend boundaries.
In closing, I want to express my gratitude to all of you who have supported and appreciated our work. This mural is not just a reflection of my artistic vision, but a symbol of unity, diversity, and the strength of community. Thank you for being a part of this journey, and I hope this mural continues to inspire and resonate with all who encounter it.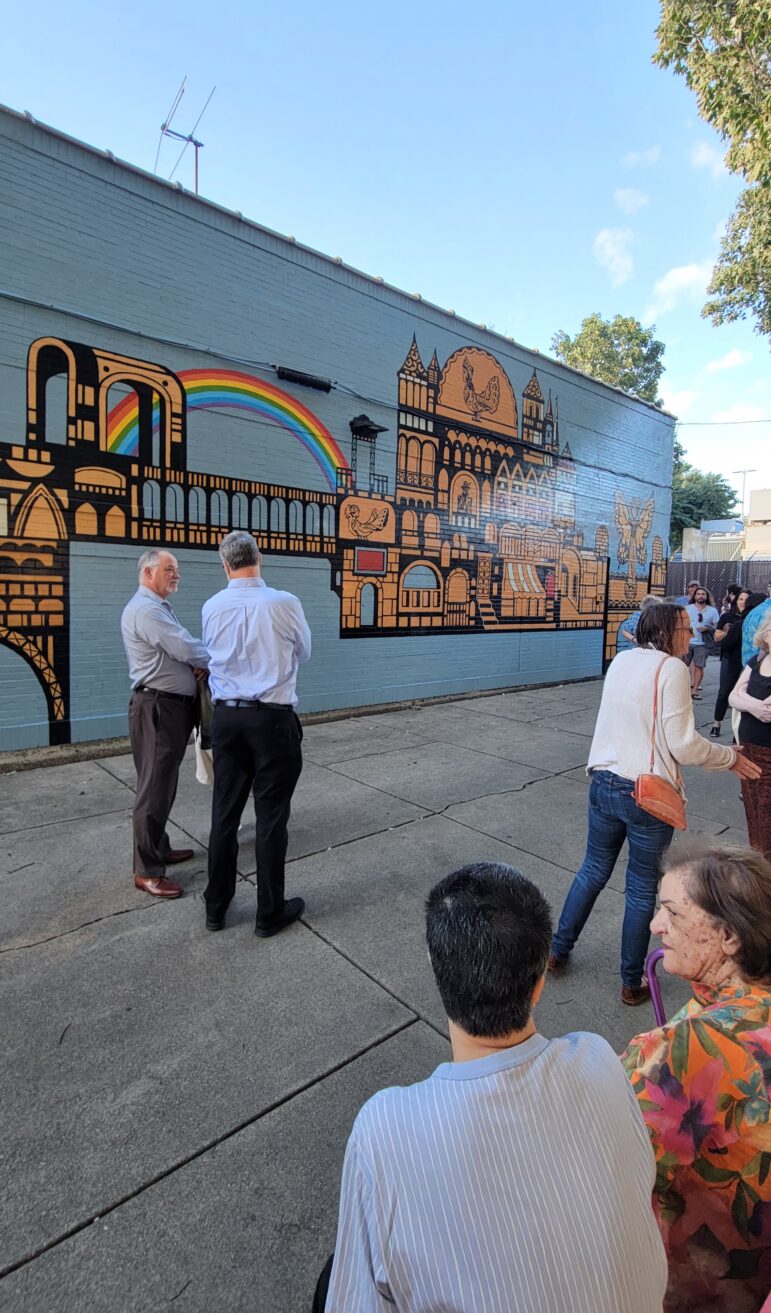 During the event, Keyhani thanked the groups that helped make the mural possible:
Watermain Realty Associates
Watertown Savings Bank
John Hall and HallKeen Management
Watertown Community Foundation
Watertown Helps Out volunteers
Sherwin Williams of Watertown
Watertown Business Coalition
Watertown Department of Community Development & Planning
Elodia Thomas & Bruce Coltin
F0llowing the event, the group moved over the Bar 'Cino for a reception sponsored by the Watertown Business Coalition.