Watertown native Mikey Bortone's eureka moment came when he was enjoying a whiskey, while trying to hydrate at the same time. After perfecting his recipe, and with some help from a couple hometown buddies, Watertown Whiskey has become a reality.
The liquor named for his hometown brings together rye whiskey and coconut. It debuted in California, where Bortone now lives, and he plans to bring it to his home state.
Bortone had never been in the drink, or even food industry, but he knew he had something when inspiration hit while he was enjoying a drink.
"I am a whiskey drinker first and a hydrator second, so if I am drinking a lot of whiskey I tend to hydrate," Borton said. "One day, I was just really hydrating, and I added coconut water to my whiskey and I took a sip and it was the holy s— moment. It was delicious!"
The idea for his own whiskey came at a time that Bortone was looking to move into a different direction professionally. Previously, Bortone was in the ATM business, and a big part of that was providing cash at the Vans Warped Tour.
"Every summer for 10 years I would be in an RV with a trailer behind me with five, six ATMS and my dog and my buddy," Bortone said. "We would go city to city for two months every summer providing money to 15,000 kids using their daddy's bank card."
In 2018 the tour ended, and cash was no longer in as much demand. After a year off, he looked for something new. Around that time he met up with an old friend from Watertown, Steve Ciccarelli.
"I had lunch with an old friend from Watertown and ended up having a conversation about Watertown Whiskey. (He said) why don't you do it?" Bortone recalled. "I was like. It's a lot of work and I'm not very experienced in that space."
Ciccarelli knew someone who did: his college roommate, Mark O'Donnell (who Bortone also knew from Watertown).
"I knew him from 30 years ago and called him up and asked if he was interested in starting it and helping me along the way, and he did and I did and we did and now we are here," Bortone said.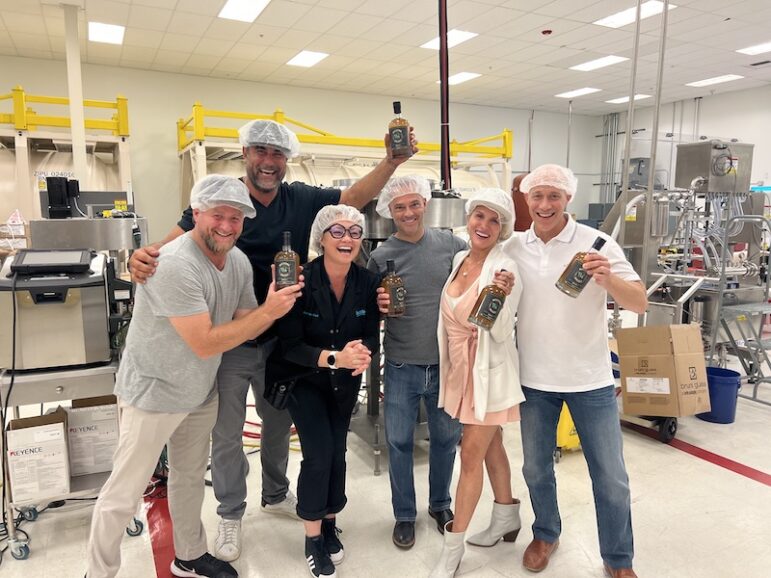 Not only did Bortone need to come up with a recipe, he also needed a place that would make Watertown Whiskey. A couple years ago, a friend linked Bortone with a distillery in Indio, California (near Palm Springs).
"I went in and pitched the idea to them," he said. "They liked the idea, they liked me, and we said, OK let's spend some time really working on really making the perfect drink."
After several versions, Bortone came up with a coconut whiskey that he was satisfied with.
"For a couple years I was trying to do the coconut water infused into the whiskey so I could play off the hydration factor, and the ready to drink space, which is becoming so popular," he said. "But I didn't want to enter the can space because it is flooded with hundreds of people and companies."
He wanted a drink that was strong enough to sip and smooth enough to drink it as a shot. Some versions would not sit in the bottle properly, or the shelf life was not long enough.
"Probably a year ago I scratched the whole idea and I said coconut works with whiskey, I'm just going to make the best damn coconut whiskey that I can make," Bortone said. "It's a natural coconut flavor."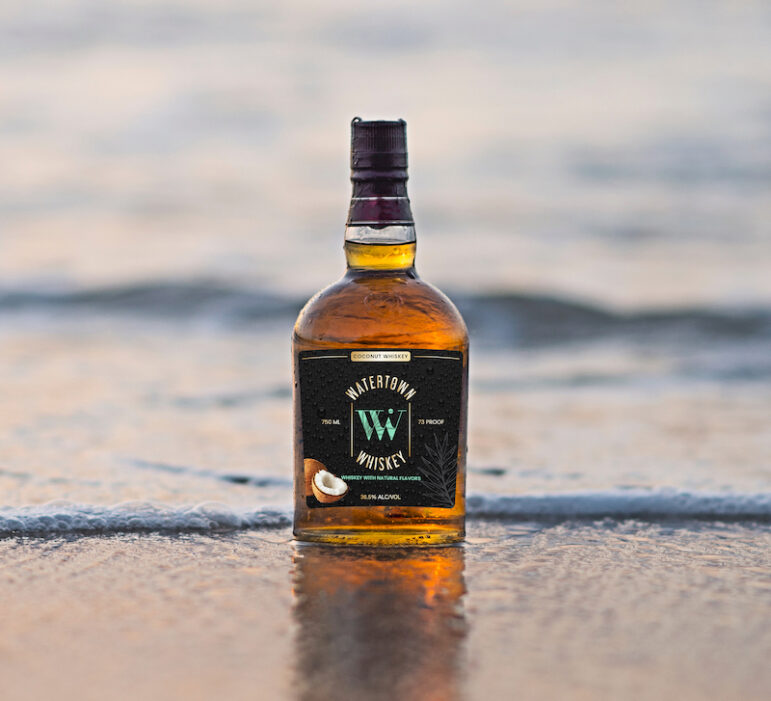 Currently, for residents of Watertown (and all of Massachusetts) Watertown Whiskey is only available for purchase online. Bortone is working on getting it into stores and bars in the Bay State. It is currently available in California, and will soon be sold in Nevada. Sales in New York could start as soon as Nov. 1
"I don't want to be country wide yet, anyway," Bortone said. "I need to prove the concept in certain areas that I know I can gain some serious traction in. That's obviously Massachusetts, which it is ridiculously hard to get legal to sell. But they are the priority."
Watertown Whiskey can be found in the Los Angeles area, where Bortone now lives, and in the San Diego area. The drink has gotten a good response, and now he is meeting with cruise lines and hotel chains about carrying Watertown Whiskey.
"It's moving pretty fast," he said. "A lot of people love it. Every where we go, it's almost 100 percent response of 'Wow!'"