Watertown's newest dental practice marked its official opening last week with a ribbon cutting outside its office in Arsenal Yards.
Arsenal Modern Dentistry moved into a spot right on Arsenal Street, which has already proven to be a good location, said Dr. Brock Riedel, who runs the practice with his partner, Dr. Anthony Falone.
"It's a great location, from the patient flow," Riedel said. "Everyone seems to think it's great location, in terms of convenience."
Falone grew up in Waltham, and when he saw the location in Arsenal Yards he jumped at the opportunity. He liked the foot traffic and visibility of the office.
"People dropped in just now to schedule an appointment," Falone said after the ribbon cutting. 
Falone and Riedel worked together before starting the office in Watertown. They also see patients at Waltham Modern Dentistry.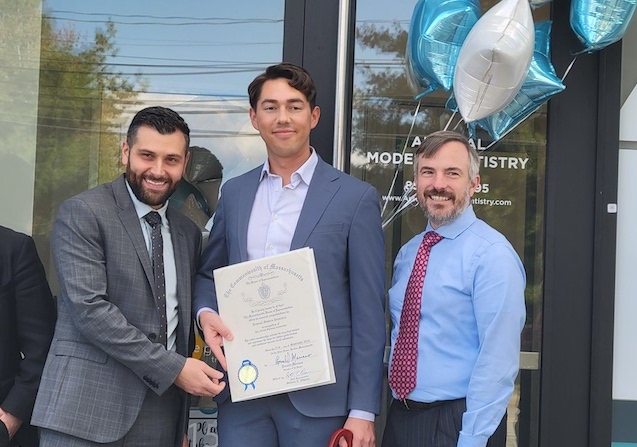 Arsenal Modern Dentistry opened about a month an a half ago, but it has already built a following that reflects the Watertown community.
"It's very diverse, whether it is ethnicity, culture, age, we see the entire population — basically everybody," Riedel said.
The office works with patients of all ages, he added.
"We are not necessarily a pediatric office, but we are able to see children," Riedel said. 
The dentistry practice has done a lot of outreach and networking, including becoming a member of the Watertown Business Coalition. The ribbon cutting was the first hosted by the WBC. On hand were members of the WBC leadership team, including Co-Presidents Doug Orifice and Bob Airasian, along with a special guest, State Rep. Steve Owens who presented Arsenal Modern Dentistry with a proclamation from the Massachusetts House of Representatives.