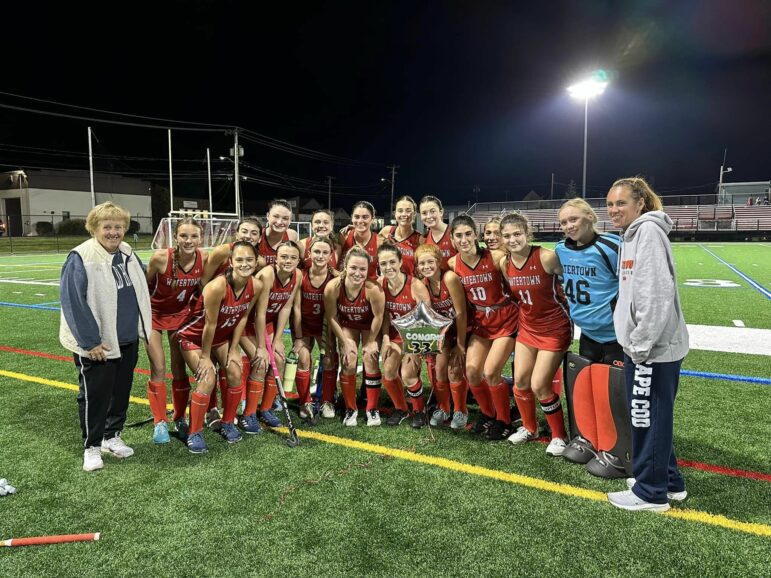 Add another one to the record book for the Watertown High School field hockey team.
On Thursday night, the Raiders defeated Melrose 7-0, securing the 33rd straight shutout. That sets the national record for most games without allowing a goal.
"Congratulations to our team breaking the High School National Field Hockey record by going 33 games without allowing a goal. Big achievement!" said the post on the Watertown Field Hockey Instagram account. "Thanks to our 2022 team who contributed to this National record."
On hand for the record-setting win was Lowell Elementary School Principal Stacy Phelan, and some of Coach Eileen Donahue's family.
The last time the Raiders let in a goal was in a 2-1 win over Div. 1 power Andover on Sept. 10, 2022. Meanwhile, the Raiders, 13-0 this season, have established a 65-game winning streak. In 2015, Watertown made national news by setting the national record for the longest unbeaten streak at 154 games. The streak lasted until the 2017 season, when the Raiders were beaten by Winchester after 184 games unbeaten. The team also had 124 straight victories.
Headliner
Earlier this week, Watertown's Molly Driscoll was featured in the Boston Globe. In the Q&A, the senior talked about how she had improved in her time at WHS, what it's like to play for Coach Donahue, and how she plans to take a post-graduate year going to Boston University where she will once again play along side her sister Maggie.
Driscoll will look to close out her career with the Raiders by winning the team's third straight State Championship.
Read the Boston Globe article by clicking here.