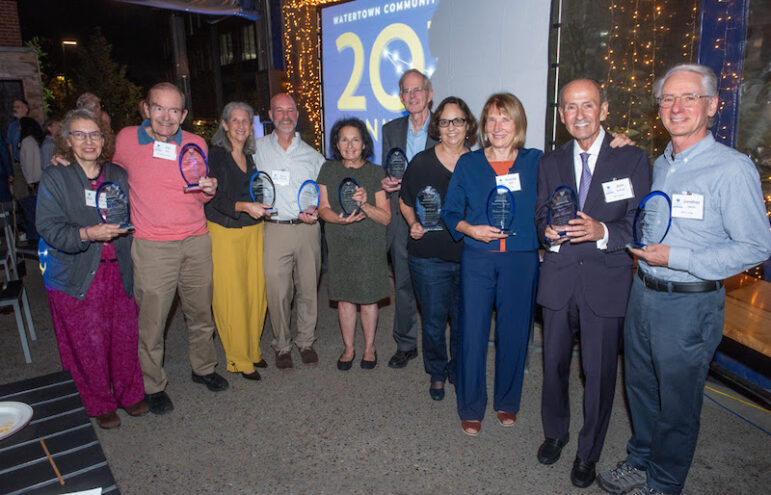 Nearly 200 people gathered to celebrate two decades of the Watertown Community Foundation, and the people who built the organization that has distributed millions of dollars to make Watertown a better place.
Board members, former executive directors, donors and more gathered for the WCF's Celebrating 20 Years of Impact event at Branch Line on Oct. 5. The original members for the Community Foundation's board received a legislative resolution from State Sen. Will Brownsberger and State Rep. Steve Owens, as well as an award.
One of the original members was former State Rep. Jonathan Hecht.
"We thank you so much for this honor and for taking this opportunity for all of us to think about how amazing the Watertown Community Foundation has become," Hecht said. "This makes it so meaningful for those of us who were there at the beginning, but to be honest we could never have imagined how successful this idea would turn out to be."
He recalled when the WCF first started that few thought it would last, let alone thrive.
"Not long after we set up the Community Foundation I went off to a conference about community foundations, and I was so excited: a brand new community foundation, an opportunity to meet people from community foundations around the country, to learn from them about best practices about how to get yourself off and running," Hecht said. "I showed up at this conference and at the first session that I was at I described the Watertown Community Foundation and everyone in the room said, "It will never work."
They said the community is too small, there won't be a big enough donor base, there is not enough scale of operations to make it work, Hecht recalled.
"And if you look at the landscape of community foundations in (Massachusetts) today Watertown is still, in community foundation terms, a unicorn. You have the Boston Foundation, you have the Greater Worcester Foundation, you the have Essex County Foundation — serving large cities or regional areas," Hecht said. "Here we are in Watertown, 30, 35,000 (people), 20 years later. It just goes to show you, once again Watertown has defied the laws of gravity."
Over those 20 years, the Community Foundation has distributed $3 million into the community, said Mary Ann Mulligan, co-president of the WCF Board of Directors.
"This isn't just about the numbers, it is about the impacts those years and dollars have had on the neighbors and residents of here in Watertown," Mulligan said.
As an example, Mulligan recalled a story told to her by a past grantee, Arlene Smith, coordinator of Watertown Families Together who said that the WCF's support helped her organization navigate multiple budget cuts.
Smith was also reminded about how Watertown Families Together has made an impact, thanks to the funding. She was shopping at Market Basket when a woman called out her name and asked if she remembered her.
"The young woman was surprised that I remembered her. We spoke briefly about what her children were doing; they were now nearly 20 years old," Mulligan said, relaying Smith's story. "The young woman said 'You know Arlene you and the Network saved my life back then. I had just lost my mother and you and the folks that I met there gave me the support I needed.'
"At that point she started to cry and just like almost 20 years ago I gave her a hug and she thanked me for helping her through the most difficult times and helping her raise her young children. Sometimes you just need someone to listen and give you a hug. That never changes."
Mulligan also recognized three former WCF Executive Directors who attended the celebration: Jan Singer, Michael Schade and Cathy Berkley.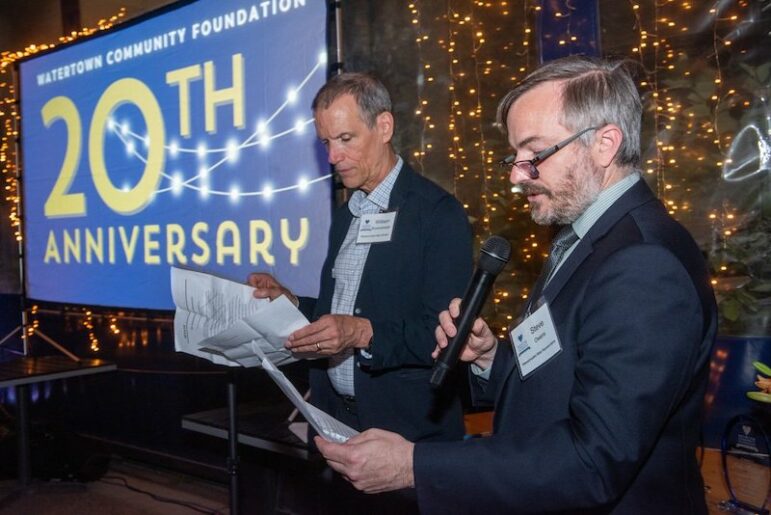 WCF co-President Lauren Coughlin-Unsworth said that while Watertown has changed significantly over the last 20 years, one thing has stayed the same, "Its heart," she said. Being married to a first responder, she has seen how important it is for police and firefighters to respond quickly and thoughtfully. That has been put to the test over the years, with challenges posed by the 2008 Recession, the Boston Marathon Bombing, and COVID.
"During COVID, we, the Watertown Community Foundation – one of only 15 community foundations in the state – became a trusted partner to know where and how to distribute funds to provide the quickest, greatest relief," Coughlin-Unsworth said. "Because of this, we've been able to channel $1.7 million in relief right here in Watertown."
The Watertown Community Foundation's largest program is aimed at fighting food insecurity. More than $900,000 has been distributed in that area.
"It's only because Watertown has a community foundation that we could apply for this grant, a grant that in turn has fed 815 households in Watertown, 700 in the living in the housing authority — 815 households!" she said. "Children, elderly, struggling parents – our friends and neighbors – that were able to put food on the table." that otherwise would not. That's what our Community Foundation does!"
Attendees also got to see a video history of the Watertown Community Foundation produced by Watertown Cable Access Television. (See the video below)
The Founders
Tia Tilson, the WCF's executive director, thanked everyone who attended the event, including those who have supported the Foundation.
"Because of people like each of you, making financial contributions, our grants led to positive change. We have seen what happens: lives change," Tilson said.
She gave a special tribute to those who laid the foundation for the Watertown Community Foundation.
"It is on the shoulders of these visionary leaders we stand, as we look to the future of our foundation," Tilson said.
One of the original members, Hecht, introduced the founding members of the Watertown Community Foundation Board of Directors who attended the event: John Airasian, Sr., David Ciccarelli (on behalf his father Sal Ciccarelli), Sandra Kasabian Hoffman, Roberta Miller, Susan Musinsky, John Portz, Robert Shay, Donna Smerlas, and Beth Zwick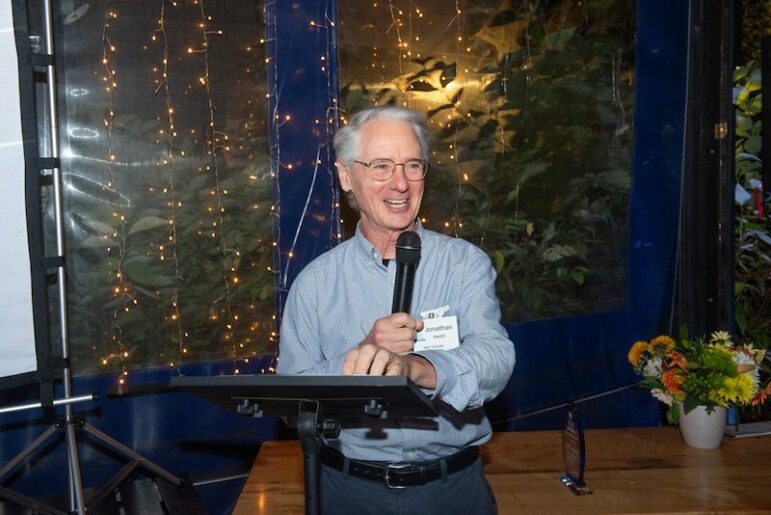 The initial spark that led to the creation of the WCF came from Miller. She was also a member of the Watertown Arsenal Development Corp. (WADC), which oversaw the reuse of the former U.S. Army Arsenal. Another legacy of the group is the Arsenal Center for the Arts, now the Mosesian Center for the Arts.
"We would not be here, this idea of the Watertown Community Foundation probably would have never seen the light of day without Roberta," Hecht said. "It is really her vision and her work with the WADC that made this all happen."
Airasian was the chair of the WADC, and that committee worked to make sure that the group not just refurbish the Arsenal, but create institutions.
"In all of his work for Watertown John was always way ahead of most of us," Hecht said. "He understood what this was about, but likewise, Sandra Kasabian Hoffman, Sal Ciccarelli, and John Portz: those were the members of the WADC who really got behind Roberta and made sure that the idea of long term benefit to the community, including the Community Foundation, was front and center with the Arsenal. They really left a legacy for all of us that is impossible to overestimate."
Some members of the board brought their experience working in philanthropy and community foundations.
"Front and center in that group, was a person who in addition to being on the board was our first executive director — Beth Zwick," Hecht said. "Donna Smerlas had held and even after she was on board, held positions on boards of a number of other major charitable organizations, not-for-profit organizations in our area: Mount Auburn Hospital, the Kennedy Library among others."
The same year that Musinsky joined the WCF board, she began "another 20 year odyssey" when she began working on the Social Innovation Forum, which Hecht said, "has been one of the most important sources of insight, resources, supporting fresh thinking about what it means to develop organizations to really serve the needs of communities throughout Eastern Massachusetts."
Hecht called Shay the WCF Board's unicorn.
"He is our one of a kind. Bob is the only person who has been on the WCF Board from day one continuously to today," Hecht said. "Throughout that time he has brought his financial acumen, his understanding of organizations, and what it takes to grow them and keep them healthy, as well as just his dedication to his community. We are all very much better for it."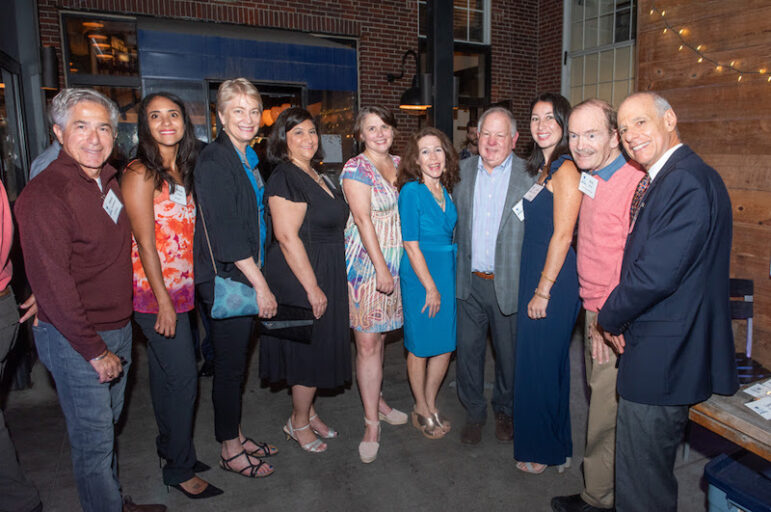 Hecht also paid tribute to three founders who could not be there: Jim McDermott, Allison Carnduff, and Bill Ford. Carnduff also served for many years as the WADC treasurer, McDermott was the original clerk of the WCF Board as well as being the "legal eagle," Hecht said, and Ford served as the WCF Board's treasurer for many years.
Tilson closed the evening by thanking the current and former board members, the donors, the partner organizations that received support, and others at the celebration.
"So, I thank you, each and everyone of you, for the part that you play because I know that it is large and that I know that you will continue to support this remarkable institution and there is much much more to come," she said.
Find out more about the Watertown Community Foundation at www.watertownfoundation.org
(Note: the amount of money distributed by the Watertown Community Foundation was updated to $3 million. The original post stated it was $30 million, which was incorrectly stated during the event.)