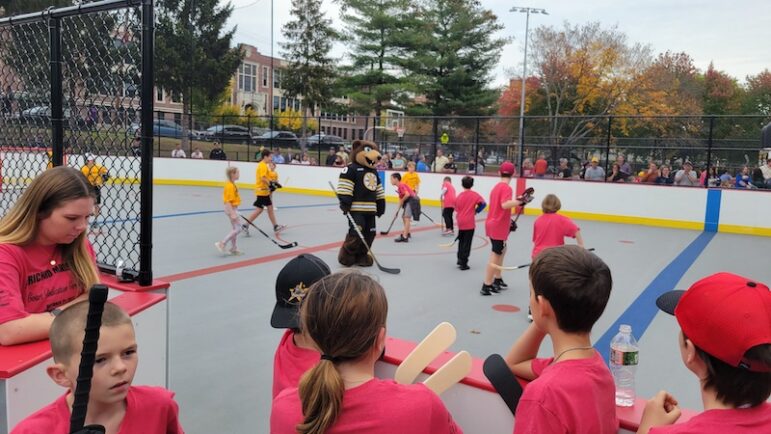 Part hockey clinic, part history lesson, part Boston Bruins tribute, and part airshow — last week's opening celebration for the outdoor rink at PFC Richard Moxley Playground was a community celebration.
Residents young and not so young crowded around Watertown's newest recreational facility, the multi-sport rink, basketball, and tennis/pickle ball court at Moxley Field. One of the big draws for the Oct. 25 event was the Boston Bruins Foundation, as well as a Watertown hockey legend.
The ceremony had the feeling of an NHL game, with mascot Blades, and National Anthem singer Todd Angilly taking part in the festivities. Also in attendance was former Bruin Bob Sweeney, who now heads the Boston Bruins Foundation. He brought along a set of street hockey equipment for the Watertown Recreation Department, which was broken in during a clinic at the event.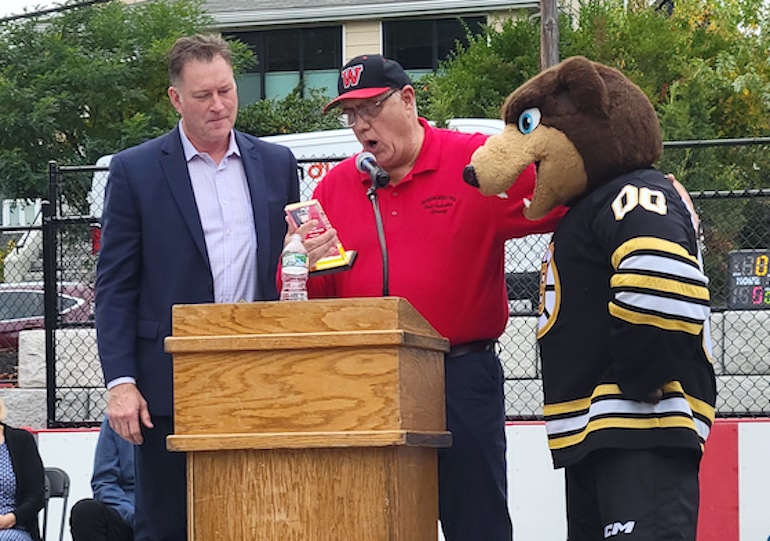 Adding some pizzazz to the ceremony was a flyover by a Massachusetts State Police helicopter, lined up by Recreation Director Peter Centola. This wowed the crowd, including Sweeney.
"We do a lot of street hockey openings and we've never had a flyover," Sweeney said. "We might have to work on that."
The opening of the rink was right up the alley of the Bruins Foundation, Sweeney said, because it helps grow the sport. He asked the youth players to take care of the new rink.
"Kids remember and respect this place, see how it is now, make sure you take care of this," he said. "This is a great opportunity for you to learn the game, because you only have so many hours on the ice but you can have so much time off the ice here to work on your game. So, utilize it and respect it."
Watertown didn't have anything like the multi-sport rink when Jerry York was young.
"We had Victory Field," he said. "We just flooded it, that was our skating rink — just snow banks and you had to watch the poles."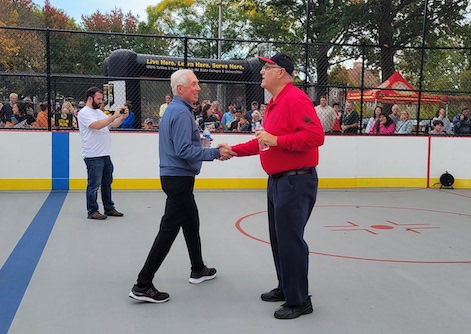 The Watertown-native went on to play for Boston College, and then became the winningest coach in NCAA hockey history, including winning five national championships at BC and Bowling Green. York was inducted into the Hockey Hall of Fame and the U.S. Hockey Hall of Fame.
The new facility could help grow future Bruins, York added.
"The interest level and the ability to do this, working on stick skills and hockey IQ, I think that Watertown is a very good community for hockey," he said.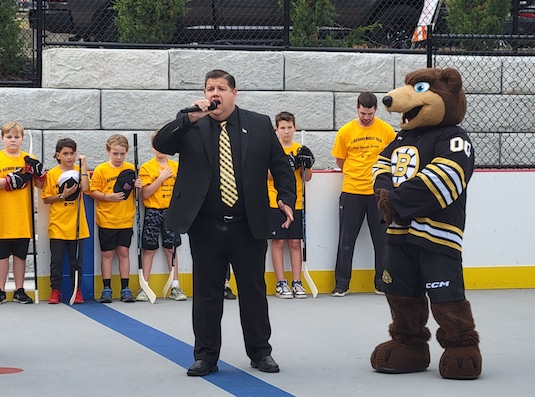 Hockey was not the only link York had to the event. He also grew up with the man that the facility is dedicated to, along with another friend who lost his life serving in Vietnam.
"Richard Moxley and Paul Sullivan were two friends of mine from prior to going overseas and sacrificing their lives," York said. "We have a dedicated field here for Richard Moxley and on the East End of town we have one for Paul Sullivan."
City Council President Mark Sideris paid tribute to Moxley.
"I think it's appropriate to take a moment to honor Richard Moxley for whom this playground is named," Sideris said. "And I think it is important that we always remember that when we come to this facility, because he gave everything for the city of Watertown and the country, and I think it's really appropriate that we remember that."
On hand for the event was Richard's first cousin Peter Moxley. He lived in Ireland when Richard was killed in Vietnam and never met him, but he knew Richard's fiancé who was on tour when he died.
"It's a great honor to be here, it keeps the family name going and it's awesome to see all the people out there," he said. "It's fantastic."
Peter lived for many years in Watertown and now lives in Waltham. Richard's brother and two nephews are still alive, but were not able to attend the event.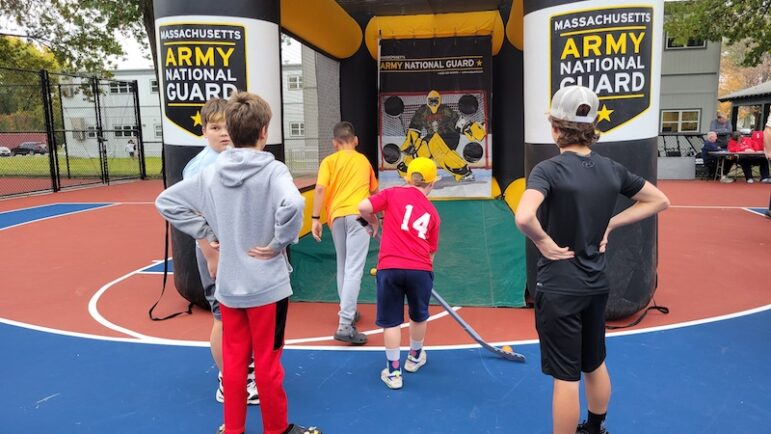 City Manager George Proakis also took a moment to honor Moxley. He added that the new courts are the latest recreational improvements, but not the last.
"Here we have the opportunity to open the courts, to enjoy this portion of the space. As you know we have been using a portion of this field for our temporary high school as we build a brand new, first class, state of the art high school in Watertown," Proakis said. "And coming soon, in future years, we'll be designing what the space (at Moxley Field) will look like after the temporary school building is gone, in addition to the work we are doing in places like Walkers Pond, Arsenal Park, and the improvements at Victory Field. It's so great to be in a community so committed to creating, improving, and making sure we continue to improve our high quality open spaces here."
After the ceremony, the Bruins Foundation held the clinic, and players and attendees could play a hockey carnival game, and enjoy sausages, hot dogs and burgers.