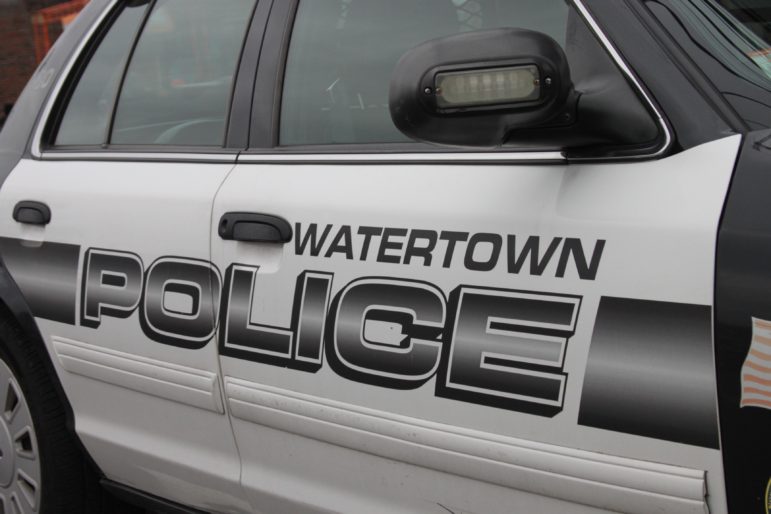 The following information was provided by the Watertown Police Department.
Nov. 1, 9:45 a.m.: Police were called to Derby Road after a resident observed two swastikas drawn in the middle of the roadway with chalk. One was drawn in green chalk and was about four-feet-by-four-feet, a second was one-foot-by-one-foot. Some Jewish residents live on the street an were very upset by the symbols. The Department of Public Works were alerted and removed the graffiti with a pressure washer. Police seek any information and home security videos of the incident, which took place sometime from Oct. 31 overnight into Nov. 1. The public can contact Detective Ken Swift at 617-972-6538.
Nov. 1, 5:20 p.m.: A man came into Roche Bros. and walked through the aisles with a shopping cart and filled with $303 worth of items. He left without paying. The suspect is described as a white male, around 40 years 0ld, wearing a black Northface jacket and a grey hooded sweatshirt.
Nov. 1, 6:30 p.m.: A person who had just moved into an apartment had Comcast install cable and wifi, but was having issues. She looked online and found a number for Comcast. She called and was transferred to what was supposed to be technical support, but the number was a fraudulent one. The person told her she would be refunded her two previous bills for a total of $453. She was told to download a screen-sharing app, and the person got her banking app and said Comcast was going to issue the $453 refund, but the person typed in $4,500. The woman saw there was an issue and turned off the computer. She contacted her bank and discovered $4,500 had been taken out of her savings account. She is working with her bank to get reimbursed.
Nov. 2, 3 p.m.: Police were called for a shoplifter at Target. The man had grabbed $1,287 in items including clothing, a Jetsons scooter, and a suitcase. He walked past the register but was stopped by security. Police found he had a warrant from Dedham District Court for shoplifting. Peter Allan, 39, of Boston, was arrested on charges of shoplifting and the warrant.
Nov. 3, 11:15 a.m.: A Waverley Avenue resident mailed a check from a mailbox at the Post Office on Galen Street on Oct. 29. It was for $3,000, but it was intercepted and changed to be for $2,500 and was made out to someone he did not know. He is working with Bank of America to get restitution. The Watertown Police passed the case on to the Postal Police.
Nov. 3, 2:30 p.m.: A man entered Old Navy and filled a trash bag full of items and left without paying for $505 worth of jackets and pants. The suspect is an African-American man with facial hair, wearing a dark blue Tommy Hilfiger winter jacket with a hood.
Nov. 4, 3 p.m.: A man walked into the store with an empty shopping bag and a hood pulled over his face. He took three packages of shrimp valued at $40 apiece and placed them in a backpack. He was confronted by an employee who asked him to give the items back. He did so and left the store. The suspect is a white male in his 30s or 40s, wearing a winter coat, a grey sweatshirt. Security recognized the man from previous shoplifting incidents.
Nov. 4, 9:20 p.m.: An officer in Watertown Square got an alert to look out for a Chrysler Town and Country that had left the scene of an accident on Arsenal Street. The officer spotted the vehicle and pulled the driver over. The man had glassy and bloodshot eyes, and had an odor of alcohol on his breath. The vehicle had damage consistent with a sideswipe collision. He did not pass field sobriety tests. Andrei Lebedev 31, of Marlborough was arrested for driving under the influence of alcohol and leaving the scene of property damage.
Nov. 4, 3:20 p.m.: A man was spotted on the Hampton Inn & Suites property walking around carrying a knife. He did not point it at anyone, but people were nervous about how he was acting. When officers arrived they recognized the man. They discovered he had two warrants from Roxbury District Court. William Nelson, 58, of Boston, was arrested on the warrants.
Nov. 7, 7 p.m.: A package was taken from Whites Avenue. The resident reported that a Samsung Galaxy watch was supposed to be delivered by UPS. It was confirmed delivered on Nov. 6 at 5 p.m., but the resident could not find it. It is worth $430. Police are investigating.