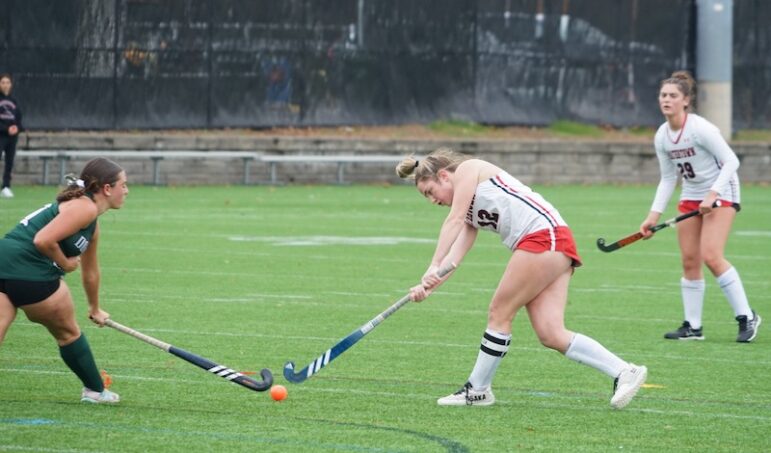 The Watertown High School football team has rediscovered its winning ways, defeating Arlington Catholic this week 33-7.
The Raiders won their opening game before dropping seven straight. A week ago, Watertown defeated Greater Lowell 30-24 in a non-playoff, non-league game. Thursday Watertown made it two straight.
Asa Logan scoring on a pair of touchdowns on 37- and 10-yard runs in the first quarter, and quarterback Gnai Concannon-Garvin threw three touchdowns, one to Aidan Hernandez and two to Stephano Salvucci. Peter Pavlides finished the scoring when he returned an interception to the end zone, according to the Boston Globe.
The Raiders have one more non-playoff game before the Thanksgiving game against Belmont at Victory Field.
Field Hockey
Watertown's undefeated, unscored upon field hockey team will continue its quest for a third straight State Title on Wednesday, Nov. 15 against Sandwich. The state semifinal will be played at Hingham High School at 7 p.m.
The Boston Globe's Dan Shaughnessy caught the Raiders' Round of 16 game and wrote about the team and Head Coach Eileen Donahue in a column this week. See the piece here.
Cross Country
Watertown senior Anna Lonergan finished 13th in the MIAA Div. 2 Divisional Qualifier in Wrentham on Nov. 11. She finished the 5K race in a time of 20:16.9 and qualified for the State Div. 2 Championships on Nov. 18. The team finished 15th.
Senior Max Bennett was the fastest Raider in the boys MIAA Div. 2 Divisional Qualifier, with a time of 17:44.4. He finished in 34th place. Watertown finished 20th in the meet.
Boys Soccer
Watertown's boys soccer team fell after a dramatic game at Medfield in the MIAA Div. 3 Tournament. The Raiders took the higher seeded hosts to overtime before falling in a penalty shootout in the Round of 32 game on Nov. 5. Watertown finished the season with a record of 9-10-2.
Volleyball
The Raiders made their second MIAA tournament ever this year. Watertown had a 2-1 lead in the game against St. Mary's played at Belmont, but fell 3-2 in the Div. 3 preliminary round game. The Raiders finished the season with a 7-16 record.