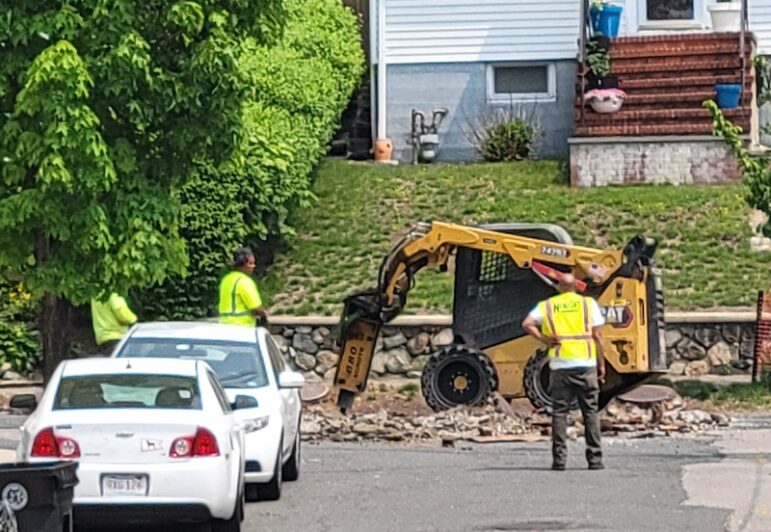 A combination of weather and challenges with contractors have delayed a major road project in Watertown, said City Manager George Proakis, but there are steps being taken to prevent such delays.
Last week, for the second meeting in a row, City Councilors got an earful from residents dissatisfied with various aspects of the Highland Avenue project. Many complained about the lengthy amount time that the project has taken to be completed (and more work still remains), and that sidewalks are often left torn up for an extended amout of time.
Others said their driveways have been narrowed after years of having wider entrances, and some were upset about the safety of school children crossing at Copland Street to get to Cunniff Elementary School and at Lexington Street heading towards Watertown Middle School. People also said they do not like the fact that when streets are repaved that sidewalks are raised and a planting strip with granite curbing is installed, narrowing the roadway.
Proakis said that he and the City's staff are also frustrated with the construction issues on Highland.
"I just want to … say that together, we collectively share a frustration with the speed (of projects). We want to do streets in a certain time period, we want to get them in, get the done, get them done well, get them out," Proakis said. "We have other projects lined up behind these to do and lately we have found there are contractors we hired that are slower, more disruptive, that take longer than we want them to and leave things in difficult situations longer than we want them to."
Despite the difficulties with the Highland project, Proakis said he didn't think it was "advisable to switch a contractor in the middle of a project."
The Highland Avenue project has dragged on for multiple reasons, said Public Works Superintendent Greg St. Louis.
"We are aware there are a number of challenges, some of them are weather related, some of them are contractor related and we are certainly trying to work to reduce these things as much as possible," St. Louis said.
The City must follow the state's procurement rules when bidding for contractors to do road projects, St. Louis said. Those require the City to accept the lowest bid from a "responsible and responsive" contractor.
"Short of a community having written guidance or written submission to their procurement office or a history of negative work product, negative scheduling, failure to follow contract guidance — the community is generally required to accept that lowest bid," St. Louis said. 
He added that the City can create a file on contractors with which it has had problems.
"If you have a paper trail that shows a contractor is being non-responsive, not following contract guidance, not following a schedule, creating a hazardous work set up, then you can allow that paper trail to be added to the file following the next procurement process," St. Louis said. "Then you can work with your local procurement official to highlight that this community has had an issue with this contractor doing their work we do not deem responsible and they are no longer a responsible lowest bidder."
Proakis added that the Department of Public Works has been trying to fill openings, and recently hired a City Engineer and is now in the process of backfilling the person promoted, who was overseeing construction management.
The issues with the driveways, however, is more likely to be an issue of whether it meets the City's zoning rules. St. Louis said the zoning ordinance sets out certain criteria for allowable curb cuts for a driveway, including that only two are allowed per property, with a maximum width of 11 feet. Also, there needs to be 20 feet between curb cuts and the curb cuts cannot exceed 40 percent of the property frontage or 22 feet, whichever is less.
St. Louis added that the City sends notices about the project with details of the impact on their property before the project begins. Officials also typically walk the area of the project the spring before the work begins and they mark the areas with spray paint.
Proakis said that the City's street and sidewalk policy follows the Complete Street philosophy which takes into account things like pedestrian accommodation and safety. Narrowing the asphalt roadway and adding raised curbs make streets safer, he added, by slowing vehicles and protecting people on the sidewalk from a vehicle going up on the sidewalk. The curbs also protect planting areas, and prevent vehicles from parking on sidewalks and narrowing the walking path.
When someone has a question or issue with the curb cuts in the design of a road project, members of the City's Zoning Enforcement office take a look and make a ruling.
"I believe that I have in our Zoning Enforcement team, folks that are going out applying the rules, and applying them in a way that is consistent with the law," Proakis said. "If you disagree there is an appeal process with the Zoning Board of Appeals to appeal their decision and say, 'I disagree with their decision.'"
Property owners can also ask for a hardship and request a special exemption, or a variance to allow for a curb cut that is beyond what is in the Zoning Ordinance. The Zoning Board will consider the appeal or request, Proakis said, but they also are focused on the Complete Streets design.
"The Zoning Board is very skeptical of particular concerns that are going to increase curb cuts, put more cars across the sidewalk and not get us to a point where we are getting more walkable sidewalks, more opportunities for street trees, more opportunities for that green strip and that strip is part of the Complete Street Strategy," he said.
Proakis added that he would be willing to go out to Highland Avenue to meet with residents, because he believes it is easier to understand what is going on looking at the situation in person, rather than discussing it at City Hall.