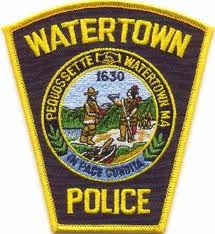 The following information was provided by the Watertown Police Department.
Arrests
Nov. 20, 10:04 a.m.: After an investigation police got a warrant for a Watertown man and served it. The 39-year-old Watertown man was arrested on charges of attempting to commit a crime and trespassing.
Nov. 20, 11:19 p.m.: An officer on Common Street saw a driver pull up to Mt. Auburn Street, inch past the stop line and make an illegal right on red. The car was stopped and the office detected an odor of alcohol on the man's breath. The 29-year-old Boston man was arrested on a charge of driving under the influence of alcohol – a second offense.
Nov. 21, 3:20 p.m.: A detective spotted a man they knew on Belmont Street and ran a check which showed he had a warrants for his arrest. The 50-year-old Watertown man was placed under arrest.
Incidents
Nov. 17, 7:29 p.m.: A package was delivered to a home on Galen Street and when the owner went to get it the package was gone.
Nov. 21, 1:26 p.m.: A man left some items in the corner of the food court at the Arsenal Mall and when he went back his camera was gone. It was a Cannon camera worth $2,300 and assorted lenses.
Also this week: