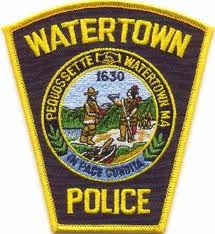 The following information was provided by the Watertown Police Department.
Arrests
July 6, 1:04 a.m.: An officer patrolling in Watertown Square spotted a red Dodge pickup with two black stripes turn into the taxi and bus area of Watertown Square, into which passenger cars are not authorized to go. The car headed down Main Street and the turned left toward Pleasant Street. The officer caught up with the pickup on Pleasant at Bridge Street. It took a right into Repton Place, and the officer noticed it did not have a license plate. Then the car made a sharp U-turn and sped off into Waltham. Watertown Police contacted Waltham Police to tell them about the truck. A Waltham officer spotted the Dodge on Waverley near Beaver Street in Waltham and followed it to Webster Street in Watertown. The driver was a 16-year-old Waltham boy who had a junior driver's license and did not have a licensed adult with him. The boy was arrested for being a junior driver driving without an adult, failing to stop and speeding.
July 9, 6:27 p.m.: A woman took items worth $435.66 at Target and put it in to a shopping bag and tried to leave. Security tried to stop the her, but she became irate, and attempted to push past security. Then she raised her fist as if she was going to hit security guards so they let her go. She was seen leaving in a white Toyota. Police stopped the vehicle on Arsenal Street. The 31-year-old Waltham woman was arrested for larceny over $250 and simple assault.
July 11, 8:21 p.m.: A woman took two Target tote bags and placed items inside worth about $130. She tried to leave the store without paying. The 76-year-old Cambridge woman was arrested on a charge of shoplifting.
Incidents
July 6, 2:33 p.m.: A Fitchburg Street resident heard a bang at about 11 p.m. the previous evening and found one of the pickets of his fence broken. He also found two more pickets broken on the other side of his home.
July 6, 5:48 p.m.: A bicycle was taken from the patio of a home on Belmont Street the previous night. The bicycle was a purple Edit BMX bicycle worth $600.
July 8, 6:13 p.m.: A vendor working at Best Buy left her Samsung tablet on a counter and when she went back it was gone.
July 10, 4:23 p.m.: Someone broke into a car left in the parking garage of an apartment building on Bigelow Avenue and took a handicap placard.
July 12, 12:30 p.m: A vandal used red spray paint to put a line over the cross on a stone tablet outside the St. James Armenian Church on Mt. Auburn Street.
July 12, 10:11 p.m.: A Fairview Avenue resident reported that someone put something inside a vehicle tailpipe. It was a gray, hair-like substance.
Also this week:
Woman Attacks Teen at Sporting Goods Store with Lacrosse Stick