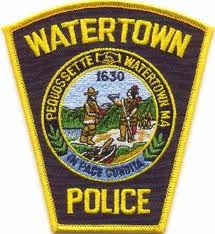 The following information was provided by the Watertown Police Department.
Arrests
March 19, 5 p.m.: Police had a warrant for a Watertown man and had information that he might be staying in the area of Cypress Street. When they were in the area, officers spotted the man coming out of a home on Spruce Street. The 29-year-old Watertown man was arrested on the warrant from Framingham District Court for driving with a suspended license, speeding and a passing violation.
March 20, 2:20 p.m: Target security spotted a man cutting the security tag off a Beats Pill portable speaker. The man left the store and security saw him go into the rear of a property on Elm Street. An officer was given a description, and saw the man attempting to climb a fence. The officer told him to stop, but he kept going and then ran out into Elm Street and ran down the middle of the street through traffic. The officer caught up to him on a side street off Elm Street, Yukon Avenue, and placed him under arrest. The 37-year-old Boston man was arrested on charges of shoplifting over $100, disorderly conduct and unlawful removal of a theft detection device.
March 21, 4:40 p.m.: A man was spotted walking around Target, picking up items and concealing them in his pants and jacket. Store security stopped him and found a cell phone case, electronic accessories and grocery items. The 20-year-old Watertown man was arrested on a charge of shoplifting over $100 by concealment.
Incidents
March 15, 7:10 p.m.: Three copper drain spouts were stolen from the Harvard Vanguard Medical Associates offices on Arsenal Street. They appeared to be have taken sometime between March 11 and March 14.
March 18, 11 a.m.: A Chapman Street resident reported a credit card had been stolen, likely from the person's home. The resident believes it was taken on March 17, and later discovered it had been used in three locations that day.
March 18, 12 p.m.: The owner of a vehicle parked in a driveway on Buick Street discovered fresh scratches on the driver's side doors.
March 18, 2:35 p.m.: A woman came into the Stop & Shop on Watertown Street and grabbed a handheld scanner. She went around scanning some items and not scanning others. Then she walked out of the store without paying for anything. The 37-year old Belmont woman was stopped and summonsed to Waltham District Court on a charge of shoplifting over $100.
March 18, 4:15 p.m.: An employee at the UPS facility on Arlington Street noticed a car that appeared to be abandoned in the parking lot. It had no plates on it and had been there for a few days. Watertown Police discovered the vehicle had been reported stolen from Boston and it was registered to an owner who lived in Hamilton, Mass.
March 19, 12:10 p.m.: A resident reported that she had a handyman come in and do some work. She decided to have him come back to remodel a bathroom and gave the man a deposit. The day he was supposed to come back, the handyman never showed up. She attempted multiple times to contact him but never got a response. Police found the man had an outstanding warrant from Framingham District Court related to a motor vehicle theft, stealing motor vehicle parts and possession of burglarious tools. Watertown Police got a warrant for the man, a 46-year-old from Worcester, for larceny over $250 by false pretense.
March 19, 1:30 p.m.: A Mt. Auburn Street resident ordered an iPad through the mail and found it had been delivered on March 9, but he could not locate the package.
March 20, 1 p.m.: The manage of Stop & Shop on Watertown Street found that a woman left the store with a carriage full of groceries without paying. The manager saw the woman in the parking lot loading the items into her car. He escorted the woman back into the store and contacted police. She had $470.93 worth of items. The 61-year-old Newton woman was summonsed to Waltham District Court for larceny over $250 and she was trespassed from the store.
Also this week:
67-Year-Old Woman Has Purse Stolen While Walking Along Charles River
Driver Loses Control, Damages Fence of Arsenal on the Charles