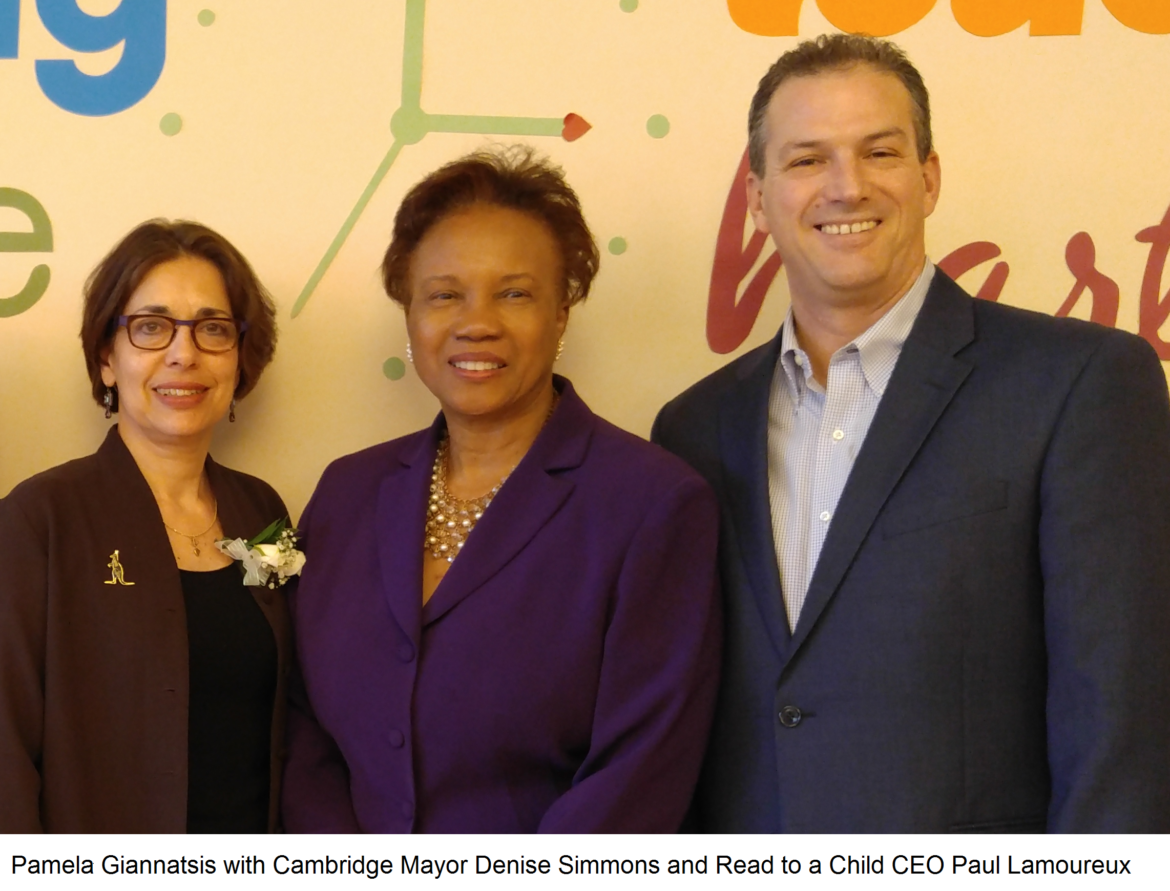 During National Volunteer Week, Cambridge Mayor E. Denise Simmons recognized a long-time Morse Elementary School volunteer for her outstanding commitment to students as a lunch-time reading mentor through the national non-profit literacy and mentoring organization Read to a Child.
Pamela Giannatsis, senior communications manager with Tufts Health Plan, a corporate sponsor of the program, has read to four consecutive students during nine years of volunteering, first in Waltham, and currently in Cambridge at the Morse Elementary School. Students are recommended for individual reading support by their teachers as early as first grade and the mentor-mentee relationship can continue through fourth grade.
"I believe deeply that being able to read, and read well, should be considered a human right," Pam explained during the 17th annual Cambridge Volunteer Awards Celebration Tuesday night, at the Cambridge Senior Center. "I am so grateful to Read to a Child for providing a model that allows employees like me to demonstrate our corporate citizenship values during work hours. I continue to recruit colleagues to join me so that more children can be served. Based on my experience, I know that we also receive so much from working one-on-one with these young children."
"I am extremely pleased that Pam has been recognized for her outstanding service. She is a wonderful role model for the children she mentors and a caring and civic minded member of the community," said Paul Lamoureux, CEO of Read to a Child. "On behalf of Read to a Child and the many thousands of students who have participated in the lunchtime reading program, I sincerely thank Pam for her service and for her dedication to improving children's literacy among those most at-risk and in need."
The Cambridge Senior Volunteer Clearinghouse also honored eight others for their years of service to various Cambridge nonprofit organizations, as part of National Volunteer Week activities.
Pam's current mentee is her fourth student in Read to a Child's lunchtime reading program.
"Since I became a reading mentor nine years ago, my time with Luther, Chris, Malachi and Adrian has exceeded my wildest expectations. My first mentee, now an academically-successful high school junior, is planning to study biomedical engineering in college and points to his experience in the lunchtime reading program as inspirational. It is clearly evident that the lunchtime reading model truly makes a difference. Imagine how many more children can succeed, one lunchtime and one child at a time."
Read to a Child, http://www.readtoachild.org, is a national nonprofit literacy and mentoring organization that inspires caring adults to read aloud to at-risk children to create better opportunities for their future. Research proves that reading aloud to children is the single most important activity for building the knowledge required for eventual success in reading and, thus, likelihood for success in school and life. Read to a Child currently partners with more than 100 corporations and institutions nationwide that provide 1,500 volunteers who read aloud to more than 1,100 at-risk students in greater Boston, Detroit, Los Angeles and Miami, as well as urban centers in Connecticut.