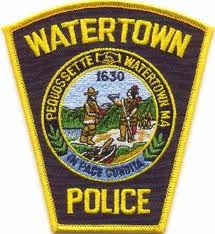 The following information was provided by the Watertown Police Department.
Arrests
Aug. 22, 11:10 p.m.: A resident of Laurel Street heard a noise outside and looked out to see a man looking into parked cars. The man, who was wearing a dark shirt, was seen going into the passenger side of a vehicle and appeared to be rummaging through it. The owner of the vehicle confirmed the center console was open and a small amount of money was missing. Police located the suspect in the area. The 18-year-old Watertown man was arrested for nighttime breaking and entering of a vehicle and larceny under $250.
Aug. 26, 3:45 p.m.: Watertown Police were alerted that a man wanted on a warrant works in Watertown. He worked at the Perfection Car Wash on Pleasant Street. Officers arrested him there with no incident. The 41-year-old Waltham man was arrested on the warrant from Clinton District court for rape of a child with force.
Aug. 27, 2:30 a.m.: An officer patrolling on Arsenal Street clocked a vehicle going 44 mph in a 30 mph zone. The vehicle was pulled over and the officer detected an odor of alcohol on the driver's breath when he spoke to him. The driver also had glassy eyes and slurred his speech. The man said he had been drinking earlier in the evening. The man failed field sobriety tests. The 27-year-old Boston man was arrested on charges of driving under the influence of alcohol, speeding, a seatbelt violation and not having his registration in his possession.
Incidents
Aug. 24, 10:15 a.m.: A vehicle was broken into on Hawthorne Street and the resident reported that a Garmin GPS device was stolen. The theft occurred between Aug. 21 at 10 a.m. and Aug. 24 at 10 a.m. The vehicle was left unlocked.
Aug. 24, 1:45 p.m.: A traffic signal box located in the Linear Park was found pried open. The Department of Public Works checked the box and found no damage. A new lock was put on the box.
Aug. 25, 9;20 a.m.: A Porter Street resident tried to buy Adele tickets off a Craigslist ad, but after sending the $350 she did not receive the tickets.
Aug. 25, 5 p.m.: A woman was spotted placing items into a bag a Target and tried to leave without paying. She had a necklace, key rings, baby toys and clothing worth a total of $241.13. The 25-year-old woman from Fall River was summonsed to Waltham District Court on a charge of shoplifting over $100.
Aug. 25, 8:20 p.m.: A Riverside Street resident reported a package had been stolen. A neighbor picked up the package and put in front of the resident's door, but it was not there when the person came home. The package contained books.
Aug. 28, 2:40 p.m.: A Parker Street resident spotted a man in a neighbor's backyard around 4 a.m. The resident heard a noise from the neighbor's backyard and thought it was an animal but a few minutes later a man left the yard. He was wearing a brown sports jacket. He closed the gate and then stumbled and almost fell as he left.
Also this week:
Woman Followed by Strange Man While Running Through Watertown
Man Tries to Gain Entry to Elderly Woman's Home Posing as Utility Worker