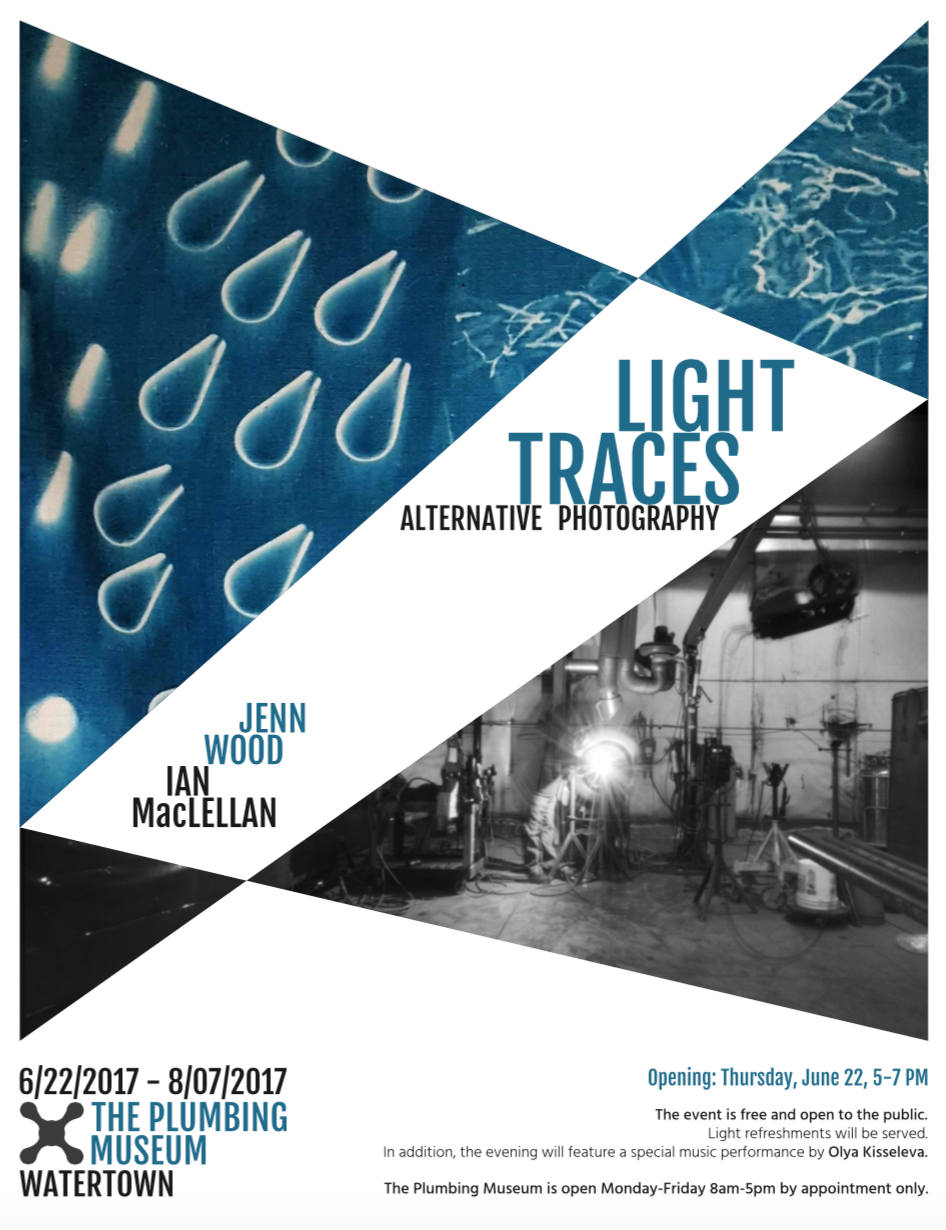 The Plumbing Museum announced its latest exhibition, Light Traces, a two-person alternative photography exhibition featuring Jenn Wood and Ian MacLellan, opening on June 22, 2017. The show will display new works created during the artists' studio residencies at the Manoog Family Artist-in-Residency program launched last year in partnership with J.C. Cannistraro. The show runs from June 22 through August 7, 2017.
Inspired by the Plumbing Museum's collection as well as J.C. Cannistraro fabrication shops and construction sites, the exhibition will showcase pinhole and cyanotype prints as well as digital collage. "The new collection reflects creative possibilities of alternative photography. This type of visual art involves a great deal of experimentation. The individuality of an artist is revealed in the way each image is captured, printed, or exposed," explains Sasha Parfenova, Museum Program Coordinator.
Ian MacLellan first heard about pinhole cameras in a middle school art class and continued to be inspired by their simplicity. "Light goes into a small hole on the outside of an otherwise lightproof container to project an image on film or photographic paper on the opposite side," explains MacLellan. During the residency, he explored basements, vast empty factories, and open rooftops all using pinhole cameras to photograph the constant motion and lights of the Boston building boom. "There is construction happening all around me but everything besides the busy cranes sticking into the sky is obscured by shiny windows and tall chain-link fences. I wanted to meet the people welding the guts of this new city," said MacLellan.
Jenn Wood's new series, Fictional Spaces, illuminates forces of nature, atmospheric and fluid space, and is informed by the blue of the deep night sky – planets, stars, and imagined planetary water formations. Similar to much of her painting, printmaking, and mixed media work from her thirty year career, the new pieces incorporate active, energized lines and marks, producing lush color and depth of space. Wood describes the physicality of art and cyanotype materials as irresistible. During her residency, she utilized plumbing hardware and tools, as well as hand painted negatives, and specifically shaped objects, to produce the works in the series. Each piece is unique and is printed on canvas or linen.
The opening reception for Light Traces will take place on Thursday, June 22 from 5-7 p.m. The exhibition will also include a special music performance by Olya Kisseleva, an emerging singer and songwriter currently studying electronic production and design at the Berklee College of Music.
The event is free and open to the public. For more information, please visit www.theplumbingmuseum.org or call 617-926.2111.
About the Artists
Jenn Wood received her BFA at MA College of Art & Design, Boston MA and her MFA at UMass Dartmouth, New Bedford MA. She did additional course work at SMFA Boston, and Pilchuck Glass School in Stanwood, Wash. Her work has been exhibited in Brooklyn, NY; Boston; Provincetown, and other New England locations in galleries and university venues. It has been included in numerous exhibitions curated and juried by noted museum curators, gallery owners, and artists. Wood's art is included in several private and corporate collections in Chicago, Boston, and throughout New England. She is based in Boston. For more information please visit jennwoodstudio.com
Ian MacLellan is an editorial and commercial photographer and filmmaker from Somerville. Ian holds a Bachelor of Arts in Geological Sciences from Tufts University and has had work published by the Orion Magazine, Popular Mechanics, The Guardian, Harvard Magazine, Audi, and the Museum of Science in Boston, among many others. For more information please visit www.maclellanimages.com
About the Plumbing Museum
Located in a renovated ice house in Watertown, the American Sanitary Plumbing Museum is dedicated to promoting the contributions of the plumbing industry and its talented craftsmen across the United States. Through its unique mix of industrial history and modern art, it showcases artifacts and exhibits that range from 19th century tubs to modern toilets and a functioning rainwater reclamation system. The museum welcomes nearly a thousand visitors each year for tours and private events, and has been featured in the Wall Street Journal. For more information, visit: www.theplumbingmuseum.org.