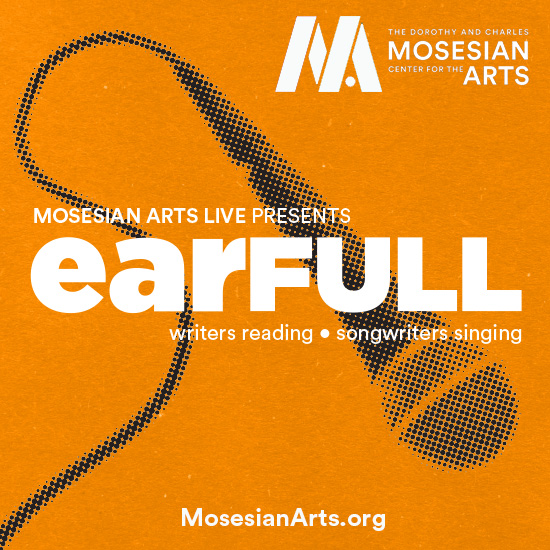 The Mosesian Center for the Arts announced the Earfull Fall 2017 Series – three evening events of literature and music with "Writers Reading and Songwriters Singing."
The Mosesian Center sent out the following information:
Earfull events will take place September 19, October 17, and November 14 in our Black Box Theater, 321 Arsenal Street in Watertown, and feature world renowned authors and musicians reading and performing some of their latest works.
Authors: Michael Patrick MacDonald – All Souls: A Family Story from Southie, Easter Rising: An Irish American Coming Up from Under 
Ben Mezrich – Bringing Down the House: The Inside Story of Six MIT Students Who Took Vegas for Millions, The Accidental Billionaires: The Founding of Facebook, a Take of Sex, Money, Genius and Betrayal, Once Upon A Time in Russia
Musicians: Weakened Friends – Listen and Muck and the Mires – Listen
Authors: Shari Goldhagen – In Some Other World, Maybe, Family and other accidents, 100 Days of Cake
Julia Glass – Three Junes, And the Dark Sacred Night, The Widower's Tale, A House Among the Trees
Musicians: Kim Taylor – Listen and Julie Rhodes – Listen
Authors: Marianne Leone – Knowing Jesse: A Mother's Story of Grief, Grace, and Everyday Bliss, Ma Speaks Up: And a First Generation Daughter Talks Back
Claire Messud – The Woman Upstairs, The Emperor's Children, The Last Life: A Novel
Musicians: Merrie Amsterburg – Listen and Abbie Barrett Band – Listen
The brainchild of Boston Musician and Author Jen Trynin and bookstore connoisseur Tim Huggins, Earfull first launched in the Fall of 2001 with the concept that, given a conducive environment, book people will appreciate being exposed to live music, and rock people will realize how cool it is to hear great authors reading their work aloud! EARFULL aimed to provide that environment, combining prominent author readings with established singer-songwriters in the hopes of broadening the appreciation of and audiences for both. After a brief hiatus from multiple sold-out seasons of the series, the Mosesian Center for the Arts brought the beloved programming back for a second season to a whole new audience.
Mosesian Center Members have access to a limited number of pre-sale tickets Friday, August 18 at 12pm, and tickets to the General Public will go on sale Monday, August 21, at 12pm. Tickets are $25 plus fees at can be purchased at MosesianArts.org. The series is known to sell out quickly so patrons are encouraged to purchase tickets early.
Earfull is made possible by Q Division, Creamer Management, and Branch Line. For more information, visit Mosesianarts.org or call 617-923-0100.