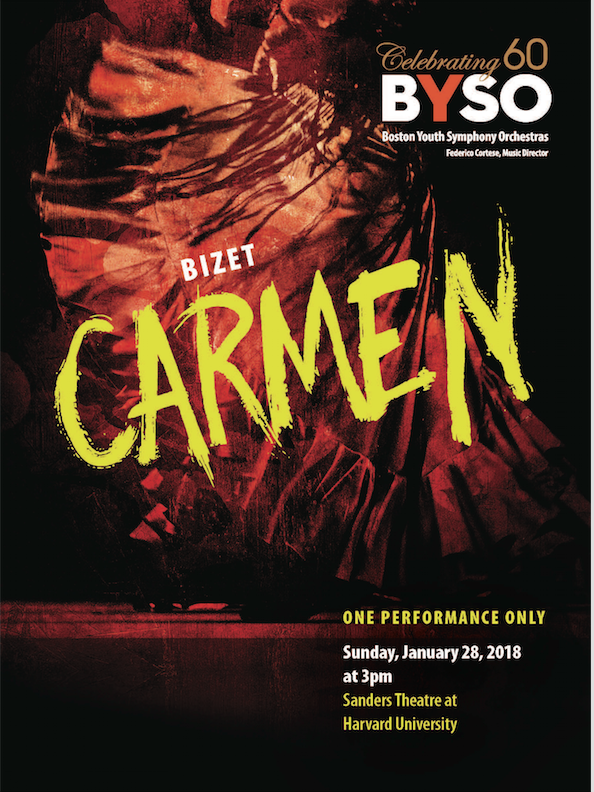 Boston Youth Symphony Orchestras (BYSO), internationally recognized youth
musical organization, announced it will bring to life a full opera once again! On Sunday, January 28th, BYSO – including a musician from Watertown – will perform its 11th consecutive, full-length opera in Sanders Theatre at Harvard University and continues to be the only youth orchestra in the US to do so.
Under the leadership of BYSO Music Director, Federico Cortese, the Boston Youth Symphony, BYSO's premier orchestra will perform Bizet's famous Carmen as part of its 60th anniversary season.
Over one hundred young musicians from the Boston Youth Symphony Orchestras (BYSO), conducted by Music Director Federico Cortese, with stage direction by Edward Berkeley, will come center stage to bring to life a tale of love, jealously
and power for this one-time only performance of Bizet's Carmen. On of the musicians will be Joseph MacDonald, a 14-year-old violinist from Watertown. BYSO's young musicians will have the unique opportunity to work alongside professional singers and a full chorus.
The illustrious and international cast includes Mezzo Soprano Ketevan Kemoklidze, past winner of the Placido Domingo Operalia, taking on the role of Carmen, tenor Kyle van Schoonhoven, first year Adler Fellow at the San Francisco Opera, as Don José and Franco Pomponi as bullfighter Escamillo.
"The performance of a full opera by a youth orchestra is a remarkable and rare accomplishment of which I am very proud," said Cortese. "Opera is a fantastic tool for the musical and personal growth of our students because of the rich and intricate musical and psychological storylines that weave in and out of the music in ways not seen in a standard symphony."
BIZET CARMEN | Sunday, January 28 at 3 p.m.
Sanders Theatre at Harvard University 45 Quincy St. Cambridge
Boston Youth Symphony (BYS)
Federico Cortese, Music Director and Conductor
Edward Berkeley, Stage Director
Carmen, Ketevan Kemoklidze
Don José, Kyle van Schoonhoven
Escamillo, Franco Pomponi
Micaëla, Pureum Jo
Zuniga, Federico De Michelis
Moralès, Ryne Cherry
Frasquita, Meredith Hansen
Mercédès, Vera Savage
Le Dancaïre, David McFerrin
Le Remendado, Neal Ferreira
BYSO Opera Chorus
Bénédicte Jourdois, Chorus Master
Tickets start at only $40; call Sanders Theatre Box Office at 617-496-2222. Free parking is available at the Broadway Garage on Felton Street. This performance of Bizet's Carmen contains sensitive subject matter for young children and the running time is nearly 3 hours. Therefore, this performance is only recommended for children 10 years of age and older.
About the BYSO Opera Program:
Boston Youth Symphony Orchestras (BYSO) believes that performing opera repertoire provides a deep musical and intellectual experience for young musicians and audiences alike.  It is a critical element in the training, understanding and appreciation of the full range of classical repertoire that is often overlooked in the curriculum of young players, especially teenagers. In 2008, under the direction of BYSO Music Director, Federico Cortese, BYSO students performed their first semi-staged opera: Mozart's Cosi fan tutte. The response from the students and audiences was tremendous and since then, opera has become an integral part of BYSO's programming and a critically-acclaimed cornerstone of the concert season. Since 2008, BYSO has performed numerous full length operas including; Verdi's Un Ballo in Maschera, Puccini's Tosca, Verdi's Rigoletto, among others.
About Boston Youth Symphony Orchestras (BYSO)
The mission of BYSO is to encourage musical excellence in a professional and supportive environment by providing the highest quality orchestra training and performance opportunities to qualified musicians, grades K-12, while making its
programs accessible to underrepresented communities through financial assistance and outreach. Widely regarded as one of the country's finest youth orchestra programs, the Boston Youth Symphony Orchestras (BYSO) is recognized as a
model music and arts education organization. BYSO serves over 600 students from more than 120 communities from around New England. Under the leadership of Music Director Federico Cortese, BYSO has become one of Boston's most
prestigious arts organizations with a programmatic scope that includes three full symphonic orchestras, two string training orchestras, a preparatory wind ensemble, six chamber orchestras, a chamber music program, and the Intensive
Community Program, a rigorous instrument training program within the Boston Youth Symphony Orchestras (BYSO) that brings quality classical music instruction to underrepresented communities. Since 1958 BYSO has been in residence at
Boston University. In 2012 BYSO and Boston Symphony Orchestra announced a new partnership for the future of classical music, BYSO/BSO: Partnering for the Future. For more information visit www.BYSOweb.org.