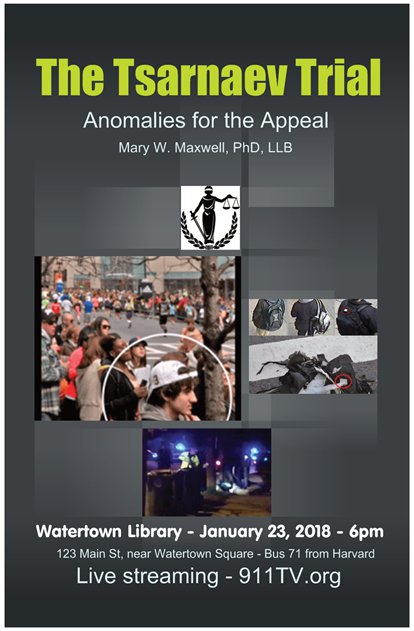 The public is invited to a lecture and discussion called "New Thoughts On The Boston Marathon Bombing." The author of a new book that examines a possible re-trial of the Boston Marathon Bomber as his likely appeal on the horizon.
Organizers sent out the following information (Note: this event is not sponsored by the Watertown Library. The organizers have reserved the space at the library as is open to all any community group):
A January 23 Lecture at Watertown Library: "The Tsarnaev Trial – Anomalies for the Appeal"
There will be a lecture at the Watertown Public Library on Tuesday, January 23 at 6pm. The speaker is Dr. Mary W. Maxwell, author of a new book entitled "Marathon Bombing: Indicting the Players."
Almost 5 years after the 2013 Marathon bombing, people are making an effort to set the legal record straight. A student at UMass, Dartmouth, Dzhokhar ("Jahar") Tsarnaev, was convicted of the crime. He is now on Death Row in federal Supermax prison. His case has reached the appeals level in the federal court, in Boston. The result of the appeal could be an affirmation of his conviction, an acquittal, or an order for a new trial.
Dr. Maxwell is going to give a talk about the case on January 23 at the Watertown Public Library, at 6 p.m. For the purpose of this presentation, she will hypothesize that a decision has been made to hold a re-trial and will assume the role of the Defense Attorney for Tsarnaev in that re-trial. In doing so, Dr. Maxwell will point to significant flaws in the evidence concerning Jahar's participation in the killing of an MIT policeman, Sean Collier, and the carjacking of Northeastern student, Dun Meng.
Dr. Maxwell has a PhD in Politics and a Law degree, both from the University of Adelaide, Australia. She was born and raised in Boston and has a Bachelor's degree from Emmanuel College. In addition to her new book on the Marathon Bombing, she is the author of "Prosecution for Treason" (2011) and "Fraud Upon the Court" (2015). Last year she produced a play in Australia called "A Moot Court for Martin Bryant" in which she gave the convicted killer a voice for the first time in 20 years, as he had not had a trial.
The lecture at the Watertown Public Library, 123 Main St. Watertown, is free and all are welcome, on January 23 at 6 p.m.