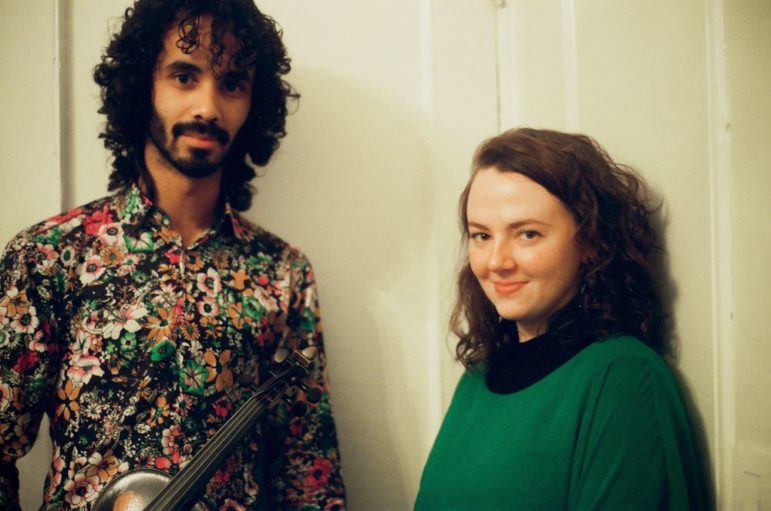 The following information was provided by Revels:
Appalachian music comes alive as  Revels FRINGE presents bluegrass musicians Jake Blount and Libby Weitnauer, Saturday, March 2 in Watertown, MA
Experience the voices at the forefront of today's music scene at three exciting concerts exploring the unpredictable edge of the folk process.
The 2019 Revels FRINGE Concert Series kicked off January 26 with an amazing farewell concert by Night Tree, a popular roots-based band comprised of young, brilliant musicians who love taking traditional folk music in new directions. The trend continues on Saturday, March 2 when Revels FRINGE presents two extraordinary bluegrass musicians, Jake Blount & Libby Weitnauer.
A rising star with a unique take on traditional music Jake Blount is an African American banjo player, fiddler, scholar and vocalist whose musical mentors include Rhiannon Giddens and Hubby Jenkins of the GRAMMY-winning Carolina Chocolate Drops. His partner, Libby Weitnauer, is a virtuosic violinist who's been playing fiddle since the age of 4. Libby's deep passion for "Old Time" music will be on full display in this exciting concert of Appalachian and bluegrass standards with a twist. A Meet-and-Greet with the artists will take place after the event.
Also….
Join us for our final FRINGE Concert of 2019, Maeve Gilchrist, Saturday, April 27 at 7:30pm
Making her triumphant return to Revels FRINGE is innovative Scottish harpist Maeve Gilchrist, "a phenomenal harp player who can make her instrument ring with purity". Maeve performed at the first Revels FRINGE event with Galician piper Carlos Nunez and has traveled the world collaborating with leading artists. Maeve's innovative approach to her instrument stretches its harmonic limits and improvisational possibilities. Come see her in her new solo show!
Enjoy these amazing young artists known for examining and redrawing the boundaries of traditional music!
All concerts are held in the intimate setting of Fellowship Hall at the Belmont-Watertown UMC, 80 Mt. Auburn Street, Watertown, MA.
All Tickets: $25 (general admission)
The Belmont-Watertown UMC is handicap accessible.
Order Tickets or Learn More at www.revels.org/fringe