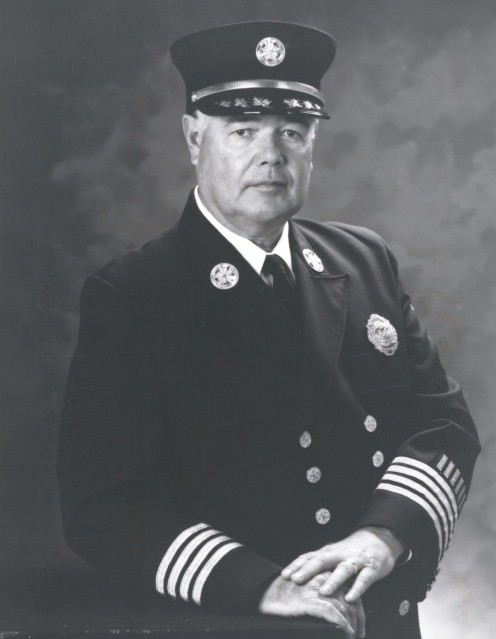 Watertown Fire Chief Bob Quinn announced the death of retired Fire Chief Paul McCaffrey on Feb. 24, 2019 of occupational cancer. He was 79 years old.
The following obituary was from the Nardone Funeral Home:
Fire Chief Paul McCaffrey was born in Boston, Mass. on Aug. 31, 1939, to late parents James F. and Ann J. (Hanlon) McCaffrey. He grew up in Watertown and graduated from Watertown High School in 1957. Following high school he enlisted in the U.S Air Force and Reserve in April 1959 serving as a military firefighter until April 1965. Paul graduated from Framingham State College in 1976 with a degree in Earth Science and Biology.
Paul was appointed to the Watertown Fire Department in December of 1964. He was Promoted to lieutenant March 1973 and to Captain October 1978. Paul then assumed duties of Deputy Fire Chief November 1986 and later in April 1987 he was appointed Chief. He then retired in July 2003 after more than 38 years of service to the Department and to the Town of Watertown.
While fire chief, he served six years as a charter member and then chairman of the Mass. Fire Service Commission. Prior to appointment as fire chief he also serves as an instructor for the Mass. Firefighting Academy for a period of ten years. He completed several courses at the National Fire Academy in Maryland and was an adjunct instructor there on two occasions. He was a life member of the Fire Chiefs Association of Massachusetts, the New England Association of Fire Chiefs, and the International Association of Fire Chiefs.
In his earlier years he was an adult volunteer for the Boy Scouts of America, serving in several capacities including as a troop leader and then district commissioner for Waltham, Watertown and Belmont. He served on the headquarters staff at the 1969 and 1973 National Jamborees. He received the Silver Beaver Award for Distinguished Service in 1973.
Paul was a licensed pilot, with ratings for single-engine airplanes, seaplanes, gliders and hot-air balloons. He was an avid skier and enjoyed family camping. He was an amateur radio operator, proficient in Morse code. He has confirmed contact with more than 100 countries.
In recent years he was a member and volunteer at the Seashore Trolley Museum in Kennebunkport, Maine, and enjoyed operating the antique trolley cars in that museum's collection.
Paul leaves behind his beloved wife Susan, and their son Brian McCaffrey and his spouse Amalia, and their daughter Julie McCaffrey Sera and her spouse Christopher, as well as grandsons Nicholas McCaffrey and Brayden Sera.
Family and friends will Celebrate Paul's Life by gathering for Visiting Hours in the Nardone Funeral Home, 373 Main St., Watertown, on Thursday, Feb. 28, 2019 from 4-8 p.m., and again on Friday, March 1, 2019 at 9:30 a.m. followed by an 11 a.m. Funeral Mass in Sacred Heart Parish. Burial in Mount Auburn Cemetery.