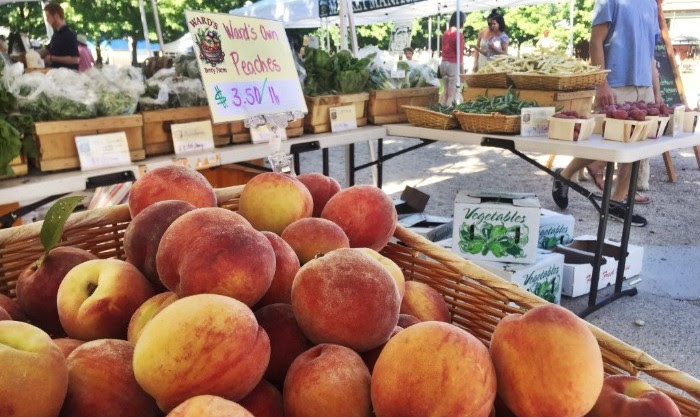 The following information was provided by the Watertown Farmers' Market:
Mark Your Calendars – Opening day for the Watertown Farmers' Market is Wednesday, June 12!
The new season comes with so much good news including the addition of exciting new vendors, a move to Saltonstall Park, a change in market day to Wednesdays, and more! We've been busy getting ready and are oh so eager to see what this new season will bring!We look forward to spending Wednesday afternoons together while shopping for fresh, delicious food from our local farmers and vendors!
Bring the whole family or stop by for an afternoon break to enjoy the very best of local farms and specialty food. Watch for more information including the new vendor line-up as Opening Day approaches! See youin 3 weeks!
Watertown Farmers' Market
Wednesdays 2:30 – 6:30 p.m.
(Closing at 6:00 p.m. in October)
June 12 – Oct. 9
Rain or Shine

Saltonstall Park
Corner of Main St. & Whites Ave.
(next to Town Hall, 149 Main St.)
Call for Entertainers, Community Groups, and Volunteers
We need YOU to be part of the dynamic and fun Watertown Farmers' Market! We are looking for entertainment groups, volunteers, and community groups to join us this season!
Entertainment:The Watertown Farmers' Market is looking for entertainers for two- or three-hour time slots during the market. We welcome family-friendly musicians and entertainers who can add to the fun, vibrant atmosphere on market days. Limited spots remaining! If interested, emailwatertownmarket@gmail.com, and send one or two samples of past performances.
Volunteers:We love our market volunteers and could not manage without them. Come join the fun! We are looking for volunteers to assist at the Market Manager's tent, host educational/craft activities for special events, help with outreach, and more! Emailwatertownmarket@gmail.comto get in touch!
Community Groups:The Watertown Farmers' Market welcomes local community groups to share information and provide activities that are in alignment with our mission and guiding principles. We provide the tent, table, and space and the opportunity is free! Emailwatertownmarket@gmail.comto fill out an application.
Farmers' Market Accepts SNAP, HIP & More
Double Your SNAP Dollars
Your SNAP Dollars The Watertown Farmers' Market accepts SNAP. Swipe your EBT card at the market manager's tent to receive a dollar-to-dollar match,up to$15/week.
Healthy Incentives Program (HIP) Update
HIP is now operating on a seasonal schedule. The last day of HIP operations for the winter season was February 28, 2019.The program is planned to resume operations on May 25, 2019.
SNAP users can use their benefits to buy fruits and vegetables from any of our farms and have the amount of their purchase instantly added back to their EBT card. Monthly caps depend upon household size. More information can be found atmass.govor at the market manager's tent at the market.