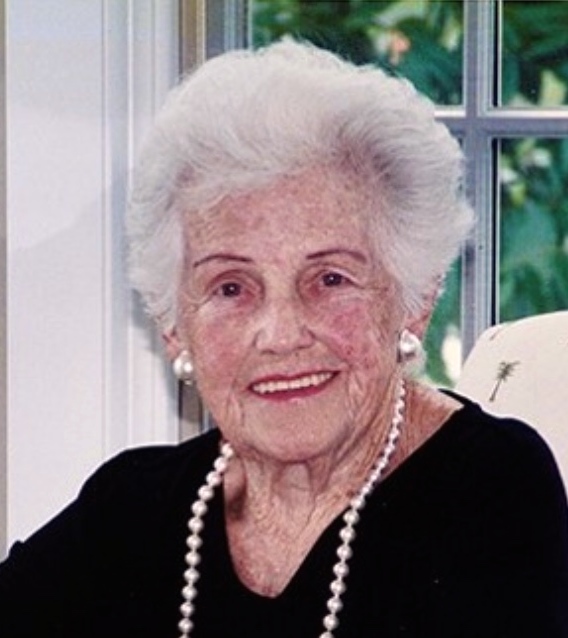 A Funeral Mass for Katherine M. (Broderick) McCourt, 102, of Londonderry N.H., formerly of Watertown, will be held on Tuesday, June 11, in the Church of Saint Patrick, 212 Main St., Watertown. 
Mrs. McCourt, the only child of the late John and Catherine (Feeney) Broderick, was born in Everett days after the United States entered World War I. She soon moved to Watertown, where she attended Hosmer Elementary School, East Junior High School, and then Watertown High School, graduating in 1935.
As a result of her parents' hard work and savings, she was able to further her education at Bryant & Stratton Commercial School where she completed the Secretarial Program in 1936. Upon graduation, she took a job at the John McCourt Company, a construction firm started by its namesake in 1893.
There she met the founder's grandson, Frank McCourt, who soon after proposed to her during his active military service. After Pearl Harbor, the two moved up their wedding to Christmas Day 1941 so that he could fight in World War II without losing the love of his life. He became a decorated officer, while she prepared for their life to come. They would go on to enjoy nearly half a century of inseparability. 
With her husband, Mrs. McCourt raised seven children to whom she meant the world. Relentlessly optimistic, she taught each of them the importance of "acceptance and gratitude," the two values she said encapsulated her life philosophy and were the secret to her vigor that famously did not subside even after she became a centenarian. Her children would go on to extend the family footprint – providing their matriarch 19 grandchildren and 12 great-grandchildren, all of whom were the joys of her life. 
She was the beloved wife of the late Frank H. McCourt; loving mother of Maureen Sikes & her late husband Richard of East Granby, Conn., Kathleen McCourt & her husband Warren Friedman of Evanston Ill., Joan McCourt & her late husband Thomas Nadeau of Wilton Conn., Frank H. McCourt, Jr. & his wife Monica McCourt of Palm Beach Fla., Terence P. McCourt & his wife Mary Zavolas-McCourt of Concord, David C. McCourt of Newmarket-on-Fergus, Ireland, and the late Richard McCourt & his wife Virginia of Hingham. 
The Funeral will be from the MacDonald, Rockwell & MacDonald Funeral Home, at 270 Main St., (Rte. 20), Watertown, on Tuesday, June 11, 2019 at 10 a.m. followed by a Funeral Mass at 11 a.m. in the Church of Saint Patrick, 212 Main Street, Watertown.
Interment will be in Saint Patrick Cemetery. 
Calling hours will be on Monday, June 10, from 4-8 p.m. in the funeral home. Relatives and friends are kindly invited to attend the services. Memorial contributions may be made to the Joslin Diabetes Center and Joslin Clinic 1 Joslin Place Boston, MA 02215 or at www.joslin.org.