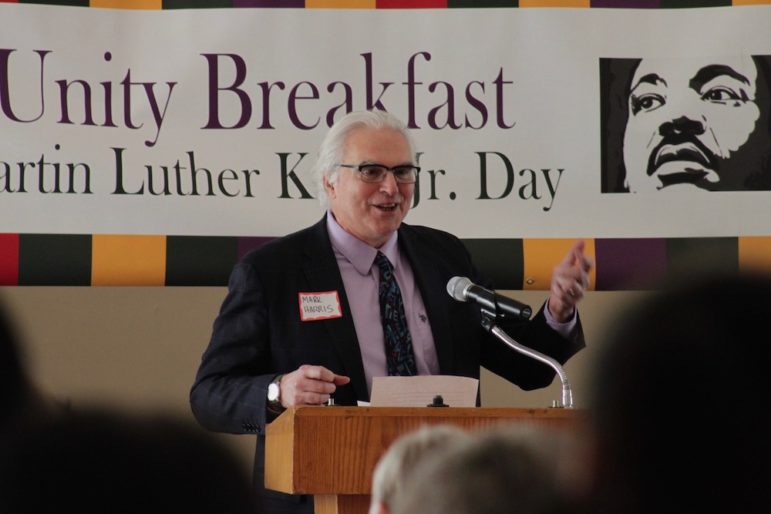 After 23 years, the Rev. Mark Harris will leave Watertown's First Parish Church Unitarian Universalist where he made his mark with his congregation and the wider community.
Harris' time as minister of First Parish Church runs through the end of July, but he gave his last sermon in early June. In September, he and his wife, Andrea Greenwood, will move to Maine.
Greenwood's time in town actually stretches farther back than that of Harris. When the couple got married, it was Greenwood who was minister at First Parish. At the time, Harris was the minister of a church in Milton.
At this year's Unity Breakfast, where Harris received the Unity Award, he credited his wife: "Most of my ministry, I have to admit, has been a sheer adventure with my wife. Even in those times when she has not had the official title, she has constantly ministered to members of our congregation and in the community."
Greenwood began working at First Parish in 1992 and for the first three years of their marriage, beginning in 1996, Harris worked along side his wife.
"For a couple years we were co-ministers," Harris said. "After Andrea became pregnant with our third, she decided to stay home with the kids."
It has been a difficult time for churches in general. Some churches in Watertown have merged or closed. A couple have been turned into condos. During that time, First Parish has bucked the trend, and created a solid parish.
Harris said it helps that the church has a built strong church school of kids, and an active music program, which has led to a healthy sized congregation.
"We have about 50 kids in our youth program and 130 members," Harris said.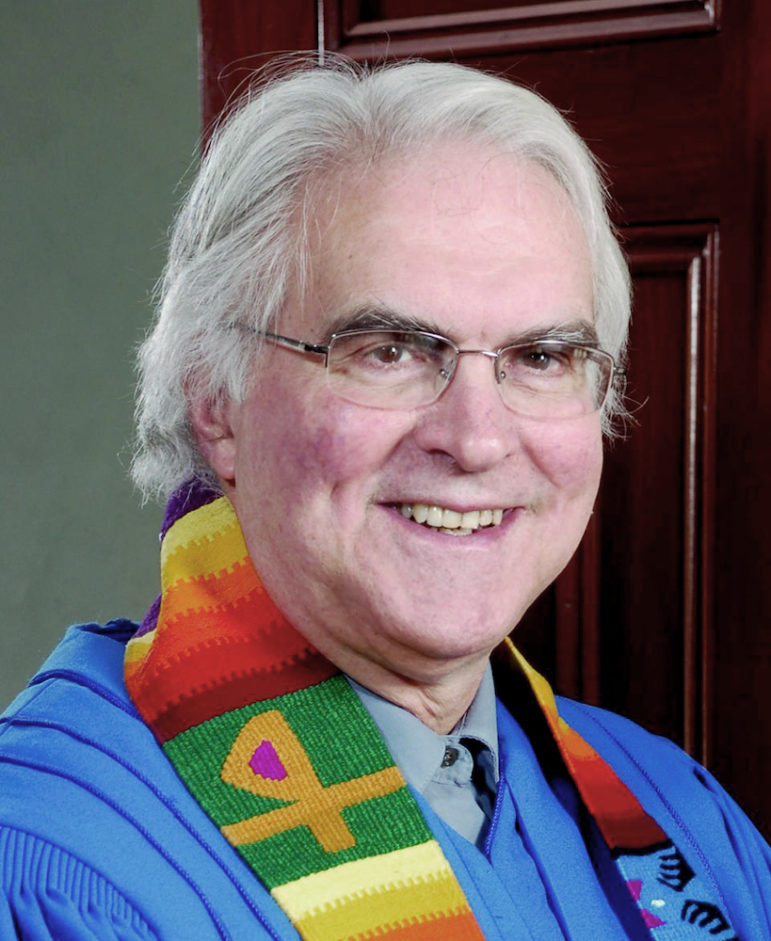 First Parish, which is a Unitarian Universalist congregation, is a welcoming one, Harris said.
"We are open to other faiths," Harris said. "Some of our members might call themselves Christians, others humanist or Buddhist."
The election of Donald Trump has also brought together people at First Parish who oppose what his administration has done and advocates for.
"It has brought liberals together who believe things will change, and he won't be in office forever," Harris said.
Along with all his work at First Parish, Harris has been also active well beyond the walls of the church.
He helped to create the World in Watertown group, and founded the Watertown Unity Breakfast to celebrate the work of Martin Luther King Jr. This year, at the 19th annual breakfast, Harris received the Unity Award.
World in Watertown was created to help make Watertown a more welcoming place to everyone, Harris said. In recent years, the World in Watertown has hosted an Iftar celebration to bring residents together for a meal to break the fast on one night of the Muslim holiday of Ramadan.
The work has spawned other efforts, including the Kingian Non-Violence group in Watertown, which has been spearheaded by Watertown Middle School teacher Ruth Henry.
"Ruth Henry has done training with the police, in the schools and at the middle school," Harris said.
A newer tradition is the Watertown Walks group, which has taken part in the Mother's Day Walk for Peace in Dorchester. The walk is organized by a Boston mother who lost her son to gun violence. It opposes gun violence and raises money for the Louis Brown Peace that tries to find a non-violent way to respond to gun violence.
"I heard about it and wanted to get involved," said Harris, who added that this year Watertown sent two bus loads of people to the march.
Along with ministering, Harris has also taught for several years at places like Harvard, Boston University and Andover Newton Theological School.
"I style myself as a historian," Harris said. "I just finished a history of First Parish, which was published as a book by the church."
Harris and Greenwood will be retiring to Midcoast Maine, near Rockport.
"It's where my wife went when she was a girl. Her grandmother was from there," Harris said.
Leaving their longtime home will be bittersweet, Harris said.
"We met a lot of great people here, and we will miss them terribly," Harris said. "