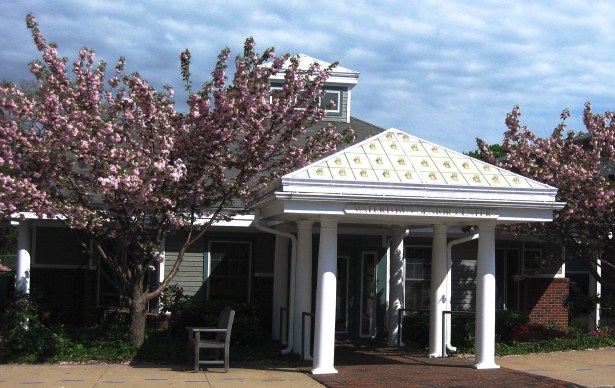 The following information was provided by the Watertown Senior Center:
Greetings from the Director
Summer fun is in full swing at the Senior Center! This month, Ed Lewis, Watertown's Energy Manager, will join us for a Lunch and Learn to help us understand what electricity choice is all about. It helps residents and the Town save money, but how does it work? Mr. Lewis will help us sort it all out. We will also bring back the dynamic Professor Gary Hylander for Part 2 of his June D-Day lecture that will focus on the Battle of the Bulge. You won't want to miss it!
Anne-Marie Gagnon
Our Fall Trips are on Sale now. We will be taking our Senior Shuttle for lunch at the Villa Restaurant and shopping, and we will be traveling with Fox Tours for a trip to Stockbridge and the Norman Rockwell Museum, and a trip to Newport, RI for a holiday excursion. Our Tuesday Evenings of Supper and Games with Pearl will be ending this month, so make sure to register now before they are over, and our Annual BBQ is scheduled for August 13. We hope to see you!
As always, please share with us ideas for new programs and trips, and continue to check-in your attendance at the My Senior Center kiosk when you enter the building. Thank you!
WATERTOWN ELECTRICITY CHOICE What does it all mean?
Join Ed Lewis, Watertown's Energy Manager, as he explains the new "Watertown Electricity Choice" residential electricity supply program. Learn how by bulk purchasing of greener electricity, Watertown Electricity Choice will help toward a cleaner, healthier environment, will drive more renewable energy generation (and jobs) in our area and provide other benefits to Watertown residents and businesses.
WHEN: Tuesday, August 6th TIME: 10:00 Pre-Registration Required For Lunch
Lecture: BATTLE OF THE BULGE
"The Sequel to D-Day" with
Professor Gary Hylander returns to Watertown to discuss the Battle of the Bulge, which marks the last German offensive of the war. With over 19,000 Americans killed, the Battle of the Bulge was the largest and bloodiest battle experienced by American forces in all of World War II.
WHEN: Wednesday, August 28
TIME: 10:30
Pre-Register by calling (617) 972-6490
Public Safety Mornings
Coffee with Chief Lawn & Captain Dupuis, Tuesday, August 27 at 9:30 AM Hot Coffee! with Fire Captain Maietta Thursday, August 22 at 10:00 AM
Join us for casual conversation & coffee in the Lounge.
ANNUAL SUMMER BBQ
WHEN: TUESDAY AUGUST 13
TIME: 11:30 AM —1:30 PM
COST: $5.00
Call to Register (617) 972-6490
Tuesday Supper and Games
With Pearl Pressman
Would you recognize the Campbell Soup commercial jingle or remember that Katharine Hepburn starred in the African Queen? Come enjoy a light supper, time with new and old friends, and playing some fun games that test your memory skills.
WHEN: Tuesday, August 6 at 4:30 PM
Sign up is required for the food order. Cost: $3.00
This program is supported by the Watertown Community Foundation.
On our Senior Shuttle!
September 19: The Villa Restaurant and Christmas Tree Shop. Today we will be traveling to Wayland for lunch on your own at the Villa Restaurant. Afterwards it's on to the Christmas Tree shop in Natick for all those end of season sales and fall previews. Cost: $10.00
Watertown seniors. Space is limited so sign up early. Please make checks payable to "Town of Watertown."
FOX TOURS TRIPS – Please make checks payable to "Fox Tours."
Norman Rockwell Museum and the Red Lion Inn. Today we head out west to enjoy the beautiful fall foliage on our way to Stockbridge for full course lunch at the Red Lion Inn. Your choices are Yankee Pot Roast or Broiled Salmon. Next it's on to the Norman Rockwell Museum where you'll have the opportunity to experience Rockwell's artistic style and view the legacy of images that help define the American identity. DATE: Wednesday, October 9, 8:00—6:00 COST: $75.00. Watertown
Seniors can start signing up August 1st, out of Town seniors sign up starts August 22nd. Yuletide Newport. A wonderful day is planned as we get ready for the Holiday Season. Our first stop is the beautifully decorated, with ornaments and displays, the grand Marble House. A delicious luncheon awaits us at LocalZ Restaurant overlooking the waterfront. Your choices are Baked Scrod or Baked Chicken. Next it's time for shopping. Call the Senior Center at 617-972-6490 for more information.
In regards to refunds—trip insurance is available by Fox Tours at sign up for an additional $10.00. Thank you to the Friends of the Watertown COA for sponsoring this trip!
See more events and information about the Watertown Senior Center by clicking here.