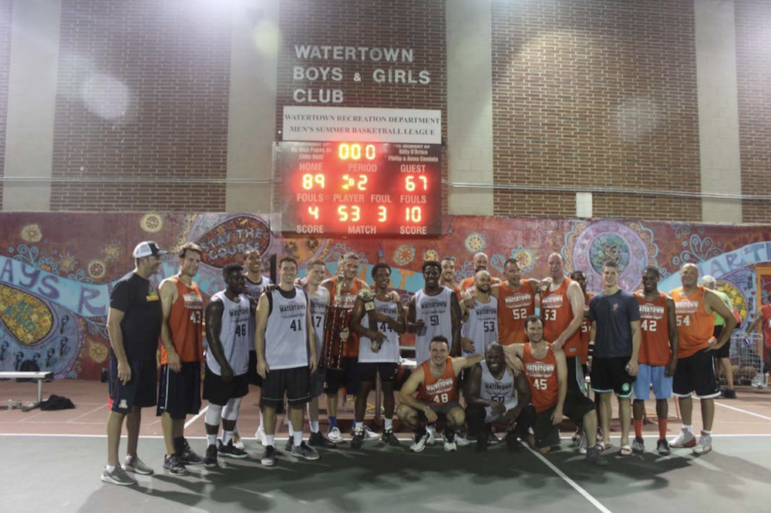 NOTE: Wednesday's Papas Elite game 2 has been postponed to Thursday due to rain:
The Watertown Summer Basketball League's Papas Elite playoff finals series tipped off Tuesday, and the Legends League semifinals got underway.
The Recreation Department provided they following account of Tuesday's action.
In game one of the Papas Elite Finals, HBC proved why they were the top seed throughout the year by defeating defending champion New Day by the score of 63-52.
The game was decided relatively early in the second half, as New Day struggled to make shots, while intensive defense and great ball movement by HBC sealed the win.
Game 2 of the finals will be Thuursday night at 8:30 p.m. weather permitting.
Legends League
In O'Brien-Jerahian Legends League semi-final play, the low seeds came up on top.
Third seed Kaos Club edged second seed Finnegan Club in a barn burner by the score of 64-61.
Game 2 will be on Thursday at 6:30 p.m.
Fourth seed Control Club shocked the O'Brien-Jerahian world with a dominating win over top seed Johnson Club by the score of 64-54.
Game 2 will be on Thursday at 7:25 p.m.
The semi-finals and finals are a best out of three.
Please visit our recreation Facebook page at Watertown recreation department for some great photos supplied by Natalie Nigito Photography (www.natalienigito.com).