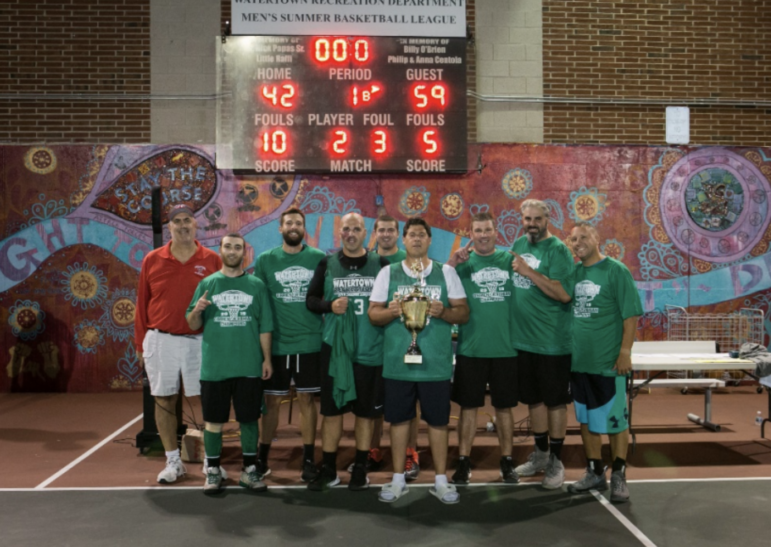 Finnegan Club won Game 2 over Johnson Club to force a third and deciding game in the best-of-three Legend League Finals, and completed the season by winning the championship on Thursday night.
The following account of Game 3 was provided by the Watertown Recreation Department:
The Finnegan Club came out of the gate red hot led by Marcus D'Angelis and Rob Bagasarian (10 first half points each) and never looked back to secure the 2019 O'Brien-Jerahian Legend League Championship by the score of 59-42.
At half time, the score was 31 to 18, and to their credit, the Johnson Club enjoyed several runs, thanks to the fine play of Jeremy Kullman (18 points) and Danny Kelly (13 points), but could never diminish the lead below 10. Solid defense, great ball movement and the three ball helped propel the Finnegan Club to Championship status. In addition, four Finnegan's ended the game in double figures: Mike Simoni (16), Rob Bagdasarian (15), Marcus D'Angelis (12) and Mark Sullivan (11).
The Watertown Recreation Department Men's Summer Basketball League has been in existence for over 50 years and is one of the best outdoor summer leagues in the region.
The Papas Elite League showcases some of the best College and former College players in the area, while the O'Brien-Jerahian League supports the over 30 crowd who enjoy outdoor competitive basketball.
Thanks to those who participated in this year's league, the quality certified basketball officials and the outstanding recreation table staff.
Have a great year and hope to see you next year at the Watertown Men's Summer Basketball League.