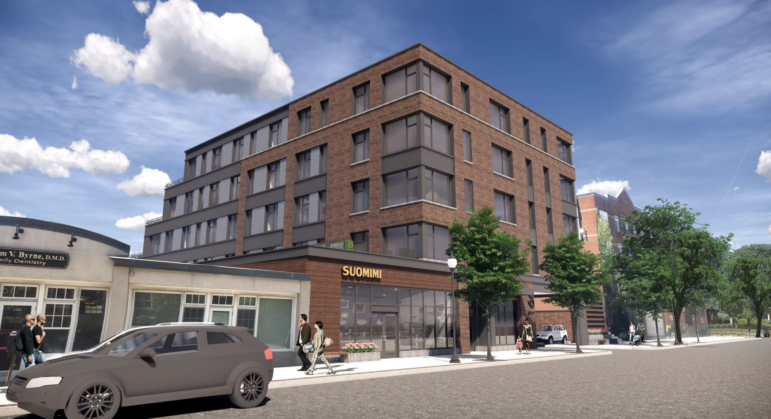 Developers have submitted a proposal to turn a former convenience store into a five-story residential building with a commercial space on the ground floor.
The project has been proposed for the property at 166 Main St., in Watertown Square. The property is across the street from Town Hall and used to be a Tedeschi Food Shop.
A community meeting will be held to provide more information and allow residents to ask questions. The meeting will be held on Thursday, Sept. 26, at 6:30 p.m. at Town Hall (149 Main St.) in the Council Chamber.
Plans submitted to the Watertown Planning Department show a building with 34 residential units and parking underneath the building. The units would be a mix of studios, one bedrooms and two bedrooms. In total, the proposal calls for having 30 parking spaces, and 38 bicycle parking spaces.
The building would be 55 feet high, with the floors stepping back above the second floor to provide terrace space outside the south-facing units. The commercial space would have 1,191 sq. ft. of floor space.
For More Information, contact PCA, Architects c/o Ms. Nidhi John at 617-547-8120.
See drawings of the proposed project by clicking here. The project document folder can be seen by clicking here.