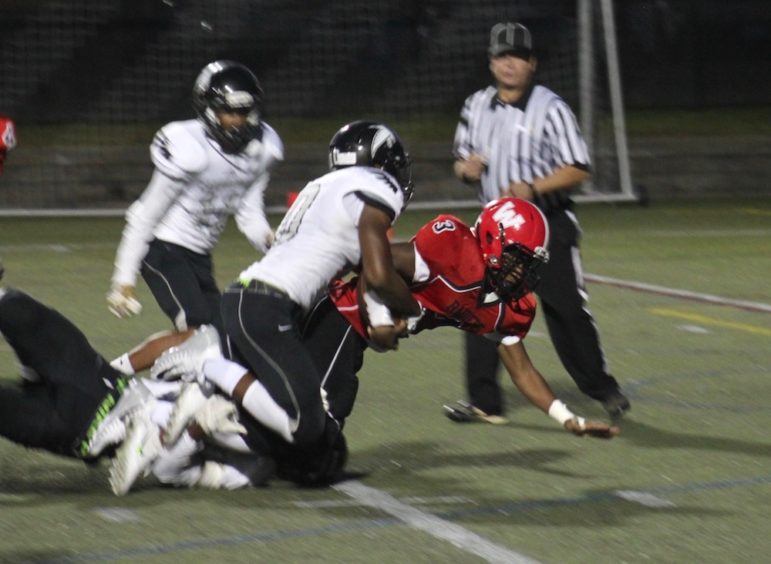 Watertown High School's offensive output kept on rolling in week two of the 2019 season, as the Raider beat host Cambridge Rindge & Latin 41-19 on Friday night.
The non-league game, played at Russell Field in Cambridge, once again featured running back Mason Andrade. He carried much of the offensive load, along with quarterback Brendan Cook.
For the second game in a row, Andrade, a sophomore scored three touchdowns, and Cook, a senior, threw three of his own, including one on which they teamed up.
The Raiders jumped out to a 14-0 first quarter lead thanks to Andrade's seven yard carry into the end zone, which he followed with a 15 yard scoring run. Rio Maguire converted after both scores.
The Falcons made it a game in the second quarter when quarterback Ashur Carraha scored on a 50 yard run. Watertown answered with a long touchdown of its own. Senior quarterback Brendan Cook found Andrade on a 57-yard scoring strike. The point after was missed.
Carraha was part of another scoring drive for Cambridge when he hit Tyriq Brock with a 13-yard touchdown pass. Watertown blocked the point after attempt.
After halftime, Cook connected with Will Dolan for a 28-yard touchdown. The pair combined again, this time from 41-yards out, for a scoring strike.
Last year, the Raiders fell to Cambridge at Victory Field, and the team ended up missing out on the State Tournament. Friday's game will help the Raiders come tournament selection time.
The Falcons play in Div. 2 North, while Watertown is in Div. 5 North. Teams are seeded based on their power ratings, and a win over a team in a higher division earns a team 12 points (compared to 10 for a win over a team in the same division).
The Raiders improved to 2-0, and begin the Middlesex League slate with a home game against Burlington on Friday night at 7 p.m. at Victory Field. Cambridge dropped to 1-2.