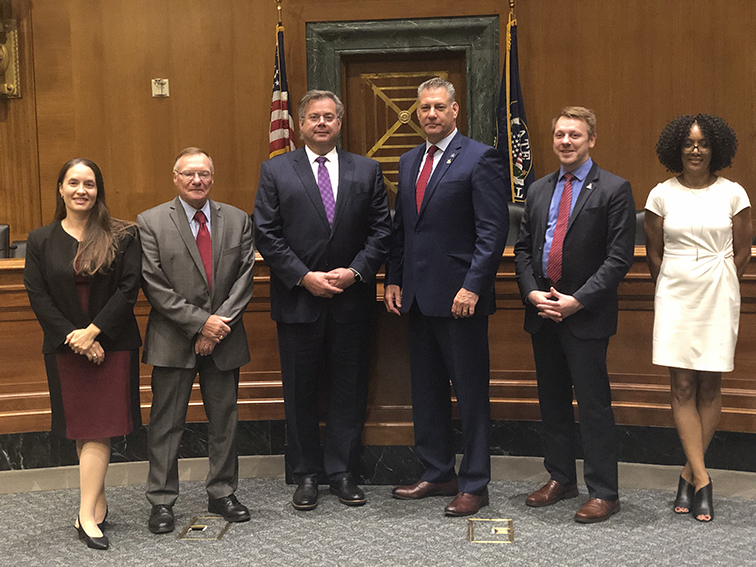 The following information was provided by the Middlesex Sheriff's Office. Peter Koutoujian is a former State Rep who represented parts of Watertown:
Middlesex Sheriff Peter J. Koutoujian joined current and former law enforcement leaders for a Capitol Hill briefing Wednesday, September 17, on the importance of restoring Pell Grants and expanding other higher education opportunities for incarcerated students.
The event was hosted by Law Enforcement Leaders to Reduce Crime & Incarceration, of which Sheriff Koutoujian is a founding member. He was joined for the briefing by Law Enforcement Leaders Executive Director Ronal Serpas and Rick Raemisch, the former Executive Director of the Colorado Department of Corrections. The panel, which was moderated by Law Enforcement Leaders Senior Counsel Taryn Merkl, also included two non-law enforcement advocates – both whom of whom were formerly incarcerated.
"Education is a key foundational component to reducing recidivism, improving outcomes for those in the justice system and enhancing safety for our communities," said Sheriff Koutoujian. "Reinstating Pell Grant eligibility for justice-involved men and women will open new doors and help set more of our returning citizens on the path to success."
Studies have repeatedly shown the positive impact of prison education programs on recidivism, with a 2013 RAND Corporation study finding those who participated in prison education programs were 43 percent less likely to recidivate than their counterparts who did not. The same report also found that the odds of finding employment post-incarceration were 13 percent higher for those who participated in academic or vocational programs than those who had not.
Bipartisan legislation filed in both the House and Senate – the Restoring Education and Learning (REAL) Act – would repeal the ban on Pell Grants for justice-involved individuals. A pilot program reintroducing access to the grants for state and federal prisoners launched in 2016, with the U.S. Department of Education reporting approximately 8,800 students were served in the first two years.
The briefing was held in collaboration with The Unlock Higher Ed Coalition.