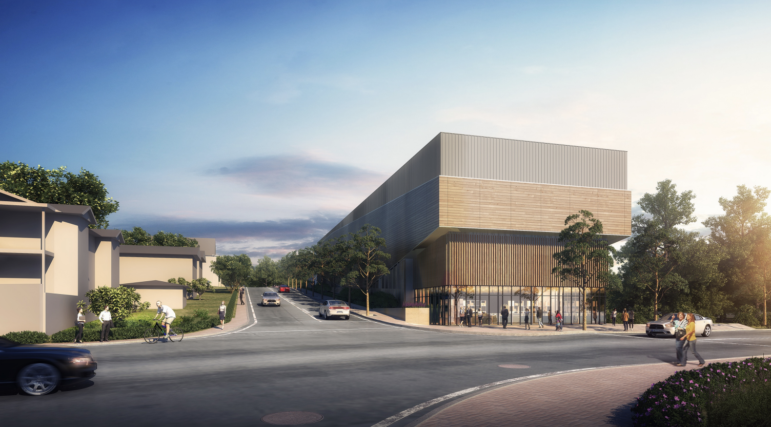 The developers proposing to build a self-storage facility that would overlook Arlington Street will discuss their plans at a community meeting.
The project is planned for 19 Coolidge Hill Road, and the meeting will be held at the property at that location on Oct. 9, 2019 at 6:30 p.m.
Developers, 19 Coolidge Hill LLC, submitted information to the Watertown Planning Department. The plans show five levels of self storage in a building that would be 53 feet tall, and the building footprint is 14,946 sq. ft. The plans also show solar panels on the roof. On the first floor there would be an office for the facility, and a community space.
It describes the site as being "bordered by Arlington Street (to the west), Coolidge Hill Road (to the north), a Two-Family Residential District (to the east and the north across Coolidge Hill Road) and Filippello Park (to the south). The Watertown Greenway is just across Arlington Street to the west."
The plan calls for a new public use "square-like amenity space" with new plantings, seating and bike racks is proposed along Arlington Street, according to the documents.
The current parking lot on the east side of the site, will be changed into a new green space proposed to be open for public access and passive recreation.
"It features some established trees and shrubs which will be integrated into the design of the neighborhood 'pocket-park' which will include new native species plantings, a pedestrian walk, benches and bike racks," according to the documents.
The mature trees and landscaping along the south side of the site on the park property will be preserved with the exception of a few trees. Those trees use the existing building and building roof for support, according to the documents. Flowering hedges would be planted along this South edge toward Arlington Street, and will "soften" the visual impact of the parking lot.
The proposed facility would have 18 parking spaces, and the driveway would come out in nearly the same location as the current one. The documents state the driveway located almost as far from the Coolidge Hill/Arlington intersection as possible.
The traffic study estimates that 80 trips a day will be generated by the self-storage facility. A trip can be a vehicle entering or exiting the site, so one car coming and going would equal two trips. The study also estimates that six trips will be added during the morning rush hour and nine during the evening peak hour.
Click here to see the project application package submitted to the Town by developers, which includes a description of the project along with a stormwater study, traffic study and more.