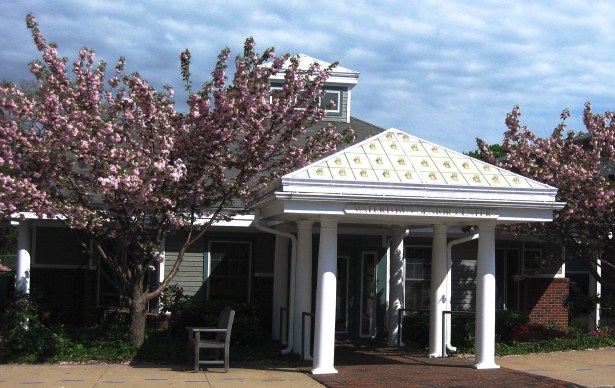 See what's going on at the Watertown Senior Center in October. Here are highlights from the Watertown Senior News.
Greetings from the Director
We look forward to seeing you at the Senior Center this month! We will be learning about the music of Tony Bennet and Peggy Lee, hostng a Flu Clinic, creating a unique Fall centerpiece with Ernie, offering free dental screenings with the Regis College Dental Program, celebrating the season at the annual Harvest Party, and learning about Senior Living op ons.
As we welcome a new Fall season, we also welcome two new members to the Council on Aging Board, Tom Lewis and Araxie Poladian. We express our sincerest gratitude to outgoing members Bertha Anderson and Burt Greenberg. Their tireless service and commitment to issues that impact older adults have made the difference.
We are pleased to announce the selection of the Senior Center's new Program Coordinator, Marina Kirsanova. Many of you know Marina and she will be transitioning this month from Case Worker to her new role as Program Coordinator. She, and we, are excited to bring to life her ideas for creative programming and events. Congratulaions Marina!
If you haven't signed up for one of the Fall trips, they are filling up quickly, so please call today if you'd like to go. Details can be found by clicking here.
Finally, we have added a new exercise offering and participants report that it's a lot of fun…Seated Volleyball. Come by on Fridays at 10:00 for this Free and fun time. It's played with beach balls, while seated in a chair. Come and check it out.
See you at the Center,
Anne-Marie Gagnon
TONY BENNETT AND PEGGY LEE
Tuesday, October 8, 2019 at 10:00 AM
Presented by Bruce Hambro, join us for a lively audio-visual presentation and hear many of their hit songs, view their lives in photos, & enjoy many entertaining video clips. This lecture will be entertaining and fun!
Cost: Free Pre-register: Yes
FLOWERS WITH ERNIE
Wednesday, October 16, 2019 at 10:00 AM
Join Ernie for a creative morning of Fall foliage design. He will be using the same white container as previous years. If you have it from a previous class, please bring it and your cost will be $10.00. No other containers please.
Cost: $15.00 Pre-register: Yes
FREE DENTAL SCREENINGS & FLOURIDE VARNISHES
Thursday, October 17, 2019 at 10:15 AM
The Regis College Dental Program will provide oral cancer screenings and fluoride varnish applications to help prevent cavities. The students will be supervised by Jeanne Chambers MPH RDH. Home care suggestions will be provided as part of the screening.
Cost: FREE Pre-register: Yes
SENIOR CENTER HARVEST PARTY
Friday, October 18, 2019
Doors Open 11:30 AM
Event ends at 2:30 PM
Phillips Gym at the Watertown Senior Center
Tickets on Sale Friday, October 4 at 9:00 AM at the Senior Center. Cost: $16.00.
Join us for a fun afternoon to celebrate the Fall Season! Turkey lunch catered by Maria's, music for dancing by the Swing Fever Trio, and a special performance by our own Mellowtones. The Friends of the COA will also be holding their Basket Raffle.
Cost: $16.00 starting October 4 until sold out. Please make
checks payable to Town of Watertown
UNDERSTANDING YOUR SENIOR LIVING OPTIONS
Wednesday, October 23, 2019 at 10:00 AM
There are many different kinds of senior living and care options. From home health to adult day health, independent living, assisted living, memory care, skilled nursing and continuing care retirement communities – what are the differences, what does insurance cover, what does it all mean? This presentation breaks down and explains each different kind of senior care and living option. Presented by 2 Sisters Senior Living Advisors.
Cost: Free Pre-register: Yes
PUBLIC SAFETY MORNINGS
Join us for casual conversation & coffee in the Lounge.
Cost: FREE Pre-register: No
Coffee with Chief Lawn & Captain Dupuis
Tuesday, October 8 & 22 at 9:30 AM
Hot Coffee with the Fire Department
Thursday, October 24 at 10:00 AM
SENIOR CENTER BOOK CLUB
Wednesday, October 9, 2019 at 9:30 AM
Join the Book Club for a lively discussion of October's selection: A Gentleman In Moscow by Amor Towles. Copies are available at the Watertown Free Public Library. Looking Ahead to November's meeting on 11/13/19 The November meeting will discuss 1493: Uncovering the New World Columbus Created by Charles Mann. This nonfiction book takes a look at the consequences of Columbus' voyages to the Americas (Good Reads). The Watertown Free Public Library will have copies of the book available by October 15. Looking Ahead to December's meeting on 12/11/19 The December meeting will discuss Still Life by Louise Penny. This story looks to be an intriguing murder mystery. The Watertown Free Public Library will have copies of the book available by November 15.
Cost: FREE Pre-register: No
GROCERY SHOPPING, TRIPS TO TARGET, MARSHALLS, WATERTOWN & ARSENAL MALLS
Via the Watertown Senior Shuttle (617) 972-6490
Call the Senior Center to be added to the route if you are new or need to change from your scheduled day. The Shuttle will pick you up and return you to your home. Approximately 1 hour of shopping time. Suggested donation is $1.00 Round Trip. 3 BAG LIMIT! Please show the driver your My Senior Center Key Tag. Applications available on the Senior Shuttle.
TRANSPORTATION TO THE SENIOR CENTER FOR PROGRAMS and SERVICES
(617) 972-6490 We want to see you at the Senior Center! Call us! Program available as funding permits.
RIDES TO LOCAL DOCTORS
(617) 972-6490 Call the Senior Center 2 days in advance to schedule your taxi ride. You may tip the driver at your discretion. A spouse, friend, or companion may accompany you at no extra charge. Program available as funding permits.
THE MBTA RIDE
Have you thought about taking the MBTA Ride? For eligibility contact: THE RIDE – 617-337-2727 www.mbta.com/theride
Friends of the Watertown COA Meeting
October 10 at 2:00 PM
Watertown Senior Center Stop in and learn a bit more about their mission of serving the Seniors of Watertown.
See the entire Watertown Senior News for October by clicking here.