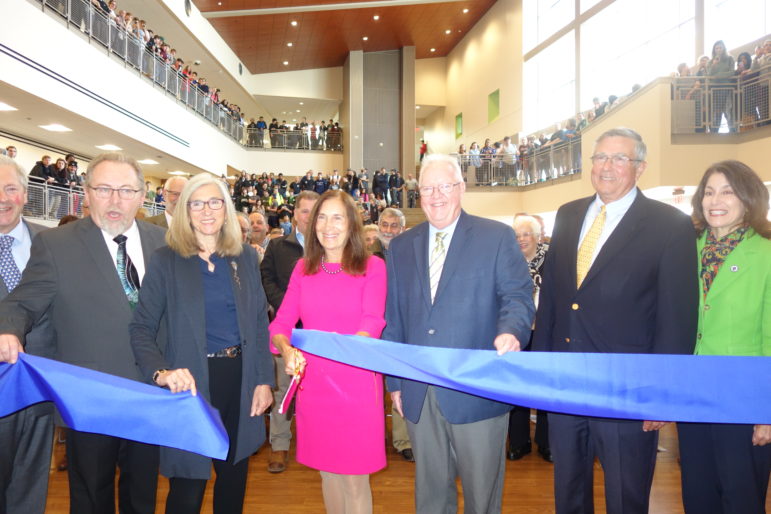 The following piece was provided by Minuteman High School. Dozens of Watetown students attend the vocational high school.
State Senator Cindy Friedman said that on the morning of Friday, October 4, when a grand opening and ribbon cutting that she attended was held at the new Minuteman High School, she could not get one song out of her mind – "The Long and Winding Road" by the Beatles.
Senator Friedman, who spoke at the event, told the crowd gathered at Minuteman she kept thinking of that wistful ballad because the journey from the new Minuteman school building's inception in November 2008 to its completion in October 2019 was indeed a long and winding road – protracted, sometimes frustrating, and strewn with pitfalls and hurdles galore.
Despite the challenges they encountered along the way, those at Minuteman who believed that the construction of a new educational facility was imperative – spearheaded by Superintendent-Director Dr. Edward A. Bouquillon and Mr. Ford Spalding, Dover representative to the Minuteman District School Committee and chair of the Minuteman School Building Committee – were unyielding in their determination to succeed.
The efforts of these two visionary men and their team culminated at last on Oct. 4, when, in front of a packed audience of students, teachers, and 150 guests in the facility's impressive Student Union, the $145 million Minuteman High School was officially dedicated, although it opened its doors to students for the school year a month earlier.
At the forefront of the campaign for a new Minuteman for years was Dr. Bouquillon, who, like so many others associated with the school, is jubilant at the outcome – an architecturally stunning building with every amenity, one that fosters collaboration, provides a safe and secure environment, and will serve as a showplace where exceptional technical and academic learning is offered to Minuteman students for decades to come.
"We have all built a school that knows things change," Dr. Bouquillon said in his remarks to the audience. "We have built a school that unites the disciplines and promotes our commitment to deep integration of academics and high-quality career and technical education. We have built a school that lets us dream big and be brave. We have a place that gives us all a chance to answer the two critical questions we want our students to answer – What do I love to do and what do I do well?"
"For those of you who have been with us since the beginning," Dr. Bouquillon added, "I thank you from the bottom of my heart."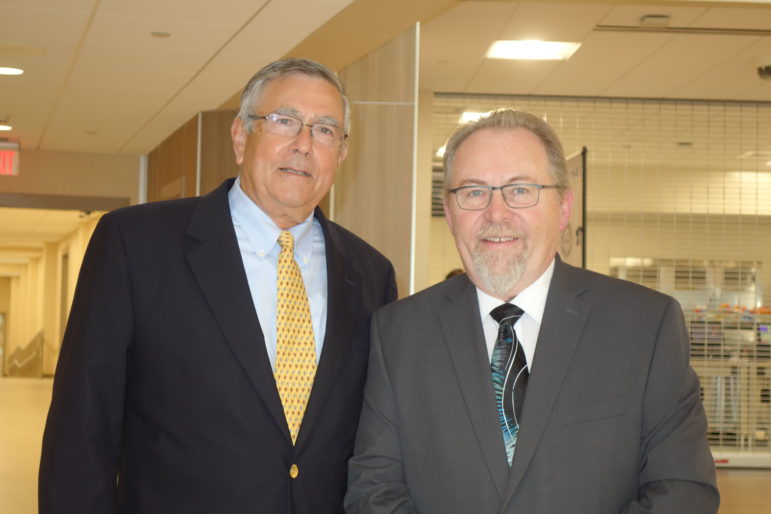 He expressed his gratitude to the staff members and students who assisted with the occasion, which was organized by Minuteman Director of Special Projects Maryanne Ham; to the students who took time to offer valuable input about the layout of the new building even though they would be graduating before it was finished; and to the design team comprised of Skanska USA (Owners Project Manager), Gilbane Building Co., and Kaestle Boos Associates, Inc., all of whom were responsive to the suggestions and concerns voiced by people at Minuteman throughout the whole process.
Among the other speakers was Mr. Spalding, who was also master of ceremonies. He noted that everyone was "celebrating an amazing achievement" that involved "an all-star team of planners, designers and builders." He mentioned that the new building would be an ideal site for "innovation, exploration and student success."
State Treasurer Deborah Goldberg, chair of the Board of Directors of the Massachusetts School Building Authority, enthusiastically told the throng that "the things you were capable of in the old building will be even more so in the new building," telling the students that they would have the opportunity to develop the 21st century skills they need "so every one of you can have the future you deserve." Treasurer Goldberg assured them that "You are all going to have a great future in Massachusetts."
Senator Friedman noted that her predecessor, the late Senator Ken Donnelly, established "a strong partnership [with Minuteman] and I'm very happy to continue that going forward."
Mr. Spalding explained that Needham Selectman Dan Matthews, another speaker at the event, "was instrumental" in getting the towns in Minuteman's district to look favorably upon the initiative to build the new school, not an easy task. (Minuteman's current member towns are Acton, Arlington, Belmont, Bolton, Concord, Dover, Lancaster, Lexington, Needham and Stow.)
"We very much appreciate your efforts for Minuteman," Mr. Spalding said to Mr. Matthews, "and its current and future students."
State Rep. Michelle Ciccolo presented Dr. Bouquillon with a citation from the Massachusetts Legislature congratulating Minuteman and extending best wishes.
Executive Director of the Massachusetts School Building Authority Jack McCarthy echoed the sentiments of many when he said, "I'm just so proud to be a part of this."
All in all, it was a day for low-key rejoicing and thankfulness that a spectacular new school is finally home to Minuteman's outstanding students, faculty, staff and administrators. Dr. Bouquillon summed it up with a few words from one of his favorite songs, "Humble and Kind" by Grammy-winning singer and songwriter Lori McKenna of Stoughton: "When you get where you're going / Don't forget to turn back around / Help the next one in line / And always stay humble and kind."
The new Minuteman High School has been designed to support a robust college and career academy model. The academy model was adopted by staff and administration to create smaller "schools within a school" thereby promoting more personalized learning founded upon close relationships between students and teachers. The Minuteman college and career academy model integrates rigorous academics with relevant technical programming in occupational areas providing individual economic opportunity.
The new facility will accommodate project-based learning across disciplines, requiring students to learn how to work on a diverse team, solve problems and think critically. These are essential 21st-century skills that students practice and apply in a variety of school and work-based environments.
As an accredited member of the New England Association of Schools & Colleges (NEASC), Minuteman inspires all students to attain their full potential, accelerate their learning, and become purposeful citizens in the global community.
The public, including prospective students, will have several upcoming opportunities to acquaint themselves with Minuteman High School, its exceptional new facility, and the outstanding career and academic education available there.
On Wednesday, Nov. 6, from 6:30 to 8:30 p.m. at Minuteman High School, located at 758 Marrett Road in Lexington, Parent Information Night will be held. On Sunday, Nov. 17, from 10:00 a.m. to 1:00 p.m., Middle School Exploratory Day will take place. Showcase Day for in-district eighth graders is on Thursday, Nov. 21.
Students are encouraged to apply for admission now by visiting www.minuteman.org and going to the Admissions tab on the home page. Last year, Minuteman had a waitlist for admission. Space is limited for the next freshman class and now is the best time to apply for admission.
Please visit Minuteman on Twitter – https://twitter.com/MinutemanHS, Facebook – https://www.facebook.com/MinutemanHighSchool/ , LinkedIn – https://www.linkedin.com/school/minuteman-high-school/, Instagram – https://www.instagram.com/minutemanhighschool/ and YouTube – https://www.youtube.com/channel/UCOMHryqqK-B-geuU9JdFr9g