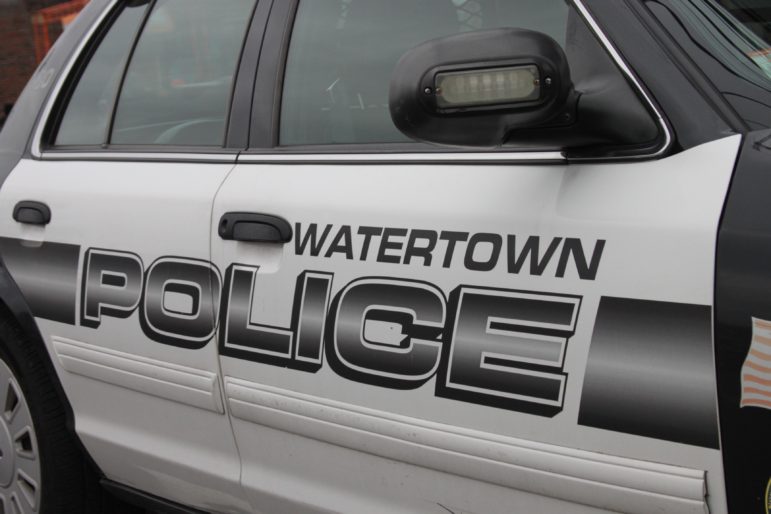 The following information was provided by the Watertown Police Department.
Arrests
Oct. 15, 4:05 p.m.: An officer patrolling on Main Street spotted a white Ford van make an abrupt turn and almost collide with another vehicle. Police pulled the vehicle over and when speaking with the driver officers found he did not have a license. Also, he was driving a vehicle that did not belong to him. The 21-year-old North Attleboro man was arrested on a charge of unlicensed driving, and was cited for a marked lanes violation. Also, police mailed a citation to the owner of the vehicle, who was related to the driver, for allowing an improper person to drive a motor vehicle.
Oct. 16, 11:40 p.m.: Police were called to CVS in Watertown Square for a person creating a disturbance. While speaking with a woman in the store, officers found that that she had two warrants for her arrest. She was placed under arrest and while being booked police found 24 tablets of clonazepam, for which she did not have a prescription. The 31-year-old homeless woman was arrested on a charge of possession of a Class C substance, and on the two warrants: one from Quincy District Court for shoplifting and one from Boston District Court for trespassing.
Oct. 17, 7:06 a.m.: Police learned that a Watertown man was wanted on a warrant and went to his address. He was located and placed under arrest. The 68-year-old Watertown man was arrested on the warrant from Haverhill District Court for assault and battery.
Police also made two domestic arrests this week. The Watertown Police Department does not release the names or details of domestic incidents.
Incidents
Oct. 11, 6:11 p.m. Police responded to Robert Ford Road on an unrelated matter, and while in the home they spotted in plain view a bag of what appeared to be crack cocaine sitting on the couch. They spoke with a woman there, who told police that it was crack. She then became upset, started screaming and punched an officer in the arm and kicked the same officer in the hip. The 42-year-old Watertown woman was summonsed to Waltham District Court for possession of a Class A drug and two counts of assault and battery on a police officer.
Oct. 15, 6:02 p.m.: The owner of Miss Maria's Dance Studio in the Watertown Mall found that a portable Bose speaker and cash from the office were missing. She believes they were taken between Oct. 12 and Oct. 14.
Oct. 15, 8:17 p.m.: A man went into Carter's at the Watertown Mall and was seen acting suspiciously. An employee said the man took an armload of clothing and placed them in a bag he had been carrying. The clothing was worth an estimated $300. He ran out of the store and got into a vehicle waiting for him in the fire lane of the parking lot. The suspect is described as an African-American man, around 30 years old, with short hair, who wore a red baseball hat, a navy hoody and grey pants.
Oct. 16, 5:06 p.m.: A woman went to workout at the Mount Auburn Athletic Club on Oct. 8. After leaving she realized that someone had taken $100 in cash out of her locker. She said the locker had been locked, but she had hung her key outside while showering. She didn't see anyone around at the time.
Oct. 17, 4:13 p.m.: A woman placed items into a locker at the Mount Auburn Athletic Club and secured it at 1:45 p.m. before working out. She went back at 3:20 p.m. and noticed that between $100 and $200 had been taken from her wallet. She does not know how someone would have gotten into the locker. There was no sign of forced entry.
Oct. 18 to 19: Several vehicles were broken into in the area of Irving and Ladd streets. Police received seven reports of cars being broken into and rummaged through. All the vehicles had been left unlocked. Missing from one vehicle was a GoPro camera, and an iPhone 8 was taken from another. A minimal amount of cash was taken from other vehicles.
Oct. 19, 9:20 p.m.: A Homer Street resident came home and all the lights were off, but when he entered the home he heard three loud sounds. He did not think anyone was home, but he went to check on the dogs who were in his roommate's room. When he turned the handle to go into the room he felt some resistance on the other side of the door, so he ran out of the house and called 911. Police came and searched the home with a search dog, but found no one in the home. The man noticed his roommate's window was open about an inch, but was not sure if it had been left open. He told police that an air conditioner had recently been removed. Nothing was missing from the home, and police did not receive any other reports of suspicious activity in the area that night. Police are investigating.
Oct. 19, 10:04 p.m.: A woman went into a portable toilet at Arsenal Park with one of her two children. While she was in there she hung up her black leather Coach pocketbook. She left and realized later that she had left the pocketbook in the toilet. Her husband went back to retrieve it, but the pocketbook was gone. The bag was worth $200, and contained $620 in cash, credit cards and a her ID. There were many other people in the park, and the woman did not know who would have taken it.
Oct. 20, 7:10 a.m.: A vehicle parked on Webster Street was broken into. The vehicle was rummaged through and several items were tossed around. Missing was a pair of sunglasses, two CDs, and a skateboard worth $50. Police are investigating.